Worlds Biggest Coffee Morning.

Photos on this page by Patrick Trollope article by Stacy McGahan.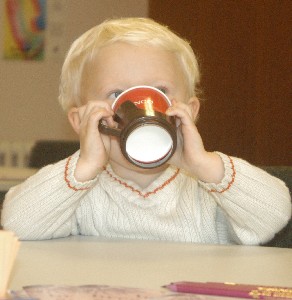 All over the country today, Thursday 27th September. People are getting together to raise money for the Macmillan nurses and cancer research. In Southport the Community Health Council, where running a coffee shop in their office at 53 Hoghton Street, Southport, PR9 0PG. Not only to raise money but to raise breast cancer awareness as well.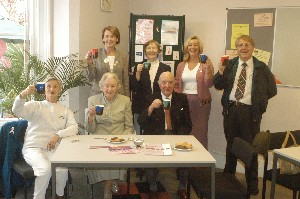 They are trying to help women all over the UK, to get to know their breasts and what is normal for them. As an early warning is a lifesaver. You can check your breasts by looking and feeling. Check regularly, also be aware that during your monthly cycle breast are tender and softer than usual so avoid checking around that time. Things you should be looking for are anything that is not normal for you, especially if it is present in only one breast. A different appearance, feeling any kind of lumps or thickening of the breast, Puckering or dimpling of the skin changes in the outline or shape of the breast, nipple discharge or a nipple turning in on itself, compared to how it used to be.

As you walked into the Lovely little make shift coffee house, the strong sweet
Smelling aroma of fresh coffee filled the air. With an over welcoming atmosphere of chatter and friendliness anyone would have felt at home just sitting there listening to everyone. As well as helping a good cause. The staffs was friendly and enthusiastic about what they where trying to do. And everyone was helping from the mature to even the very young. Its white covered tables full of leaflets and information about being breast aware and the Community Health Council. For information about the Macmillan Nurses click here.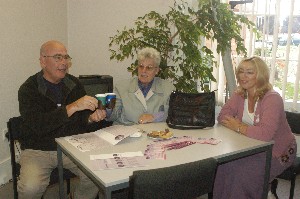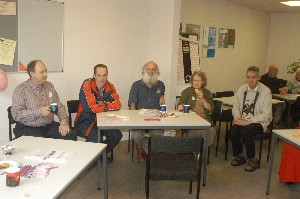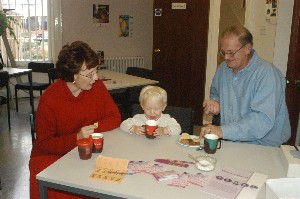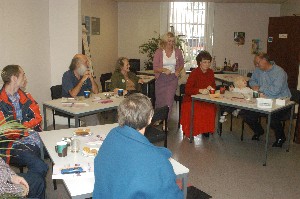 BRITISH TELECOM ARE SCRAPING TRADITION.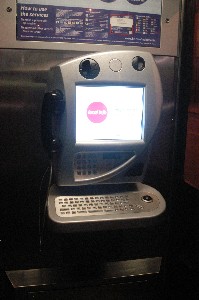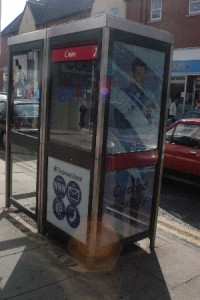 BT is scrapping the long-standing tradition of the red telephone boxes, as part of a multi million pound partnership with Maconi in the UK. The popular phone boxes will all be gone by 2007. They are for the first time in the history of phone boxes all over the UK, BT are going to change the colour of thousands of them, from red to Bright blue. The new BT Internet terminals will be given the makeover. There are currently 1.000 new "e-payphones". And very soon that amount will be increasing to 8,000. On top of that more are going to be cropping up in places such as airports and shopping centres all over Britain, 20,000 to be exact. Making the world's largest network of public access Internet. Well-done BT. Two types of the public phone boxes will be turning blue, the well established and tourist attraction 'Red Kiosk' that echo's Sir Giles Gilbert Scott's classic red phone box. As well as the standard flat roofed, four-sided design. Although there are 13 box's in London that will be remaining the traditional red.

It is unknown the reason behind the shake up of the old design. But according to market research done by the NOP. It was met with a good reception with people commenting that, "they felt that the Internet kiosks should look different and stand out from traditional payphones". They believe that, "Change shows that BT is focussing on its customers and is a demonstration of the company's commitment to an exciting new service."

The payphones will offer low cost 'pay as you go' Internet access, as well as e-mail and text messaging and of course phone calls. They feature a built in keyboard, tracker ball and a colour touch sensitive screen and hot links, to take you directly to a range of interesting and useful sites. Directry enquiries included. Paul Hendron, the director of BT Payphones said, "The explosion in the number of e-phone boxes will make the internet easily available to everyone. We want the new kiosks to attract first time Internet users as well as appealing to experienced web surfers." I have tried the Internet phone boxes and I have to say that although I could navigate my way around it easily, I am not convinced that a first time user would find it easy to follow. The screens are small and hard to push the right 'hot-link'. And as for the safety of your e-mail account. So long as you remember to log out of your passport and user name then there should be no problem. But not everyone would think of doing that.

The internet charges are pretty cheap around the price of an international call. The call charges remain the same. A minimum of 20p for 1minute 50 seconds, then an extra 55seconds for each subsequent 10p. Texts cost 50p per message. The idea is very good and it helps people to keep in contact with their e-mail accounts wherever they may be. Changing a tradition is not an easy thing to do. British Telecom could have met with more opposition. As the red phone boxes have been a national treasure, and attract tourism to the country. This is why the boxes in London will be remaining as the red design.

In providing public internet access British Telecom are helping Britain to move forward into the 'cyber-age'. And making the Internet readily available for everyone regardless of their, age, gender, race or their status and income. BT has been running the phone lines for a very long time and are experts at what they do. This is another way to expand their business and their knowledge. We should all look to the future and the internet is getting bigger and bigger. Technology and what people can achieve nowadays are expanding all the time. So this initiative by Bt to let everyone have access to the internet, will only help to broaden everyone's horizons, and help us all to look forward.
Photos on this page by Patrick Trollope article by Stacy McGahan.
______________________________