Cruising into Liverpool
LIVERPOOL'S cruise season starts with the arrival of the Crown Princess, at 6am on Thursday, 26 May 2011, with 3,114 passengers, making it one of the largest ships to arrive in the city. Her passengers are just part of an estimated 25,000 passengers, who are set to call into the city during an exciting 4 months of the 15 visits from cruise liners over the summer. 5 of the vessels will be making their inaugural trip to Liverpool, with 2 of them making repeat visits during the season (Crown Princess and Blu).

For the first time, the newest luxury ocean liner, the Queen Elizabeth, will sail into the city. Set to arrive on Thursday, 8 September 2011, the impressive Cunard ship will signal the start of the new look Mersey River Festival, which returns after a 6 year break. And if that wasn't enough, to close the festival, the breathtaking Queen Mary 2 will arrive on the 15 September 2011.

Other vessels making their city debut include the Royal Caribbean's Vision of the Seas, Germany's Blu and Mein Schiff and P&O's Arcadia.

Liverpool City Council's cabinet member for culture and tourism, Councillor Wendy Simon, said:- "The cruise liner industry is vital to the city's economy, and this season is estimated to bring in around £6 million to the local economy as passengers spend money in our visitor attractions, bars and restaurants. We have fantastic feedback from the liner companies who are eager to come to Liverpool because of the warm welcome they receive and the outstanding tourism offer found here. And it will be a spectacular sight to see two of the most impressive Cunard liners bookend September's Mersey River Festival – our iconic waterfront will be bustling and I'm sure thousands of people will head down to take in the free maritime treat!"

The city council is currently in advanced discussions with the government ahead of submitting a report requesting permission to introduce turnaround facilities at the cruise liner terminal. It is hoped an agreement will be reached in the near future.
New Deputy Lord Mayor appointed
COUNCILLOR Sullivan, aged 54, who is the Labour Member for Central ward, on Tuesday, 24 May 2011, has been formally elected to the post at the council's annual meeting at Liverpool Town Hall, and will take over the Mayorality in 2012. Councillor Sullivan has been a councillor for 9 years and has said that during the year as New Deputy Lord Mayor, she wanted to make sure the role of dockworkers and merchant seamen and women, in Liverpool, is better recognised.

She told the press that:- "All the men in my family worked on the docks and travelled out to sea and I think there needs to be more acknowledgement of the huge contribution dockworkers and merchant seamen and women have made to our city. That's something I'm very keen to focus on during my time as Lord Mayor."

During her year in office as Lord Mayor, Councillor Sullivan also wants to help people in the city who dedicate their lives to caring for their parents and other family members.

Councillor Sullivan, a full time councillor, has a 16 year old son. Her husband, Jack, sadly passed away last year. She said:- "I'm very humbled and honoured to be nominated as Deputy Lord Mayor. It's the one of the highest honours that can be bestowed on anybody who lives in and loves this city. I know Jack would have been very proud of me. I also know that I couldn't have achieved what I have achieved in life without him. Ultimately, I am the people's servant – and that will be at the heart of everything I do as Lord Mayor."

In her spare time Councillor Sullivan enjoys reading and has a great love of 50s music, particularly the greats such as Frank Sinatra, Nat King Cole and Ella Fitzgerald. Councillor Simon is also a talented vocalist in her own right. She sang on stage at the Philharmonic Hall with the Royal Liverpool Philharmonic Orchestra in 2008 at a special concert to honour the city's best pub singers. She also scooped the 'Councillor Idol' award in 2009 for her rendition of Cole Porter's 'Every Time We Say Goodbye', in aid of the Lord Mayor's charities. Of the people of Liverpool, Councillor Sullivan said:- "One of the best things about people in this city is their fantastic spirit and friendliness. I love the fact that wherever I go in the community, everyone knows me, shouts after me and stops for a chat. The people of Liverpool are fantastic. They are magnanimous, caring and stoic – no matter what life throws at them, they get on with things."

Councillor Sullivan will be appointed as Deputy Mayor of Liverpool at the ceremony to officially install Councillor Frank Prendergast, at 5pm, ahead of the annual council meeting.
It's a Knockout! Challenge 2011
JOIN Children Today at this year's exciting "It's a Knockout" Challenge at Bowden Rugby Club, Altrincham on Saturday, 23 July 2011. Just like the much loved television classic you will take on an inflatable obstacle course whilst getting soaking wet and covered in foam! We are looking for teams of 7 to 10 people to join in the fun and all we ask is that you raise a minimum sponsorship of £500 plus a £50 registration fee. Whilst this wacky event will be tremendous fun, the funds you and your team raise will help Children Today to provide specialised equipment to local disabled children. To request a free information pack please contact Ceri Ward on:- 01244 335622 or by email.

Mersey Ferries go Astronuts for Astronauts....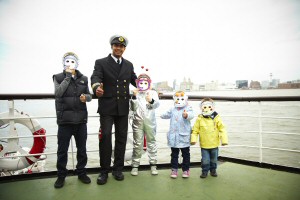 SPACEPORT, the £10m space themed attraction, are offering free entry this half term to children in galactic fancy dress. Costumes can be anything from head boppers or a cycle helmet to a full astronaut or space alien outfit, depending on your level of creativity, or visit our website to download a FREE cut out and colour Astronaut mask for an instant terrestrial transformation.

A visit to Spaceport takes you on a fascinating journey through space with 6 differently themed galleries featuring interactive, hands on exhibits and audio visual experiences, helping to explain the mysteries of space travel and the universe.

Join famous inventor Wallace and his faithful pooch Gromit and see a selection of sets from the award-winning animated films. See the famous orange rocket from the film 'A Grand Day Out', as well as finding some fascinating factual information about the Moon, our Solar System and the history of space exploration.

There will be FREE face painting sessions at various times throughout the week and to make the visit even more memorable, each child in fancy dress will receive a FREE commemorative certificate.

Set co-ordinates for Spaceport at Seacombe Ferry Terminal plus, why not make a day of it and combine your visit by taking a 'ferry cross the Mersey'. Visit:- merseyferries.co.uk for more information or call:- 0151 330 1000.

*offer available on combined River Explorer Cruise and Spaceport OR Spaceport only tickets. One child in fancy dress goes free with every full paying adult. Not available on family tickets. Valid from 28/5/11 to 5/6/11. Not to be used with any other offer.
A Euro Spring Clean for Dingle
VOLUNTEERS in the Dingle area of Liverpool are joining millions of people throughout Europe to show they are good neighbours. European Neighbours Day is supported by more than 1,200 partners including city councils, housing organisations and local associations, in more than 30 countries. The day, on Friday 27 May 2011, will be marked in Dingle by an environmental clean-up when volunteers will pick up litter, clear waste sites, take part in planting and give a lick of paint to some grot spots. There will also by a crackdown on dog fouling in the area. And the first 100 residents who bring a hanging basket to St Cleopas Church between 11am and 3pm will have it replenished free of charge. There will also be children's games and a large Jenga game in the grounds of the church, The day is being supported by the city council, housing associations, Merseyside Police and businesses including Tesco's and McDonald's. Councillor Steve Munby, cabinet member for neighbourhoods and a local ward councillor, will be taking part in the day. He said:- "Residents and staff from many agencies and local business will be joining together to make Dingle sparkle. They will be showing they are good neighbours and have pride in where they live by making it cleaner and brighter."
Euro MP calls for Commission to take immediate action on Missing Children Hotline
ON International Missing Children's Day Euro MP, Arlene McCarthy is stepping up her campaign to force Member States to implement the Europe wide Missing Children's Hotline.

Speaking on International Missing Children's Day on Wednesday, 25 May 2011, Arlene said:- "We first put in place the 116000 Missing Children's Hotline back in 2007. In 2009 with only 7 member states having implemented the voluntary hotline we chose to make it compulsory but now another 2 years on 14 members states have still to make provision for the hotline. The first 24 hours are crucial to safely recovering missing children. Ensuring that we have a common helpline number in all Member States will help speed up the vital response by national authorities wherever a child goes missing as well as in neighbouring countries. We are being told by the Commission that they are monitoring how long it is taking for member states to implement the hotline. I think 4 years they have had enough time and the Commission must now demand deadlines from the Member States who have failed to implement, so that we have a genuine cross border Missing Children's Hotline. In the UK alone 140,000 children are reported missing annually. We do not want to wait until next year's International Missing Children's Day for
Europe to meet its legal obligations."

The Hotline is still has to be made fully operational in Austria, Bulgaria, Cyprus, the Czech Republic, Estonia, Finland, Germany, Ireland, Latvia, Lithuania, Luxembourg, Malta, Slovenia and Sweden.