Michael Schumacher joins Lancashire Euro MP to launch road safety campaign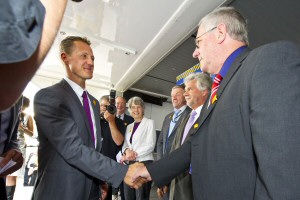 FORMULA 1 driver and 7 time World Champion Michael Schumacher joined Brian Simpson, Labour MEP for Lancashire, for the launch of the United Nations Decade of Action for Road Safety at the European Parliament in Strasbourg.

The event endorsed the 'eSafety Challenge', which promotes new life-saving technology that can be fitted to cars and other vehicles to minimise the risk of skidding, alert drivers to excessive speeds and even put an end to deadly 'blind spots'.

Long-time road safety campaigner Brian Simpson said at the launch:- "We must make sure that we are taking advantage of every piece of new technology if it makes our roads safer for cyclists, pedestrians and drivers".

Mr Simpson, who is Chairman of the European Parliament's powerful Transport Committee, is active in a campaign for the EU to review older laws that are failing to tackle the issue of 'blind spots' for HGV drivers, which lead to thousands of fatalities each year. Last month, Mr Simpson led all Labour Euro MPs in signing the "See me, save me" petition in the European Parliament, which received an overwhelming number of signatures and caused the EU to examine making it mandatory for HGVs to be fitted with the most advanced technology.

"The campaign heightens the pressure on law-makers in Brussels to look at how we can prevent these needless tragedies. By fitting lorries with sensors, cameras and better brakes, North West cyclists and pedestrians will become more visible and drivers will be able to react faster in an emergency" said Mr Simpson in Strasbourg.

The "See me, save me" was launched by the family of cyclist Eilidh Cairns, who tragically lost her life 2 years ago in a collision with a lorry on her route to work.
Vintage dance craze comes to Southport Conservative Club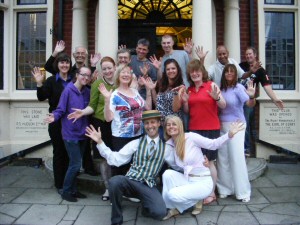 EVER fancied learning the basics of the dances of the Roaring 20's, the Hollywood 30's, the American Wartime 40's and the Rat Pack 50's? Following their success in Preston dance teachers Anthony and Stephanie will be starting a new Southport Jazz Swing (Charleston, Lindy Hop & Jive) Dance Class from Wednesday, 1 June 2011. You can learn the basics of these dances, so that you can be up and dancing at any Jazz and Swing dance event. Anthony explained that:- "The vintage craze is huge over the rest of the country and with Southport being a North West centre for Jazz and Swing music where better to start a class. And it's not just about the dancing, you can have great fun dressing up at events that we run. You can get the clothes and styles from those periods in new shops, charity shops or even on e-bay. You don't need a dance partner, just turn up wearing something comfortable or smart if you like and you will have a great night of fun and exercise."
These will take place in an authentic vintage venue - the 1934 built Southport Conservative Club, located at:- 20 Bath Street, Southport, PR9 0DA.
Beginners 7.30pm
Improvers 8.30pm
Practice dancing 9.30pm - late
No partner needed. 18+
PRICE £5 - for both lessons and dancing.
Anthony Padgett:- 0790 2342448
jazzswingdance.co.uk
You can also meet Anthony and Stephanie this Sunday afternoon 29th May (from noon onwards) at the Town Hall Gardens where they will be doing a Charleston flash mob to the music of the "Des Hopkins Original Guinness Jazz Band" as part of the Southport Jazz Festival. Says Anthony:- "the Charleston is easy and fun to do. And it's guaranteed to put a smile on your face, so just come along and join in."

15 arrested in money laundering investigation
THE arrests of 15 people who are suspected of multi million pound money laundering offences took place on 18 May 2011 as part of operation codenamed Enigma. The HMRC officers involved in the investigation are looking at possible offences in excess of £200 million, taking place across the North West, Yorkshire and Nottinghamshire. HMRC's Deputy Director for criminal investigation Alan Lee comments:- "Operation Enigma took 10 months to reach the point where we could make the arrests of 12 men and three women yesterday. During those months HMRC working with Greater Manchester Police and West Yorkshire & the Humber Police seized over £300,000 believed to be the proceeds of criminal activity. We have searched 18 domestic addresses and five business addresses during the raids, removing evidential material to allow us to continue our investigations. The businesses included a number of money services businesses and an accountant."

Arrest details:-
Rochdale – 7 arrests
1x male, 71 years old - 1x female, 55 years old - 1x male, 34 years old - 1x female, 32 years old - 1x male, 38 years old - 1x female, 39 years old - 1x male, 42 years old
Manchester – 1 arrest
1x male, 31 years old
Bradford - 4 arrests
1x male, 27 years old - 1x male, 42 years old - 1x male, 40 years old - 1x male, 55 years old
Southport - 1 arrest
1x male, 50 years old
Nottingham - 2 arrests
1x male, 43 years old - 1x male, 37 years old

Search details:-

Rochdale - 9 addresses = 1 business & 8 residential
Manchester - 2 addresses = 1 business & 1 residential
Bradford – 7 addresses = 2 business & 5 residential
Southport – 1 address = 1 residential
Nottingham – 4 addresses = 1 business & 3 residential
MATRIX CHALLENGE FINALS 2012
THE finals of the Matrix Challenge Shield will be taking place at Everton Football Club's training ground, Finch Farm, Halewood, this Friday, 27 May, 2011. The Matrix Challenge Shield, which is in its third year, is part of an anti guncrime initiative put together by the Force's specialist Matrix team. The tournament has proved to be more and more popular and this is the first year that primary school children have been able to participate and more than 400 children have taken up the challenge to join a team and not a gang. The tournament has been supported by Liverpool City Council, Knowsley Borough Council, Liverpool County FA, Merseyside County Schools FA, Liverpool Schools FA, Liverpool Football Club, Everton Football Club, Merseyside Fire and Rescue Service, Merseytravel, Liverpool Active City and Rhys Jones Memorial Cup Trust. The morning will kick off with the boys and girls battling it out on the pitch in the primary school mixed team semi-finals (Florence Melly v Plantation and St Annes CPS v Westvale) at 9.30am. The secondary girls semi finals (Broughton Hall v Alsop High and Calderstones v St Julies) will kick off at 11.30. And the secondary boys semi finals (SFX v Archbishop Beck and Cardinal Heenan v Halewood College) will kick off at 1.30pm. These will be followed by the primary school final at 10.15am. The secondary girls finalists will battle it out at 12.15pm and the secondary boys finalists will be playing at 2.15pm. The winners from each group will be presented with their winners medals by Detective Chief Supt Tony Doherty, the head of the Matrix team. All the children who have taken part have received participation medals and individual trophies will also be be awarded in May. Chief Superintendent Tony Doherty, said:- "It's great to be able to present the medals to the winners of each of the categories and it's been a delight to watch them playing their hearts out on the pitch and getting stuck in. All of the teams in the finals have beat off tough competition to get here and you only have to watch them on the pitch to see how much they have enjoyed the Challenge. This tournament is part of a wider campaign aimed at educating young people about the consequences of becoming involved in gun and gang crime. It should be remembered that the majority of teenagers are not involved in criminality, or guns and gangs. But we know that if we can work together with young people who come from different backgrounds we are more likely to get our messages across and are more likely to prevent some young people from becoming involved." The event has been supported by Liverpool City Council and Councillor Ann O'Byrne, City Council Cabinet Member for Community Safety, said:- "This tournament is proving to be a real success and I am pleased that it now includes primary schoolchildren. Hundreds of our young people take part and their involvement clearly demonstrates that the vast majority of young people throughout the city are more interested in these sorts of positive activities than in the negative activities such as joining gangs or violence."