Liverpool's Real Life Spiderman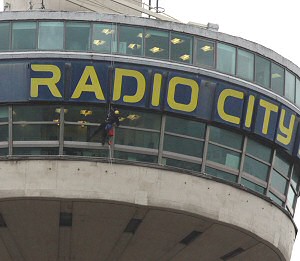 RADIO City 96.7 is one of the UK's top radio stations based in one of the most iconic landmarks of the Liverpool skyline, located in St Johns Beacon. The building is having a spring clean and on Monday, 23 May 2011, you could have seen Liverpool's very own Spiderman hanging from ropes and using suckers to give the tower a full Scouse window clean! A team of experts, based in Formby, have been cleaning the windows 450 feet above the heart of the city centre. St John's Beacon offers breathtaking panoramic views of the Wirral, North Wales, Lancashire and even the Blackpool Tower. Visitors to the Radio City Tower Tours will now have a clear view as far a field as the Lake District! Richard Maddock, Station Director said that:- "We have to wait for this time of year, with longer daylight hours and generally better weather conditions, as wind-speed has to be taken into account and can't be gusting over 15mph!" So keep an eye out for these chaps as they return to finish off as the wind drops!
These fantastic snaps have been taken with thanks to our Liverpool pap, Ian Fairbrother...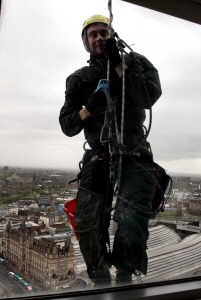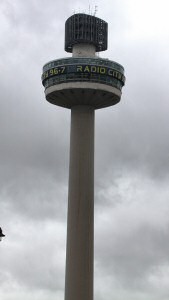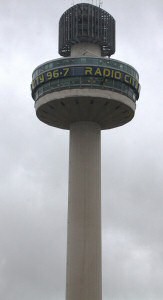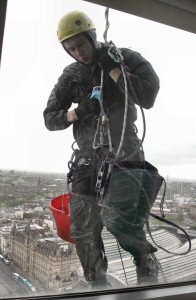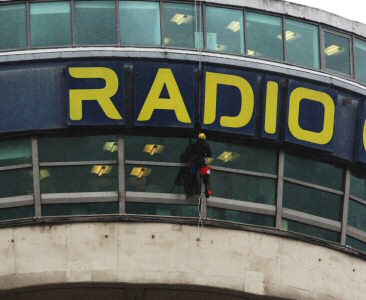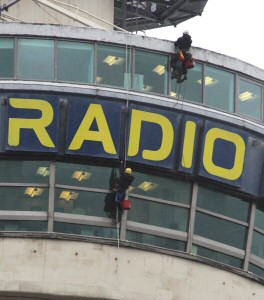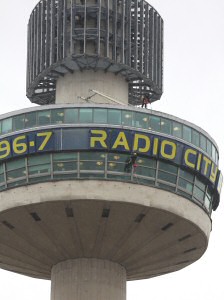 NORTH WEST HOMEOWNERS UNWITTINGLY EMPLOY ILLEGAL GAS FITTERS
100,000 home improvement projects, such as new kitchens and extensions, left homeowners with illegal and dangerous gas work
of which they had no knowledge until it was too late, according to annual figures released today by Gas Safe Register's investigations team.

Of these projects 1 in 7 were found to be 'Immediately Dangerous' and required the gas appliances to be disconnected straight away to avoid a gas leak, explosion, fire or carbon monoxide poisoning. In all cases home owners had left their project to a builder, contractor or project manager to handle who in turn subcontracted to dangerous and illegal gas fitters.

A new report into home improvement work has found that North West homeowners are too trusting with the tradesmen they employ, with 3 out of 4 leaving the supervision of their home renovations to a building firm or project manager rather than manage it themselves. Worryingly 92% of North West homeowners who had gas work carried out in their home had no idea whether the job had been done by a safe and legal Gas Safe registered engineer. When hiring these building firms, 32% assumed that their builder or project manager would verify all necessary checks on the tradesman they subcontract to.

With 100,000 home improvement jobs ending up with illegal gas work in the last year, Gas Safe Register is warning home owners to check the credentials of every tradesperson working on their project.

"Handing over a home improvement project, like a loft conversion or kitchen renovation to one builder or project manager may be an efficient route, but homeowners still need to keep a handle on who is working on the job. As this study has revealed, homes are under threat from shoddy workmanship as a result of rogue traders. We were alarmed to find so many illegal gas jobs were the result of subcontracted home improvement projects, where the homeowner had simply trusted the project manager to check the credentials of the fitter. The study also found that Britons most popular home improvement job is having a new kitchen fitted. But home improvers fitting new kitchens should be cautious. Our investigations team are often called out to inspect new kitchens where dangerous gas work has been carried out, and more often than not we find gas escapes and carbon monoxide leaking from hobs and cookers. This happens when builders and kitchen fitters try fitting the gas appliances themselves, or subcontract to illegal gas fitters." warns Phill Brewster, national investigations manager from Gas Safe Register.

Gas Safe Register's advice is simple, if you're having any home improvement work done find out in advance if it will involve gas work. Even common home improvements jobs such as loft conversions and conservatories can involve gas which you may not realise. When it comes to gas you don't want to get it wrong. If you do, the consequences could be fatal. If you want to keep
your family and home safe always check the gas engineer is qualified and registered.

Planning on home improvement work? Follow Gas Safe Register's top tips:-

► No matter how big or small the home improvement job, find out if it will involve gas work and only use a Gas Safe registered engineer.

► If you're using a builder or project manager to employ the gas fitter, check their credentials to make sure they are Gas Safe registered and can work safely on gas.

► If you've recently had home improvement work done which involved gas and you're not sure if a registered engineer did the work, nominate your property for a free safety check.

► If you suspect an illegal gas fitter report it to Gas Safe Register immediately.

For more advice on avoiding illegal gas fitters visit:- GasSafeRegister.co.uk or call:- 0800 408 5500.
MERSEYSIDE CARE SCHEME SET TO EXPAND THANKS TO PRIVATE INVESTMEN
A ground breaking social enterprise scheme in Merseyside is planning to expand throughout the UK after receiving private investment. The award winning CASA (Care And Share Associates), which provides a range of essential support services to the elderly and disabled people, has been awarded £200,000 from Bridges Ventures' Social Entrepreneurs Fund. Now, the company, which also operates schemes in North Tyneside, Newcastle, Manchester, Halifax and Leeds, hopes to extend its services to communities in other areas of the country. CASA, which has been held up by the Department of Health as an example of best practice, gives all employees shares which enables them to benefit from the organisation's success. At the same time, profits are ploughed back into the organisation, allowing CASA to spend more on activities such as staff development and training. The increase in the elderly population and the desire by the older generation to remain independent as long as possible are all contributory factors in CASA's growth. The organisation's roots are in the North East, where one of CASA's founder members, Margaret Elliott OBE, set up Sunderland Home Care Associates (SHCA) in 1994 to provide a personal care service to the local authority. She said:- "The Bridges Ventures investment will provide much needed support to grow the CASA model in many more communities." The investment from The Social Entrepreneurs Fund, which was launched in 2009 by private investor firm Bridges Ventures to provide financial help to social enterprises, has been made in the form of a Social Loan with returns linked to turnover and social impact. Antony Ross, Executive Director at Bridges Ventures, said:- "We are excited to be supporting CASA and are confident the team has a compelling opportunity for future growth." For further information on CASA and the services and opportunities it provides, visit it's website for more information.