New investment for Birkenhead Travel Centre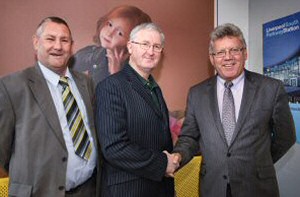 MERSEYTRAVEL has completed a refurbishment and improvement programme at Birkenhead Bus Station and Travel Centre. Each counter in the travel centre has been fitted with a raise and lower glass security screen, enabling staff to operate the counter as an open face to face or closed screen, providing added security. There is more space in front of the ticket office; allowing extra room for passengers to queue for tickets and for those waiting for buses, work has also been carried out to reduce noise levels, making it easier for passengers and staff to communicate at cashier positions. A portrait entitled 'Super Trouper', which won 2nd place in the Merseytravel Art on the Network competition 2010, has been incorporated into the refurbishment with a 2x2m reproduction of the work on display in the bus station waiting area. The competition was judged by Wirral based internationally renowned contemporary artists, The Singh Twins.

Councillor Ron Abbey, Chair of Merseytravel's Personnel and Local Transport Plan committees, said:- "These improvements are part of Merseytravel's continuing commitment to providing the best possible public transport network. Birkenhead Bus Station is used by thousands of passengers every day and we want to make their journey as interesting and comfortable as possible."

Neil Scales, Chief Executive of Merseytravel said:- "We were aware that passengers waiting for buses and those queuing for tickets were experiencing problems, so we hope that by creating more space within the Travel Centre we have improved the situation for our passengers."

The third annual Art on the Network competition is open until 1 September 2011. For further details visit:- artonthenetwork.co.uk or contact:- Merseytravel Public Arts Officer Emma Lawrence at:- 24 Hatton Garden, Liverpool L3 2AN.

Globalise your home
IF you would like to welcome an international student into your home and help them adjust to a new way of life then Edge Hill University wants to hear from you. As the start of the next academic year is approaching, students from all over the world will be preparing to leave home for the first time. For some this is a bigger challenge if they are having to move to a new country thousands of miles from their family and support network.

This year, Edge Hill University is looking forward to welcoming students from India, Nigeria, China, Sri Lanka and South Korea. All will be gaining a prestigious UK degree to help them succeed in a global job market and the University is looking for 'host families' to help them integrate and adjust to their new country.

Host families have the opportunity to share the UK's traditions and customs, experience a new culture, and receive an income for the host period as well as having the flexibility to define how long they can accommodate an international student.

Dr Louise Davies, Head of International Operations at the University's Centre for International Education, said:- "The new international students will be hoping to settle into UK life quickly so they can concentrate on their studies and benefit from a UK qualification. For many students, living away from family and friends can be a turbulent time and this is when host families can really help the students settle. At the same time, the families get excellent exposure to a new culture and gain great satisfaction in helping someone settle into the community. The international students have all been through a rigorous admission process for their chosen course and their English levels are of a high enough standard for them to study for a degree, so discussing how to work the washing machine will be easy to manage. Host families with children have reported that sharing their home with an international student has helped their own children to broaden their minds and appreciate other ways of doing something. Many host families stay in touch with their guest after they have left the UK and often the roles are reversed when the host families visit the international student's home country and enjoy the benefits of 'knowing a local'."

A host family could be any variety of 'family' - couples without children, single parents, co-habiting adults or retired people whose children have left home - who can all benefit from becoming a host family.

If you would be interested in hosting an international student to your home and want more information please contact the accommodation team at Edge Hill University on:- 01695 584200 or send an email.