THE SEARCH IS ON TO FIND THE BEST BUS DRIVERS
BUS users in Liverpool are being asked to nominate their favourite bus driver in a bid to find the UK's number one. The search for the top national bus driver is being run by the UK Bus Awards and now Arriva North West is urging its customers to get behind their local bus driver heroes.

Debra Mercer, marketing manager for Arriva North West, said:- "Our bus drivers provide an important service to thousands of passengers every day, and we're looking for people to recognise their hard work by nominating the driver(s) they believe deserve(s) to win. To win the title of Top National Bus Driver, nominees need to have gone that extra mile to provide the customer's ideal: a driver who is friendly, helpful, conscientious and mindful of passengers' comfort and well-being – in short, a true professional and worthy ambassador for the job."

The UK Bus Awards' annual competition is designed to find the driver who has best demonstrated excellent performance from the customer perspective in the last 12 months. Drivers from Arriva's regions across the UK will be competing for the title against drivers from all other bus companies.

Debra Mercer added:- "We know from previous activities that our drivers receive a lot of support from our customers when it comes to acknowledging the service they provide, so we're keen that people help us ensure that they receive the national recognition they deserve."

The deadline for nominations is Friday, 17 June 2011. Arriva customers who would like to nominate their driver or drivers should visit:- topnationalbusdriver.co.uk.
For more information about Arriva North West, including timetables and tickets, please visit:- arrivabus.co.uk
Jump in Merseyside for Nation's Heart Charity
THE British Heart Foundation (BHF) is calling on daredevils in Merseyside to take on a mammoth abseil to raise vital funds for its 50th birthday appeal. The sponsored 27 metre abseil, at Leashowe Lighthouse, will take place on Saturday, 16 July 2011, between 9am and 4pm. All money raised will go to the BHF's Mending Broken Hearts Appeal. The goal of the Mending Broken Heart Appeal is simple: to fund the research that could begin to 'mend broken hearts' in as little as 10 years and save and improve the lives of millions within decades. Every person in Merseyside really can make a difference by supporting the Appeal and help give hope to millions. To book a place, contact Ken Fretwell on:- 0151 678 2646 or call:- 07714 254503 or send an email. Keep working with us and we will beat heart disease... for good. For more information about the BHF's work, visit:- www.bhf.org.uk.

HOSPITAL LAUNCHES ABSOLUTELY FABULOUS SUPPORT SERVICE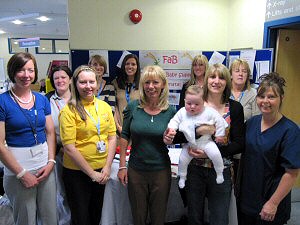 SOUTHPORT and Ormskirk Hospital NHS Trust has teamed up with local Sure Start children's centres to launch Family and Baby (FaB) support for families in Sefton and West Lancashire areas with babies on the Neonatal Unit. The service is a joint venture between the Trust and children's centres in West Lancashire and Sefton, providing much needed support to families while their baby is on the unit and following discharge home. The service offers emotional support, help to prepare for taking babies home, help with budgeting and ongoing support once at home.

The service was created following the realisation that families sometimes feel depressed in the months following their baby's discharge home. FaB provides that constant support from birth, the children's centres ensure that families continue to feel supported, meet other families in the same situation and gain answers to any questions they may have about their baby.

Rachel Nolan gave birth to baby Amelia at 27 weeks in May 2010, before FaB was established, and feels that families will really benefit from the support FaB provides:- "Right after Amelia was born I was running on adrenaline without really thinking about what had happened. Because I chose to breast feed, I'd spend all day on the unit from the moment she woke up until she went to sleep. I was exhausted. I'd have loads of questions for the nursing team but because they were so busy I didn't want to trouble them, the main focus was ensuring Amelia received the care she needed. When we were allowed home, what we'd been through finally hit me. I started to think about the 'what ifs' and really needed some support."

Because Amelia was born at 27 weeks, Rachel hadn't yet started her ante-natal classes where she would have found out all about the children's centres and the support they provide. She continues:- "Once I found out about the children's centres they became a huge source of support and information for me, I loved that I could take Amelia to a normal mums and baby group and the staff were available to answer my questions no matter how trivial. For me, I feel that FaB support provides a vital link between the neonatal unit and children's centres, I wish it had been around when I had my baby!"