Confused about the Countryside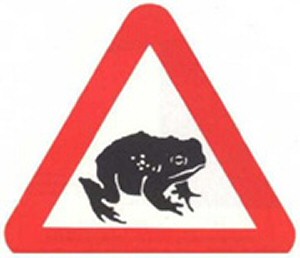 NORTH West is a region of townies, blissfully unaware about the wildlife and nature on our doorstep, reveals a new survey by farming charity LEAF (Linking Environment And Farming). 13% of adults in the region didn't know that a dairy cow is female, just under half weren't aware that robins live in the UK all year round and 18% didn't know that acorns come from oak trees.

The research, which comes ahead of Open Farm Sunday, 12 June 2011, where 100s of farms will open their gates to the public, also revealed that 64% of those surveyed in North West thought that bees made honey from pollen, not nectar. Meanwhile more than 40% didn't know that a deciduous tree was one that loses its leaves in autumn.

The North West public seems to have little idea on farmers roles as guardians of the countryside, as 96% did not know that farmers manage over 75% of the UK land mass and nearly 66% didn't know that farmers are responsible for looking after most of the hedgerows, walls and fences outside towns.

Farmer and TV presenter Adam Henson said:- "As a farmer I am passionate about the great British countryside, and like most farmers I spend a considerable amount of my time in looking after it along with all the wildlife that live there too. I'm disappointed to see that so many people seem to be confused about the countryside and the role that farmers like me play in nurturing wildlife and tending the land."

The English oak is considered to be our national tree (there's even a Royal Oak day) but 18% of those questioned in the North West didn't know this was where acorns came from - believing they came from either birch, beech or elm trees instead. As anyone who has one in their garden or local park should know, the oak tree is a deciduous tree i.e. it loses its leaves in autumn. The research though revealed 20% of us believed it is a tree that has leaves all year round.

The robin is another national symbol, recognisable to all with its red breast and featured every year on copious Christmas cards. Maybe its association with winter time accounts for the fact that only just over half in North West knew it can be found all year round in the UK. But more than 20% of respondents didn't know that one of the other most common British birds, the sparrow is also found here all year round, yet 16% thought cuckoos could be seen for 12 months of the year and 16% thought the same of turtle doves.

As well as wildlife, those surveyed in the region are worryingly unclear about road signs found in the countryside. 34% people could not identify the correct meaning for this sign, 'frogs or toads crossing' while 19% believe it is a warning indicating to 'beware of frogs!'
Caroline Drummond, Chief Executive of LEAF said:- "Farmers play a vital role in caring for the countryside. They are responsible for nurturing the soil, the plants and the trees and protecting and caring for all the animals, insects and birds that live there. Open Farm Sunday is a great opportunity for all the family to get out onto a farm to discover more about the link between food, farming and nature. With hundreds of farms opening nationwide you'll be able to meet the farmers who care for our beautiful countryside and its wildlife, and find out how your food is produced. At LEAF, we are passionate about environmentally responsible farming and connecting people with food and farming."

To find a farm that's opening near you, log onto:- farmsunday.org.

Euro MPs quiz Canada on continuing tensions with Seal products ban
DURING a debate in the European Parliament Euro MPs quizzed the European Commission about ongoing negotiations with Canada on the EU-Canada Economic and Trade Agreement. Canada is currently pursuing a formal dispute resolution with the WTO on the EUs ban on seal products.

Euro MP, Arlene McCarthy who was responsible for seeing the ban through the European Parliament when it was first adopted in May 2009 said:- "When the law was first voted by the European Parliament in May 2009 we said it was a victory for people power and a credit to the campaigners involved. The vast majority of people across Europe were horrified by the cruel clubbing to death of seals. Canada's continuing challenge to this law democratically adopted by all Member States in the EU remains a source of ongoing tension. There is no desire to trespass on the Inuit traditional way of life so the law was drafted to specifically permit trade in products from traditional Inuit subsistence hunting. The law does however prohibit the cruel commercial trade which leads to the industrial scale slaughter of thousands of seals every year. The European people have a right to say this that products obtained from this cruel slaughter are not fit for the EU market place and I will continue to defend our right to do so."
Getting To Anger Before It's Too Late
EARLY intervention and support for victims at the beginning of the cycle of domestic abuse are essential, so says The British Association of Anger Management (BAAM) responding to figures released today by the charity Mankind. Mankind have produced figures from the Crown Prosecution Service, showing that numbers of men subject to domestic violence have quadrupled since 2005. They use this to demand more services for men. It still remains, however, that women are twice as likely to be victims of domestic abuse. Mike Fisher of The British Association of Anger Management says:- "these figures are disturbing in that society in general is only just beginning to get an idea of the scale of domestic abuse in this country. It really is a hidden crime. education for everyone on what abuse is and how to recognise the signs is essential. This just shows that anyone can be a victim of abuse."

1 in 4 women will be a victim of domestic violence in their lifetime and, on average, 2 women a week are killed by a current or former male partner (stats from Women's Aid).

Mike Fisher is honest about his former abusive nature "I used my anger to abuse partners and I am not proud of it. It did however give me an insight into how the cycle of abuse can start with anger and when that fails to work as a control mechanism violence becomes the next stage. For every person being controlled by violence in the relationship there will be many more persecuted by anger through emotional and verbal abuse as a form of control."

This is why BAAM are at the final stages of refining a programme for education of those suffering verbal and emotional abuse. Called:- "End Of The Line" it is designed to shorten the cycle of abuse by giving the sufferer the understanding and the impetus to call time on an abusive relationship.

"This programme is about getting help and interventions in earlier in the cycle. By doing this it is possible that we can save many more relationships as well as prevent a huge amount of abuse. Getting to abuse before it gets violent is essential. Giving victims the tools to take control and restore their self esteem is the way forward." Says Julian Hall of Beating Anger Derby (BAAM's service delivery arm)

BAAM will be running their first courses for sufferers of another's anger:- "The End Of The Line" in July 2011, around the country. See beatinganger.com for a clinic near you.