Warning:- "Tax Refund Has Arrived"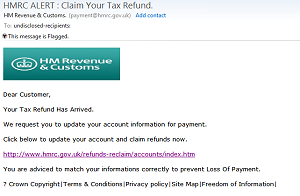 HMRC have been updating us about a new round of fake emails. These are being sent out from criminal groups purporting to be HMRC. If you get an email that asks you for information or tells you to go to a website to get your tax refund, do not click on it! It is a phishing scam, as HMRC never sends out emails or phones to tell you about tax refunds. We have also been alerted to a phone scam which calls you, saying they are calling on behalf of HMRC. Again this is a scam. If you get an email you think is fake, allegedly from HMRC, please email it to their investigation department at:- phishing@hmrc.gsi.gov.uk. We will have a full story in next week's issue. The latest mass-mailed email we have obtained a copy of, can be seen by clicking on the photograph. We would always advise always check to see if the link is a valid link before you click on any emails. If you know how to, we would also suggest you check to see where the Postfix comes from.
Loans boost for vulnerable home owners
LIVERPOOL city council is inviting owner occupiers who need to make improvements, repairs and adaptations to their properties to take advantage of a Houseproud loan. The loans – ranging from £3,000 to up to 55% of the current value of the property – are available to people who are aged 60 or over, or who have a disabled person living in the household. The loan does not need to be repaid during the recipients' lifetime. Aimed at improving life for residents who need it most, the loans could fund a range of improvements, from a new bathroom, electrical rewiring or central heating; to replacement windows, doors, guttering, or disabled adaptations such as level access showers or a stairlift. The city council can assist people with assessing the works required, finding reputable builders and checking the work when it is finished.

Cabinet Member for Housing and Community Safety at the city council, Councillor Ann O'Byrne, said:- "It's vital that our most vulnerable residents are given all the support they need to live safely and independently in their homes. Many older homeowners, or households that include a disabled person, have a real need to repair, improve or adapt their living space. But it can be a daunting task, especially at a time when people are having to tighten their purse strings. The Houseproud scheme is a really effective way of helping homeowners carry out and fund major work. As well as providing cash, the scheme also provides vital support and reassurance in helping people source reliable tradespeople and making sure work is carried out properly."

Houseproud is run by the Home Improvement Trust, a non-profit organisation, in partnership with local councils throughout England, Scotland and Wales.
For further details about the scheme, or to apply for a loan, residents should call:- 0800 783 7569.

£1 million to help voluntary sector
A £1 million lifeline to help support voluntary sector organisations affected by Government cuts in funding has been launched on Monday, 13 June 2011. The Transformation Fund is a one-off investment to support organisations to become sustainable by funding projects to reorganise their business, work collaboratively or bid for cash from elsewhere.

Council leader Joe Anderson said:- "We have had to find £91 million of savings this year because of central government cuts, and this meant some extremely tough and difficult choices over the level of funding for voluntary sector organisations. We recognise they play a key role in the social wellbeing and economic prosperity of the city, and it is vital the cuts do not affect their ability to provide services we are continuing to fund. The Transformation Fund is to help them find ways in which they can change the way they operate so they can get through this difficult period, especially as we have to find significant savings next year as well. The money will be available to help them develop ways of collaborating with other organisations to reduce their overheads, share back office functions, or help them apply for grants from elsewhere so they are not dependent upon one source of funding. I know this scheme is likely to be oversubscribed and some organisations who apply will be left disappointed, but we have made available what we can."

The Transformation Fund cannot be used for the delivery of services the city council has ceased to fund. Alan Lewis from Liverpool Charity and Voluntary Services (LCVS), which is the umbrella body for the third sector in the city, said:- "I am pleased the council has made available this funding for the voluntary sector. It is a real commitment to helping support our members through tough times, and will help them find ways in which they can make changes to secure their future."

Application forms can be downloaded from the council's website - from Monday, 13 June 2011. Decisions on successful bids will be made by the beginning of August 2011.
SOUTHERN CROSS PLAN TO DUMP 132 HOMES – UNISON RESPONSE
UNISON, the UK's largest union, warned that the huge uncertainly facing thousands of residents in Southern Cross homes poses a real danger to their lives. Research shows that if you move elderly people, many do not live for very long afterwards. For elderly people with dementia, moving can also be incredibly confusing and distressing. The news of the 'exit strategy', follows reports that the company is paying City firms £500,000 a week for crisis advice, as well as cutting thousands of nursing and care jobs in its homes. Dave Prentis, UNISON General Secretary, said:- "Another day, another report of shocking lack of care from Southern Cross. How do this company's bosses, past and present, sleep at night? They have stripped the company of assets, made themselves millionaires in the process, and are now going to cut and run. But it is an incredibly distressing time for elderly residents, their families and for workers in the company's homes. Research shows that if elderly residents are moved from their homes, many do not live for very long afterwards. Even those who do not face moving are getting hit with lower standards of care as the company cuts care and nursing jobs. It is a personal tragedy for staff facing the doles queues – jobs are hard to find in the current climate. The government must step in to regulate the privatised care market. There are many other Southern Cross style companies out there, and this cannot be allowed to happen again."