Phyllis is to sail in 'Annual Nobby Race'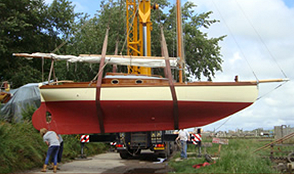 AN old (1913) Royal Mersey Yacht Club classic yacht has recently returned to the River Mersey after a 10 year restoration and will be sailing with the Nobbys at the forthcoming Annual Nobby Race. They are still after information on this yacht... So if any of our reads have any information please let us know, so we can pass it on. Anything would help to fill in the missing detail would be amazing, before it's lost forever! The yacht called Phyllis will be in the Albert Dock around mid-day on Saturday, 18 June 2011, departing Albert Dock on the 19 June 2011, again around mid-day. She will be sailing on the river after leaving the Albert Dock, before returning to Liverpool Marina. "As far as we know so far, Phyllis, the first owner F W Whiteley, was built by Samuel Bond's at Rock Ferry on the Wirral. Blueprinted by G H Wilmer to a Royal Mersey Yacht Club class design. Named PHYLLIS, we have yet to positively identify who this lady was, a daughter, a wife or perhaps even a mistress? She is believed to be the only remaining yacht afloat from this class, built just prior to the First World War and is registered on the National Small Boat Register which defines the heritage value of different classes and types of boats across the country. We know that Phyllis had seven different owners but she remained in the North West England, throughout, with the exception of the 1970's, when she went foreign to Poland for a little while. More local information would be very welcome. Returned to her original gaff cutter rig she had changed over the years as she was cruiser converted and bermudan rigged when we found Phyllis in 2001 in a back garden at Bebington on the Wirral. Being a little naive we were confident that a bit of cash and some TLC would bring her back to life and good enough to satisfy our hankering for 'a little wooden boat'. Using a massive mobile crane we coaxed her out from under the garden tree, along with the residue of the previous autumn's fall of leaves. There was a heart and traffic stopping moment when she cleared the garden fence and was suspended at a height of 20ft, as she was positioned and placed on to the waiting low loader. On more than one occasion we regretted letting our hearts rule our heads, this was almost like having a completely new boat built, which was not our original intention! However when, on a late summer's day in 2010, Phyllis was craned into the water we knew we had made the right decision. She looks beautiful." said Kevin Goulding.

ATA – Funded Courses - 16 to 18 year olds - NEEDED
NORTH Liverpool based ATA (Acorn Training Academy) who specialise in motor vehicle mechanics and now also offer motorbike courses are in a position in these difficult times to offer a limited number of free courses to 16 to 18 year olds. As we constantly read about tuition fees, student loans and lack of funding ATA are offering male and female learners aged 16 to 18, the chance to gain BTEC's ranging from Entry Level to Level 2. Based just on the Liverpool - Sefton border in Brasenose Industrial Estate and only a few miles from the city centre of Liverpool it also is serviced well with transport routes. ATA offers learners the chance to get out to real working environments as part of the courses and to develop their skills base in this vocational area.

A spokesperson for ATA commented:- "These courses are limited and we are offering as an incentive to learners a cash bonus payment after enrolment. Learners used to get EMA (Education Maintenance Allowance) but our new government had seen that this has now been driven out, apart from in certain special cases. We believe not only are we offering motor bike and motor vehicle enthusiasts the opportunity to learn, qualify and move into work placements, but we are also giving them some financial reward for their time and effort. "

Courses will now begin over the next few months and offer learners the chance to either go onto further qualification with ATA or positions at garages across the region. No experience is necessary just an interest in mechanics and a good grasp of Maths and English.

ATA also still have courses still open to Adults aged 18 to 80 for shorter summer courses in basic motorbike maintenance.
For more information on either of the above call:- 0151 933 6140 or email:- info@acorntrainingacademy.co.uk.
JOBLESS FIGURES – UNISON REACTION
COMMENTING on the latest jobless figures, Dave Prentis, General Secretary of UNISON, said:- "The small fall in the jobless total will be no comfort to the hundreds of thousands of public sector workers with redundancy notices hanging over their heads. The figures show that Government's cuts have led to another 24,000 public sector workers losing their jobs. Economic inactivity has gone up and the private sector is still weak. It is no position to create the number of jobs needed to stop thousands more public sector workers joining the dole queues. The number of 16 to 24 year olds finding jobs is welcome, but sadly this blip isn't likely to last long as school leavers and graduates start to flood the jobs market. The Government must stop cutting hard and deep and look at stimulating the economy, creating jobs and keeping the public services that people rely on."