Southport disability centre celebrates volunteers during National Volunteers Week
COUNCILLOR Brenda Porter attends award ceremony for outstanding volunteers at Vitalise Sandpipers. National disability charity Vitalise's Sandpipers Centre in Southport celebrated the achievements of its volunteers during National Volunteers Week. Outstanding volunteers from the past year at the centre received certificates of recognition from grateful staff as part of the annual Vitalise Volunteer Awards on Friday, 10 June 2011. Among the volunteers receiving awards were Mark Cliff, 20, of Brighouse, who scooped the Centre Volunteer of the Year award, also Nafisa Mohammed, 18, of Solihull and Christopher Rowntree, 18, of Grantham, who received special mentions. The three volunteers were singled out for recognition thanks to their outstanding service supporting the disabled guests taking much-needed respite breaks at Sandpipers. The award ceremony was attended by long-time Sandpipers supporter Councillor Brenda Porter of Sefton Council, who is a Conservative parliamentary spokesperson and a Cabinet Member on the Council's Health and Social Wellbeing Committee. Commenting on her Visit, Councillor Porter said:- "It's the volunteers who make Sandpipers tick. They're the ones who enable the guests to go on the excursions and really make the most of their breaks. They transform the atmosphere of the centre and turn it into a truly diverse and stimulating place to be. I salute them all - they deserve all the accolades they get!"

Among the volunteers who have regularly donated their time and enthusiasm at Sandpipers in recent years are husband and wife team Kath and Alf Bamping of Bolton. Kath, 53, explained:- "The atmosphere is infectious. It's a chance to try new and exciting things and meet new people from all over the world. But the icing on the cake is in giving my time for such a great cause and helping others to achieve all the goals. You give, but you get so much back in return. You come away feeling tired, saddened at parting company, but already planning when you can come again." Vitalise makes over 5,000 volunteer placements each year. The majority of volunteers spend a week at one of Vitalise's residential Centres around the UK, where they provide companionship and support to the disabled guests and carers. Others accompany visually impaired people on city breaks and activity holidays in the UK and abroad, or help in Vitalise's offices and charity shops. Vitalise Sandpipers Centre Manager Darren Holloran said:- "Volunteers are the lifeblood of Vitalise. It's safe to say that without them we simply wouldn't be able to provide such a stimulating experience for our guests. That's why we wanted to recognise our volunteers' commitment here at Sandpipers during National Volunteers Week. We wanted them to know just how much we value their incredible contribution. Vitalise runs one of the largest and most diverse volunteer programmes in the UK. Our volunteers are of all ages, nationalities and from all walks of life, from retired people looking to make good use of their free time, to young people looking to gain valuable skills and experience." Sandpipers is one of three UK centres, run by national disability charity Vitalise, which celebrated its volunteers during National Volunteers Week. The centres provide short respite breaks in a holiday environment for people with disabilities and carers, with a programme of activities and excursions throughout the year. Vitalise also organises holidays for visually impaired people.
The English Bible
ANCIENT Mesopotamia cuneiform tablets along with biblical Hebrew fragments of text from Geniza, some Arabic, Greek Latin, Ge'ez, Coptic, and English manuscript codices plus original Torah scrolls will be on show in the Wayfarers Arcade, Southport, Merseyside. Also on view will be many first printed Bible editions along with the English versions by Coverdale, Rogers and of course Tyndale including the King James Bible of 1611. There will be some association Bible copies with examples from Florence Nightingale, Charles Spurgeon and William Wilberforce. All of those items, and many more, can normally be seen at the East London, 'The Museum of The Book'. This unique and historic exhibition of 5,000 years of Biblical History, not only conveys you to ancient events ranging in time from Abraham to Babylon, but extols the brave, religiously committed people like William Tyndale and John Lewis who sacrificed themselves for us to have the freedom to read and even own The Holy Bible. This very special exhibition will be on public view in the Wayfarers Arcade, Southport, Merseyside, from 30 June to 6 July, 2011, with a special film showing at lunch time (1pm to 1.15pm) on Tuesday, 5 July 2011. Group tours are only by appointment, and can be booked as well as receiving information from Reverent Kevin Jones on:- 01704 228394, or by emailing him on:- kevtherev34@hotmail.com.

John Cleese thanks local NSPCC supporters in Merseyside
WRITER, actor and comedian John Cleese met local NSPCC supporters in Merseyside this week, for a special lunch in aid of the children's charity. Mr Cleese, who has backed the NSPCC for 23 years, thanked guests for their support of the charity and its work with children in the city. The afternoon, held on Wednesday, 1 June 2011, was sponsored by Coutts and held at The London Carriage Works on Hope Street, in Liverpool. Among the attendees to the event, were Stephen Burrows Regional Chairman of Coutts & Co, Tom Handley QC, Head of Exchange Chambers, Ray Eugeni, Client Partner at Couttes & Co, Phillip Rooney DLA Piper, and other supporters.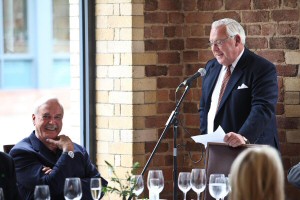 Mr Cleese, who is in Liverpool as part of his Alimony Tour, said that supporting the charity was a 'no brainer'. He said:- "I really don't think that there's anything more important than trying to ensure that children grow up feeling safe. Beyond their personal happiness, safe children make for a safe society." Guests at the event enjoyed a, 3 course meal and had the chance to ask Mr Cleese about his career that has spanned five decades and includes series such as Monty Python and Fawlty Towers and more recently the Harry Potter and Shrek films.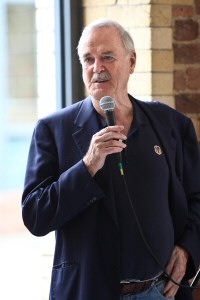 Alex Hanson, NSPCC corporate manager for Liverpool said:- "It was fantastic that John Cleese was able to come along today and meet with local supporters to share why he supports the NSPCC and why he feels so passionate about the work we do to protect children. I am so grateful that he found the time in his busy schedule to spend a couple of hours with us. He was charming. I'd also like say thank you to all our guests for their support of the NSPCC."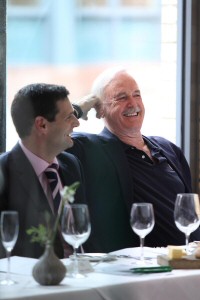 To find out about more ways of supporting the NSPCC locally contact the NSPCC fundraising team on:- 0161 628 1209 or by emailing:- northwestappeals@nspcc.org.uk.
FACT FILE:-
Did you know that both the RSPCA and NSPCC where both founded in Liverpool