Get prepared for the North West's biggest bike ride!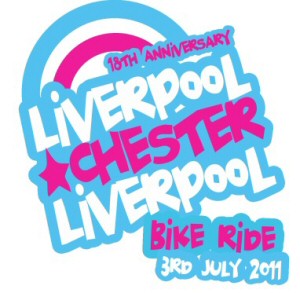 THERE are 3 weeks to go until the Liverpool-Chester-Liverpool Bike Ride, taking place on Sunday, 3 July 2011. People planning to take part in this year's event are being encouraged to start gearing up now, to make sure they can enjoy it to the full. Organisers and local cycling experts are keen to offer preparation tips for all riders who are participating in the Bike Ride. Simon Wallis, Sustrans Bike it Officer for Merseyside, offers the following advice to riders:-

► Get your bike serviced a week or 2 before the event and get any faulty parts repaired

► Try and build up your stamina by getting out on your bike and doing a little distance and often in the run up to the event. Even if you've not started training yet, every little helps and you'll find it's easy to get fit on your bike.
► Set your seat at a sensible height where your toes are just touching on the floor. A low seat makes for really hard work on the thighs.

► Make sure you use a bike that you're comfortable with riding to avoid aches and sores. If possible try and give it a few test runs before the ride. Additionally, you could use a gel seat and wear cycling gloves which are all relatively cheap to buy from a cycling shop.

► Get used to the gears on your bike before starting the race and make those hills easy for yourself.
► Taking part with friends and family can help you maintain an all important relaxed pace.
► Warm up before the ride and cool down afterwards. This is particularly important to first time riders who will be using muscles that they may not normally use.

► Be prepared for the weather – be sure to take a rain jacket and eye protection so that you don't get caught out half way round the route.

► Carry a few high-energy trail snacks and drink sips of water about every 20 minutes throughout your journey.
► Most importantly, the Liverpool-Chester-Liverpool Bike Ride is all about having fun. So relax and enjoy it!

The annual bike event will start at Old Haymarket, just outside the Birkenhead Tunnel entrance. The event will feature four routes this year: A challenge ride (54 miles), a community ride (30 miles), a family ride (25 miles) and a sportive route (90 miles)

Mark Sandamas, Director of Pennine Events commented:- "Cycling is an ideal way for people to get active and this event caters for all ages and abilities, giving everyone the opportunity to get involved. There is still time to sign up so whether you're a serious cyclist, or a complete novice, I'd encourage you to get on your bike this summer and take part in the Liverpool-Chester Bike Ride."

The sponsors of this year's Bike Ride are Liverpool PCT and Merseytravel. Gideon Ben-Tovim, Chair of Liverpool PCT, said:- "We'd like as many people as possible to embrace the Decade of Health and Wellbeing, and our support for the Liverpool-Chester Bike Ride is part of our commitment to promoting events which encourage a healthier way of life. The Bike Ride is a great way for people to have fun and get active."

This year's official charity is Claire House Children's Hospice. To find out more about this local charity and to find out how you can cycle to raise money for them, online. The site has all the information to enter and it is not to late!

NHS BILL BEYOND REPAIR WARNS UNISON
UNISON, the UK's largest union, said that the Future Forum's report into the NHS Health and Social Care Bill, shows a Bill beyond repair. Even if the Government adopted all the report's recommendations, "It is still the wrong Bill at the wrong time" warned Dave Prentis, General Secretary of UNISON, the UK's largest union.

Really big questions over critical issues such as privatisation remain unanswered: just how will the government prevent "cherry picking"? And why are there no limits on the amount and range of services that can be privatised.

Mr Prentis, went on to say:- "The Forum is recommending sweeping changes to the Bill because it is riddled with flaws. It exposes the real agenda behind the Government's Bill – the wholesale marketisation of the NHS. It wants to turn our health service into nothing more than a logo on the side of a van run by a multinational company. The Forum's changes may airbrush out some of the flaws, but no amount of fiddling round the edges is good enough when the future of an NHS free and accessible to all is at stake. The Bill is beyond repair and should be scrapped. Crucially, the report fails to mention the importance of keeping the cap on the number of private patients hospitals can treat. This means that NHS patients are likely to find themselves at the end of a very long queue. Cameron may say he is not privatising the NHS and that it is safe from cuts, but the reality in hospitals and primary care services up and down the country tells a different story. The Government is using the Bill as a smokescreen to cover what is happening right now in the NHS. The £20bn that the Government is demanding from Trusts in so-called efficiency savings is leading to longer waiting lists, patients waiting in pain for their operations and job cuts across the NHS. The Government is belatedly beginning to realise it has gone too far. The outcry from the public and from health unions and professionals is forcing it to think again. But cobbling together a half-hearted compromise will not help the NHS, its patients and staff."
ANYONE FOR TENNIS!
FANCY yourself as the next Nadal or Murray? Do you have the fastest serve in Merseyside? Then pop along to The Grange and Pyramids Shopping Centre on Saturday, 25 June 2011, and Sunday, 26 June 2011, and find out. Wirral Tennis Centre will be challenging weekend shoppers to put down their bags and serve up an ace! Customers to The Grange and Pyramids can limber up for Wimbledon and measure the speed of their serve on the special Speed Serve Centre located in St Werburghs Square. Whether you're a professional with a 135mph serve like Rafael Nadal or a total beginner why not come along and try and net yourself a free 30 minute tennis lesson. Shoppers can also visit CEX's 'Centre Court' and play virtual tennis to win an Xbox 360 and Xbox Kinect. Tennis fans can play game, set and match as Federer or Sharapova and the highest score of the weekend literally wins the Game - the Xbox 360 and Xbox Kinect!

Derek Millar Commercial Director says:- "We have just launched our Great Days Out campaign and want shoppers to get involved. So if you think you have an ace serve or winning back-hand then come along and you could win some great prizes."

If tennis isn't your sport then visit the Wirral Tennis Centre Team at the Shopping Centre and ask about their free 'come and try' aerobic classes and fitness suite sessions. To recap... Go to:- The Grange and Pyramids Shopping Centre, CH41 2TA, on:- Saturday 25 and Sunday 26 June from:- 11am until 3pm. Call:- 0151 666 2626 for more information about the event.
Are you going to St Peter's Church Fun at the Fair
ON Saturday, 18 June 2011, from 1pm to 4pm, St Peter's Church, Birkdale, is holding a family "Fun at the Fair". The church has a fantastic afternoon planed with plenty for all the family! T hey have told us that:- "We will have lots of stalls and delicious food. Crafts to make with the Local Artisans and gifts and cards to make for Father's day." So why not pop on over and show your support...? Also do not for get to take a look inside their beautiful Church as well!