DOCTORS ARE AN "INNOCENTLY IGNORANT" OF SOCIAL CARE SYSTEM
NHS doctors and nurses are largely in the dark about how to get post-treatment elderly patients out of hospital beds and into social care, meaning a potentially overwhelming tidal wave of demand for care once medical professionals get to grips with the system. As wrangling over NHS reforms continue, the lack of clarity amongst doctors over how the UK social care system operates means that thousands of hospital beds are blocked by elderly people who would be better off being cared for at home or in residential care.

"The potential impact of this issue is not just that innocent ignorance exists, but what will happen when medical professionals are educated, and health and social care are finally integrated. It is important that they become better equipped to allow patients to leave hospital with suitable care cover, but Saga is concerned that there is a consequent risk of our care system being overwhelmed. In fact, there will come a tipping point when medical professionals understand the massively complex UK social care system, how to get elderly post-treatment people into it, and start to move older infirm people out of hospital beds and into care at a much faster rate. It is an element of NHS reform which has been overlooked: medical professionals need to be educated in how the social care system works - given the confusing array of approaches taken by different authorities - but, once they do, then elderly people will flow into the social care system faster and in greater volumes, which risks swamping home carers and residential care - but the upside is this will create a faster flow of NHS acute and elective patients into hospitals because of the increased availability of beds. The hospital bed log jam may be unwelcome, but it is convenient to the current capacity of the system. However, once the log jam is cleared, then demands upon different elements of the social care and healthcare systems further downstream will go beyond capacity. This is an issue which urgently needs to be factored in to the government's current re-thinking on NHS reforms as realisation and significance dawns as to just how much work needs to be done on integration of health and social care. So frustrated are we at the lack of information about care that we have produced a free public information guide - astonishingly the only single-source guide in the UK - for both families and, indeed, medical professionals, who are trying to get to grips with the care system." said Dr Ros Altmann, Director-General of over-50s lifestyle organisation Saga, which supports the Saga Respite for Carers Trust.

'The Saga Guide to Care' is free and available from:- 0800 015 2084 or online at:- saga.co.uk/ltc.
Demand Zero Day - Countdown to Zero + satellite Q&A
A special screening will take place at the Picturehouse @ FACT, Liverpool on Tuesday, 21 June 2011 from 6.30pm. The film is called:- "From the makers of An Inconvenient Truth", a film about our present nuclear threat. Written and directed by Academy Award® nominated documentarian Lucy Walker (Waste Land, The Devil's Playground, Blindsight), Countdown to Zero traces the history of the atomic bomb from its origins to the present state of global affairs. It makes a compelling case for worldwide nuclear disarmament and features an array of important international statesmen, including Jimmy Carter, Mikhail Gorbachev, and Pervez Musharraf. The film's UK distributor, Dogwoof (The Age of Stupid), has announced Demand Zero Day on Tuesday, 21 June 2011. This nationwide premiere will see Countdown to Zero play simultaneously at Picturehouse @ FACT and across the UK before venues link up live to London's BAFTA for a panel discussion featuring Her Majesty Queen Noor of Jordan, former Foreign Secretary Margaret Beckett, ex-CIA operative Valerie Plame-Wilson, and Oscar-winning producer Lawrence Bender. You can join the discussion yourself, by texting your questions to the panel. Learn more about the film, the campaign and how you can join the Countdown To Zero audience:- countdowntozerofilm.com How do I book? Simple - go online at:- picturehouses.co.uk to book tickets, or call:- 08719025737, plus tickets can be bought in person at the cinema Box Office!

Cheers – Cains backs city events!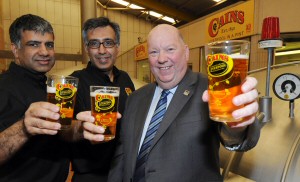 ONE of the UK's leading breweries is reigniting its relationship with culture in Liverpool. Award winning Cains Brewery has signed a deal to become an official supplier for local culture events, following on from their successful sponsorship of Liverpool's European Capital of Culture year in 2008.

Their first role will be as a key supporter for the Mathew Street Music Festival in August 2011, hosting a special hospitality area for key sponsors and partners, and their branding will be seen across the city centre. Following this, Cains are expected to add a local flavour to other forthcoming events including the On the Waterfront – River Festival, which takes place 8 September to 15 September 2011.

Leader of Liverpool City Council, Councillor Joe Anderson, said:- "Our partnership with Cains in 2008 was a huge success and I'm really pleased we are building on the relationship. It's a real credit to this local business that during these tough economic times they are still happy to support Liverpool's events programme. Earlier this year we asked businesses to support the festival as, due to budget pressures, it's not feasible for the city council to solely fund the annual event. Cains Brewery is setting a fantastic example to other organisations and I hope others follow their lead so we can put on an outstanding event, just as we have done for the past 18 years."

Cains Joint Managing Director, Sudarghara Dusanj said:- "We have been part of the city's cultural fabric for more than a century and we are very proud of the role we played during Capital of Culture. We know how important culture continues to be in Liverpool – and that's why we were so keen to get onboard once more. This latest agreement cements our commitment to doing as much as we can to support major events and festivals and we're looking forward to a relationship with Culture Liverpool which is every bit as positive as it was in 2008. We see this as a great opportunity to connect the national and international appeal of Liverpool's major cultural events with our own ambitions to promote a top quality Liverpool product to national and international markets."

Cains is Liverpool's oldest brewery and was purchased by brothers Ajmail and Sudarghara Dusanj in 2002 after it was put up for sale by its previous owners.

Mathew Street Music Festival is Europe's largest free music event with acts to suit all tastes and last year brought in £20 million to the local economy. Mathew Street Fringe has been running for three years and celebrates the city's original musicians in venues which support new music all year round.

Cains are keen that people who enjoy and support the city's events will also take advantage of the opportunity to include a tour of the famous Cain's Brewery. Visit:- cainsbeers.com for more information.
Lunar eclipse, did you see it?
ON Wednesday night, 15 June 2011, a lunar eclipse occurred, starting at 8.23pm before reaching maximum totality at 9.13pm and it ending at 10.03pm. Sadly, for the North West England and Wales, most of the total phase was over before the moon rose and for many on Merseyside the cloud stopped any chance of seeing it anyway. Those in Northern Scotland also missed totality entirely, but that was also down to the alignment. If you lived in the Southern half of the UK, then you should have be able to see the moon totally eclipsed, provided the cloud cover did not obscure your views! If you did get a picture, do let us know and please email it to us at:- news24@southportreporter.com (See T&C for rules about submission.)