BUILDING THE CITIZEN TV REVOLUTION!
THE "Making News Roadshow" is a series of free-of-charge large-scale workshops in citizen TV reporting in locations around the UK, organised by visionOntv, an internet television station and training project based in London. It kicks off in Liverpool on the weekend of 17 June 2011, at The Casa, 29 Hope Street, L1 9BQ. The programme is also international, starting in Japan in September 2011. "Making News" is a radically different approach from conventional video training. Its uniqueness lies in the fact that the skills of news reporting have been boiled down to a few cartoons on a single side of paper. Students will learn how to make quality news reports with their mobile phone, or even no camera at all (just using downloaded photos). Richard Hering, an ex-TV investigative reporter and one of the visionOntv trainers, comments:- "For the coming citizen TV revolution, people don't need expensive equipment, they just need some basic skills." Director of visionOntv Hamish Campbell adds: "There's far too much wobbly-cam out there with bad sound and no story-telling. With what we're offering, students can match the mainstream media." The Liverpool leg of the tour is partnered by Liverpool Trades Union Council and the student group Merseyside Network against Fees and Cuts. Celia Watson from MNAFC attended a previous Making News workshop in London. "There are as many angles on a news story as there are people witnessing it. Also, lots of stories don't get covered. visionOntv is giving people all the skills they need to make their own news and get their story out." See:- visionon.tv/web/makingnews for more information.
Northwich Medieval Festival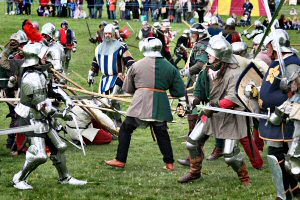 OVER 13 August to 14 August 2011 Verdin Park, Northwich will see the first Medieval Festival to be staged in it. the event is intended that this becomes an annual event, and Verdin Park provides not only a lovely setting... Sufficient space for expansion as the event grows is now on offer as well, thanks to it's sponsores Cheshire Wet & Chester Council. They are sponsoring it as part of their Regeneration Project to attract people into Northwich, which still boasts a superb array of
independent specialist shops and market stalls.

Visitors are being asked to park in the Town Centre and walk to Verdin Park, as there is no parking available at the park itself. The Northwich Medieval Festival that will be open from 10am to 5pm each day, with a packed programme of things happening. Gates open at 9am, and each day's fun and games starts with a very loud bang – on the Saturday the Lady Mayoress will be asked to fire the cannon!

The Festival is being staged by the team who ran the Bodelwyddan Medieval Festival from 2007 to 2009, and features the same top quality Re-enactment groups and performers, including local group The Poor Knights of St. Dysmas and the Chester-based Ya Raqs Dance Troupe traditional Arabic Dance Troupe, performing Egyptian and North African dance. As well as Living History encampments to explore there will be Arena Displays including Sword Fighting, Archery, Black Powder Fire-Power, Falconry and Dance. Medieval Traders provide the essential retail therapy, and there will be quality locally-based caterers and a traditional Beer Tent with buxom wenches provided by the Trollsbottom. A lively skirmish is the culmination of each days activities.

Adults £7.50, Children (3 to 17) £3, OAPs £6 at the gate on the day, or advance tickets at considerable discounts are available from the Chester and Northwich Visitor Centres, Northwich Memorial Hall, and from Cheshire West & Chester Council offices by telephone.

Marjorie Emile feeding the giraffes at Blackpool Zoo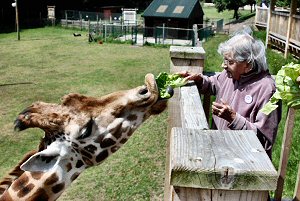 BLACKPOOL Zoo made dreams come true for its oldest ever visitor, when staff arranged for 101 year old Marjorie Emile to hand feed the giraffes.

The lifelong animal lover, who will celebrate her 102nd birthday on 4 July 2011, visited the zoo with her nephew and nieces and was over the moon to learn she would be getting up close and personal with the giraffes.

Marjorie was born in 1909, the year instant coffee, the toaster and the first completely synthetic plastic were invented. Other notable events included the first manned flight across the English Channel, the discovery of the magnetic South Pole, the official opening of Woolworths and Manchester United's first FA Cup victory.

Speaking about her giraffe feeding experience Marjorie said:- "I had a wonderful time at Blackpool Zoo, which was made even more special by being able to feed the beautiful giraffes. My great nephew works at the zoo and arranged everything for me with the management. I also visited the ape house, where I fell in love with the baby gorilla Meisie and I thoroughly enjoyed the sealion display – in fact I bought a cuddly sealion to add to my extensive soft toy collection. Next on my list of things to do is swim with dolphins, although the pacemaker I had fitted last year may prevent that!"

Marjorie spent the first 41 years of her life living in her birth city of Lahore in what was British India. She married sportsman Alf Emile and although she never had children she has 27 nieces and nephews and countless great nieces and nephews.

As one of eight children she went onto become a sergeant in the Indian Army and moved to the UK after the death of her father in 1950.

She worked for Lloyds Insurance in London and moved to Harrogate, where she still lives, after her retirement in 1982.

Jude Rothwell, Marketing and PR Co-ordinator at Blackpool Zoo said:- "We were more than happy to arrange for Marjorie to hand feed the giraffes and she really enjoyed the experience. She is officially our oldest ever visitor to the zoo, although you would never guess she has reached such a milestone age as she looks much younger. It was wonderful to meet her and her family and we all found it hilarious to hear that she regularly goes shopping for the 'old ladies' that live in her community – despite the fact that some are more than 30 years younger than her! We do hope she comes to visit us again and we are thrilled that she had such a fantastic day. And of course it goes without saying that we wish her a very happy birthday for 4 July 2011."
The Straits Plus Special Guests Will Be Live On Stage
ON Sunday, 16 October 2011, 2011, at 7.30pm the members of Dire Straits will be on stage in Liverpool's Empire. The group are back, we have been told:- "due to overwhelming demand to hear the band's much loved catalogue of great songs." The Straits includes original members Alan Clark, Phil Palmer and Chris White. Dire Straits experienced huge success with albums including 'Making Movies' and 'Brothers in Arms', in a career that saw them sell 120 million albums worldwide, receive 3 BRIT Awards, four Grammys and two MTV Music Awards.

Tickets are £19.50, £29.50, £39.50, £44.50, so to book and to get visit:- liverpoolempire.org.uk for more information...