BMW TOP MARQUE FOR FINANCE FRAUD
AVCIS, the Association of Police Officer's Vehicle Crime Intelligence Service, has reported that BMW is the criminal's vehicle manufacturer of choice when attempting to purchase a vehicle through fraudulently acquired finance in the UK. Between 2008 and 2011, AVCIS has identified that 181 BMWs were acquired through finance fraud, as well as 176 Mercedes-Benz and 174 Audis, which represent some of the most popular high-end vehicles on the road. "Many of the models which are being acquired by finance fraud are classed as aspirational vehicles and in a less than buoyant economic climate, people are providing misleading or false information in an attempt to qualify for products that they normally would not be able to purchase" says Detective Chief Inspector Mark Hooper, Head of AVCIS. Finance fraud is a serious offence and according to AVCIS' stakeholder, the Finance and Leasing Association (FLA), there were almost 10,000 fraudulent applications to motor finance providers during 2010, worth a total of over £116 million. However, arduous checks by finance companies kept the number of actual cases of fraud down to 832, worth a total of £14.6 million, illustrating the power of the industry to clamp down on crime.* AVCIS VFU has already recovered 890 vehicles worth over £14 million and made over 260 arrests and continues to work alongside the FLA to reduce the number of vehicles obtained through fraud. "We have worked with the FLA effectively over the past four years and have had a huge amount of success in combating vehicle finance fraud. The message is clear: don't lie to get motor finance, you will be caught." added DCI Hooper. These figures have been releases by AVCIS as part of Car Crime Awareness Week, which runs from 13 June 2011 to 19 June 2001. For more information on vehicle crime and AVCIS visit:- avcis.police.uk. The top 10 marques obtained from fraudulently acquired finance:-
| | |
| --- | --- |
| 1. BMW | 2. Mercedes-Benz |
| 3. Audi | 4. Ford |
| 5. Volkswagen | 6. Vauxhall |
| 7. Toyota | 8. Renault |
| 9. Land Rover | 10. Lexus |
* Finance and Leasing Association online.
Hundreds see behind the scenes at hospital open day...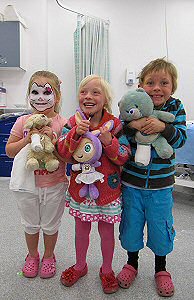 HOSPITAL staff lifted the theatre curtain on their work at Ormskirk and District General Hospital's open day on Saturday, 11 June 2011. Hundreds of visitors, including the Mayor and Mayoress of West Lancashire, Cllr Rob Bailey and Mrs Sue Murrin-Bailey, were treated to displays by staff from across Southport and Ormskirk Hospital NHS Trust. Among the attractions were behind-the-scenes tours of the theatres, pharmacy and laundry, competitions, health promoting activities and dozens of stands explaining the work of Trust staff in hospital and the community. Children – and some adults – were also entertained with face-painting, a pedal-powered smoothie-maker and a life-size game of operation. Youngsters also brought their teddies to the fracture clinic for "broken" limbs to be set in plaster. Trust chairman Sir Ron Watson CBE said:- "Keeping people healthy and making them better when they're poorly takes the dedication of nearly 3,000 Trust staff across north Sefton and West Lancashire. I was delighted so many people came to celebrate their work and find out more about what goes into making the amazing work they do possible." The Trust will hold a second open day at Southport and Formby District General Hospital on Saturday, 2 July 2011, between 10am and 4pm.

NEW INFLUX OF STOLEN CARAVANS ENTERING THE UK
BUYERS should be extra vigilant when purchasing touring caravans following an increase of stolen trailers imported into the UK from Europe warns the Association of Chief Police Officers Vehicle Crime Intelligence Service (AVCIS). With British laws changing to allow wider caravans to be towed on the roads, demand for European-style vehicles has rocketed, opening a new market for thieves. Gangs are in operation throughout Europe stealing desired caravans, destroying the Vehicle Identification Number (VIN) and importing them into the UK to sell on to unsuspecting holidaymakers.

"Caravanning is an enormously popular pursuit in the UK, with some 25,000 caravans sold in the UK each year.* Criminals are taking advantage of the UK's new demand for European vehicles and often thefts overseas are taking place outside of trading hours so that no early notification is received by the police. This is then allowing the stolen units to enter the UK without suspicion." says AVCIS' Leisure Vehicle Officer, Tim Booth.

AVCIS is currently working with organisations such as the National Caravan Council as well as European manufacturers in order to provide caravans with more vigilant documentation, such as identification marks in the caravan's structure and identity tags. However, there are a number of things that the public can look out for when purchasing a European caravan:-

► Don't be tempted to buy a bargain that seems too good to be true: it probably is!

► Review the chassis stamp to see if it has been removed or altered completely

► Ensure that the original registration document is provided. Unlike UK caravans, European caravans are registered as trailers
so must have an official log book

► Ask the seller for identification and proof of their address

► Ask to see photographic evidence of the seller using the caravan. Few caravan users wouldn't have photographic records of their travels

This warning from AVCIS has been issued as part of Car Crime Awareness Week, which runs from 13 June 2011 to 19 June 2011. For more information on vehicle crime and AVCIS visit:- avcis.police.uk.

Did you know that... AVCIS offers the UK Police Service:-

► A single point of contact for advice in relation to vehicle crime
► A team committed to tackling vehicle enabled crime
► An opportunity to work free from the barriers and constraints of a single police force
► No draw on resources for other operational matters
► A credible voice for the service within the industry
► A new concept with the full backing of the ACPO and therefore definition of all police forces in the UK

AVCIS – The Facts:-

► AVCIS have recovered in excess of 2,600 vehicles
► The total value of recovered assets exceeds £34 million
► AVCIS have made over 270 arrests

* Statistics provided by the National Caravan Council