BRAZILICA FESTIVAL ANNOUNCES CARNIVAL PARADE ROUTE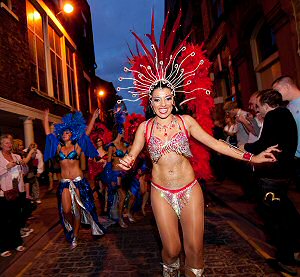 THE organisers of BRAZILICA, the UK's largest Samba Carnival event, have announced the route the glittering carnival parade will take when it passes through the city's streets on the evening of Saturday, 16 July 2011.

This stunning Rio de Janeiro style spectacle is sure to be the undoubted highlight of the three day festival, which will take place across the Liverpool from Friday, 15 July to Sunday, 17 July 2011.

The 500 beautiful, bejewelled samba dancers, Brazilian style drummers and spectacular floats will start their journey through the city at 8.30pm at Abercrombie Square before leading down Mount Pleasant, past the Cathedral of Christ the King, turning onto Hope Street and leading past the Everyman Theatre. From here, the carnival will dance down Hardman Street and Leece Street, passing St Luke's bombed out Church before making its way along Bold Street, stomping through Church Street and ending at the Main Stage Festival site at Williamson Square, in the heart of Liverpool city centre, where a number of acts will take to the stage to perform until 11pm. A completely FREE fiesta for everyone to enjoy!

Simone Reeves, Lead Dancer at Liverpool Carnival Company said:- "I'm ever so excited and can't wait for the Brazilica carnival parade! The Liverpool Samba School headquarters are flooded with sequins, feathers, glue-guns and fabric and that's just for my costume! It's like a paradise for costume makers, fingers crossed we will finish everything in time! particularly love the parade route this year, especially getting to pass by the "Bombed out Church, the vast amount of people that gather in there makes for a great audience and the atmosphere is simply breathtaking! We can't wait to shake Liverpool to the rhythm of samba! Several members of Sao Paulo based samba group Nene de Vila Matilde will fly in from Brazil to join forces with the Liverpool Samba School, who are sure to cause a stir when they dance through the city's streets alongside several celebrated Samba Groups from across the UK including London based Paraiso, Pulse of the Place from Edinburgh, and Manchester School of Samba to name, but a few. The Liverpool based carnival would not be complete without acclaimed local samba groups including Batala Liverpool, Karambasamba from Chester, Widnes based St Peter and St Paul's Samba Group and Oxiris Samba School from Wirral."

Richard Galbraith of Paraiso Samba School, London said:- "We are delighted to be able to support Brazilica and are especially looking forward to taking part in the carnival parade through Liverpool's streets. Hats off to Liverpool Carnival Company for creating the greatest annual Samba Carnival in the UK, long may it continue"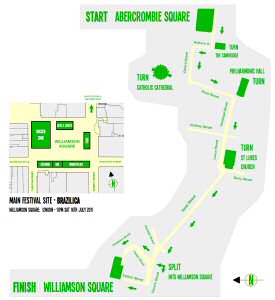 Brazilica Route Map by:- Andy James
The Carnival parade will be recorded for MY Channel Television (Sky 219) and Record TV (Sky 801). A programme featuring highlights from the festival will be broadcast later this year.

Alvaro Peixoto – Executive Director at Record Group UK said:- "It is an honour, as a broadcast group present in UK, to be involved with such a great event. Brazilica brings the best of Brazilian culture, its music and rhythms. Being able to feature the event within our TV schedule means that both our viewers, on Sky 219 (English) and Sky 801 (in Portuguese) will be able to share all fun expected to be leading the event towards another successful year."

The BRAZILICA Carnival Parade would not have been able to take such a central route through the city without the support of Liverpool's City Central Business Improvement District (BID), which came on board earlier this year as a festival sponsor. BRAZILICA festival organisers have been working diligently with the City Central BID Team to ensure that the whole area will come to life with colour, beautiful costumes, stunning samba rhythms, awesome floats, authentic Latino crafts, cuisine and drinks as well as free activities for the whole family to enjoy throughout the course of Saturday, 16 July 2011.

Ged Gibbons, Chief Executive of City Central BID, said:- "City Central BID is delighted to be supporting the Brazilica festival - it's raising awareness of a very worthwhile cause and will bring a fabulous injection of colour to the city centre. It will undoubtedly be one of the highlights of a very exciting summer programme in the heart of Liverpool."

BRAZILICA will be a massive 3 day event, taking place across Liverpool. The festival is an exciting expansion of Liverpool Carnival Company's hugely successful carnival parade, which has existed since Liverpool's Capital of Culture year in 2008 and attracted over 30,000 spectators in 2010. With irresistible rhythms, extravagant costumes, sparkling dancers and colossal floats there is guaranteed to be plenty of glitz and glamour and EVERYONE is invited to join in the celebration!

As Liverpool's love of all things Brazilian continues to grow the links and similarities between Liverpool and Brazil are becoming ever clearer. Our mutual love of sport, celebrated footballing histories and strong sense of community spirit mean that we have a lot in common. BRAZILICA will celebrate this link and all things Brazilian when it stomps into Liverpool this July. So are you ready to SAMBA? For more information visit the festivals website at:- brazilicafestival.com!

FREE BUS TRAVEL IF YOU GIVE UP YOUR CAR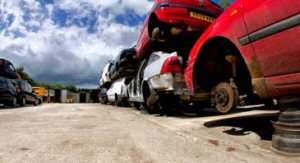 ARRIVA Buses is proud to announce that it is offering 16 weeks free bus travel to people in Liverpool who choose to give up their car. The bus company, which operates routes across the North West, has partnered with Trade Your Transport. So you will be glad to know that as a result, since Monday, 20 June 2011, they are now offering not one, but four, 4 weekly tickets, as a reward to people who take advantage of the initiative. Trade Your Transport is a new scheme which offers a number of rewards should car owners choose to scrap their car. Now, Arriva has teamed up with the programme to offer an alternative form of transport in the form of a special travel deal.

Debra Mercer, marketing manager for Arriva North West, said:- "We think Trade Your Transport is a fantastic new scheme, and what could be better for Arriva than to offer people who no longer have their car 16 weeks free travel? We believe that this is the perfect initiative for Arriva to support as we are committed to providing alternative transport to the car, helping to reduce pollution and congestion in town and city centres. By partnering with Trade Your Transport we can offer a reward that is worth much more than the scrap value of the car, and very useful for people who need to travel."

To find out more about Trade Your Transport and see how to take advantage of the 16 week free bus travel rewards, visit:- arrivabus.co.uk/tradeyourtransport.
North West thinks Britain needs to work on its service with a smile ahead of Olympics
BRITAIN may have the cultural and historical attractions that appeal to visitors, but not the customer service a new survey from the People 1st Training Company and YouGov reveals. 71% of those surveyed in the North West think we need to improve our customer service ahead of the Olympics and just 20% think Britain's hospitality and how we welcome guests is the aspect that will most ensure that we are a good host to international visitors during London 2012. Sharon Glancy, director of the People 1st Training Company comments:- "This recognition in the North West that we need to get better at customer service should be a wakeup call to businesses in the North West wanting to make the most of the estimated £2bn that could be generated from visitors."

It seems we can't rely on our food and weather to make up for poor service; only 2% of respondents thought British cuisine and none thought the weather were aspects that will most ensure we are a good host to visitors. Historical and cultural attractions topped the list with 28%. Britain's ability to be a good host was recognised as important when it came to evaluating what would be the most significant long term benefits of the Olympics to Britain. While the top choice was improved sporting and leisure facilities (25%), increasing Britain's profile in the world as a good place to host other big international sporting events came second (20%). Glancy says:- "There will be huge advantages, economic, sporting, health and social, from London 2012 and every region should be looking to make the most of it. Raising the standard of customer service training will make a real difference to the experience people have visiting the North West, not only during the Olympics, and will also help the North West prepare to host future international events."
People 1st; the sector skills council for the hospitality, leisure, tourism and travel (HLTT) industries; has launched a campaign to train 200,000 hospitality and tourism staff ahead of the London 2012 Olympic and Paralympic Games. To train the target of 200,000 people, customer service training programme WorldHost, will be used. WorldHost's track record includes the Vancouver Winter Olympics, where it was used to train 39,000 volunteers and tourism staff last year. For more information visit:- worldhost.uk.com.
TRUST TREATS FURRY FRIENDS FOR OPEN DAY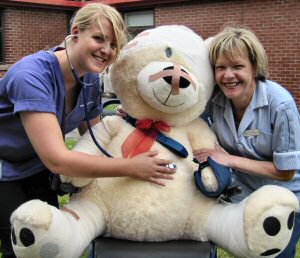 IF you go down to Southport and Formby District General Hospital on Saturday, 2 July 2011, you're sure of a big surprise…

The hospital is hosting an Open Day for all the family from 10am, you can even bring your teddy along for a check up!

Other attractions on the day include tours behind the scenes in theatres and X-ray amongst others.
A life-size operation game, free health checks and advice, as well as Zumba sessions, Wii Fit and much more.

Joining teams from around the hospital will be the fire service, police dogs and the coastguard. The catering team will be hosting a cake stall and a barbecue for those who are a bit peckish, and you can take a look behind the scenes in the radio studio.

The day is also great chance to come and meet staff from the hospital and chat to them in a relaxed and informal environment.

Sir Ron Watson, Chairman, Southport and Ormskirk Hospital NHS Trust encourages everyone to come along on the day:- "This year's Open Day is going to be bigger and better than ever. This is great chance for people to come along and chat with staff, take a look behind the scenes of the hospital and generally enjoy a good family day out."

The Open Day will run from 10am to 4pm and the Trust's Annual General Meeting will be held at 2pm. There will be free parking
for all on the day.