Sprint into summer with RNLI lifeguards in Merseyside...
Photograph and story by RNLI/Adrian Don.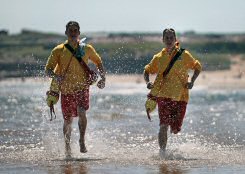 THE Royal National Lifeboat Institution's (RNLI) popular Summer Series is coming back to Sefton this summer with runners urged to show their support for the charity which saves lives at sea. The 10km and 5km beach runs are being held at Crosby beach following the success of the inaugural event through Antony Gormley's 'Another Place' installation last year. Also last year more than 150 runners took part in the 2010 Summer Series and Tabea Heckrodt, RNLI Events Coordinator, said they're hoping to repeat that success this year. Tabea said:- "There was a real variety of people taking part in both the 10km and 5km events, from serious runners using it as a timed event; occasional runners and people who had taken on the challenge of an organised distance run for the first time. It's a lot of fun and a beautiful setting for a beach run and we're hoping many more people will sign up and join us this year." The RNLI's Summer Series raises money for training and equipment for the charity's lifeguard service. On Merseyside, Sefton Council covers the financial cost of the lifeguard's wages while the water safety charity provides training and equipment at a cost of £1,000 per lifeguard per season. Tabea added that as with the majority of the RNLI's income, the charity relies on the generosity of the public to fund its lifeguard service, which is in its second year of operation on the Sefton coastline. She said:- "Both staff and volunteers at the RNLI are continually humbled by the support we receive from residents on the north west coast. The RNLI exists to provide a seamless rescue service from the beach to the open sea and our volunteer lifeboat crew members and lifeguards save hundreds of lives each year. They couldn't do it without the generosity of the public and we're hoping that runners for the Summer Sprint will pledge to raise as much money as they can to enable us to continue providing our vital lifesaving service." The Summer Series, on Saturday, 6 August 2011, starts on Crosby beach and will take runners south towards Waterloo before doubling back north back to the Maritime Rescue Co-ordination Centre on Hall Road West. To register for the event, which starts at 10am, log onto:- rnli.org.uk/summerseries. Entry fees are £16 for the 5km run and £18 for the 10km event. All runners will receive a free t-shirt to run in and a medal on completion of the run.

ANTHONY NOLAN SEEKS SCOUSE VOLUNTEERS TO HELP SAVE LIVES
A dad-of-two who saved a stranger's life after an ECHO patient appeal is calling on fellow Merseyside residents to volunteer with Anthony Nolan, the pioneering charity that saves the lives of people with blood cancer who need a blood stem cell, or bone marrow, transplant. Everton fan Andy Mitchell donated blood stem cells, or bone marrow, to Paul Walshe in 2008 after he discovered he was a match through Anthony Nolan.

Andy, 38, of Orrell Park, had signed up to Anthony Nolan's stem cell register in 2006 during the ECHO's Chance for Life campaign run on behalf of Southport siblings Ella and Sam Wright who both needed a transplant. In addition to donating, Andy also volunteers for the charity's education project, Register and Be a Lifesaver (R&Be), which teaches 17 to 18 year olds about the importance of blood, organ and stem cell donation.

Andy says:- "If I hadn't joined the Anthony Nolan register, Paul wouldn't be alive today – it's as simple as that. It's so important that we educate young people about blood, organ and blood stem cell donation, and encourage them to join the register. R&Be is a fantastic project, but we need more volunteers in order to reach everyone we can."

Aimed at year 13 students, R&Be informs 17 to 18 year olds about the importance of blood, organ and stem cell donation. As the response to the talks has been overwhelmingly positive, Anthony Nolan is hosting a training day for volunteers in Manchester on Saturday, 9 July 2011, to prepare interested volunteers to deliver talks to young people in schools, colleges and youth clubs across their own city. The training day will explain what being an R&Be volunteer involves and there will be the chance to talk to current volunteers and ask questions.

Jo Buckton, R&Be Assistant for Anthony Nolan, says:- "We already know how hugely supportive people in Merseyside are because of the Chance for Life campaign. Now we need volunteers to take our lifesaving message to teenagers from West Kirby to Warrington and Southport to Seacombe. Volunteers don't have to be accomplished public speakers as we provide all the training, support and encouragement you'll ever need and you only give up as much of your time as you can spare."

The R&B project is the legacy of the late Adrian Sudbury, a Liverpool University graduate and journalist on the ECHO's sister paper, the Huddersfield Examiner, who campaigned to have 16-18 year olds educated about stem cell, blood and organ donation.
Anyone interested in becoming an R&Be volunteer, or schools interested in booking an R&Be presentation for year 13 students, should contact Jo Buckton by email.