RIP-OFF CREDIT CARD FEES CHALLENGED BY NEW EU LAW
ON Thursday, 23 June 2011, the European Parliament is set to approve new consumer rights that will spell the end of rip-off credit card fees. The new Consumer Rights Directive includes specific provisions to outlaw the practice of adding credit or debit card payment fees that bear no relation to the actual costs incurred when processing the transaction. The issue is so serious that consumer body Which? has taken out a "super complaint" against the practice, with a ruling from the Office of Fair Trading expected in the coming weeks. Thursday's European Parliament vote will require the government to take action to outlaw unfair charges. Speaking ahead of the vote, local Labour Euro MP and consumer rights campaigner Arlene McCarthy said:- "Labour has been working for years to end rip-off charging and I am delighted this key agreement is set to become law. In most cases it costs just a few pence to process a credit card transaction, yet some companies are ripping their customers off. It is not uncommon for people to pay 10 times the actual cost of processing their credit card transaction, and in some cases people are paying far more. This is daylight robbery. It is completely misleading for consumers and damaging for the more respectable businesses that are up front about their real prices." Arlene is calling on the British government to ban the fees now rather than wait for the EU laws to come into force in 2014. She added:- "Companies have already started to improve their ways, having seen that the writing is on the wall for these rip-off fees. But we need to end this practice for good so the government shouldn't wait for the EU law to come into force. It should act now and ban outlandish credit card charges once and for all."
City to celebrate Armed Forces Day
LIVERPOOL will honour its service men and women on Saturday, 25 June 2011, as part of British Armed Forces Day celebrations.

The service, starting at 11am, will take place in Liverpool's Anglican Cathedral and aims to show support for the brave men and women in the armed forces.

Liverpool's Lord Mayor, Councillor Frank Prendergast, will lead more than 600 distinguished guests including the Lord Lieutenant of Merseyside and Mayors of other Merseyside Boroughs.

Councillor Prendergast said:- "The City of Liverpool has long standing, strong connections with all military organisations. This has been acknowledged over the years by awarding them the highest honour we can bestow, the Freedom of the City. This is a great time to come together as a city to honour all our armed forces personnel past and present, as their bravery and commitment helps to create a safer world. The British Armed Forces are highly motivated, determined and compassionate. I know I speak on behalf of everyone in the city in thanking them for the difficult job they do."

Members of the public are welcome to attend the ceremony which will feature music from the Band of the Duke of Lancaster's Regiment and there will be a procession of standards. The service will finish at 11.45am with a march past led by the Band of the Duke of Lancaster's Regiment and starting in the Cathedral grounds at midday.

Those marching will be made up of present serving military, veterans, the Merchant Navy, cadets from the Merseyside Army Cadet Force and the Merseyside Wing Air Training Corps.

The route of the march will be:-
Liverpool Cathedral,
Upper Duke Street,
Hope Street
Ending at the Metropolitan Cathedral

The march will be led by The Band of the Duke of Lancaster's Regiment.

WARRINGTON SOCIAL WORKER WINS NATIONAL AWARD FOR OUTSTANDING WORK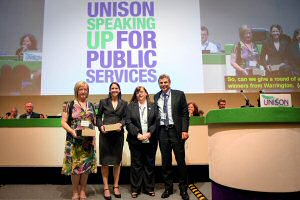 LOCAL social worker, Fiona Morris, from Warrington, has been selected for a national award for outstanding social work. The scheme, set up by UNISON, the UK's largest union, is designed to celebrate the life-changing achievements of social workers across the country.

Fiona is a specialist social worker, who undertakes protector assessments with adults and 'keep safe' work with children where there is a sex offender identified within the family. In a really tough area of work, which often involves working with families where significant sexual abuse has taken place, Fiona is described as always cheerful and friendly.

On her nomination, Fiona's manager praised her hard work and self-motivated study, which has made her a skilled specialist in her field. Fiona has developed resources to help social workers communicate with children and provides training courses that she has been instrumental in developing. She is described as being 'uncompromising' in her commitment to keeping children safe.

Dave Prentis, UNISON General Secretary, said:- "We are delighted to be awarding Fiona for her outstanding work in keeping children safe, and helping families cope with the trauma of sexual abuse. Her achievements, including developing practice in this field, and her huge commitment to the job, are a real inspiration. Every day, social workers like Fiona help thousands of children and vulnerable adults, but this work often goes unseen. It really is one of the toughest jobs going - a daily battle dealing with heavy caseloads, dwindling numbers of admin and early intervention support workers, and high vacancy rates. But behind these daily struggles are real stories of lives changing. Many social workers say they love their jobs and couldn't imagine doing anything else; despite the huge challenges they face."

Award winner Fiona Morris, said:- "I have always wanted to help people, and whilst studying a criminal justice degree, I became aware of social work. Saving people from neglect and abuse really appealed to me as the best way of helping people. During the second year of my masters degree in social work I realised the area of sexual offending was not really covered, despite how many families it affects. Four years of frontline social work and five years in a specialist team later, and I can honestly say that I love my job. What keeps you going is when you see results. When you help a social worker understand the nature of someone's offences and the impact on a family. Or when you complete work with a non-abusing partner and see the light bulb effect as they realise their partner could have abused a child. Training other professionals in this area has also become a passion for me; I must have been a teacher in a former life!"

Nominating Fiona, her manager Marcia Dale, said:- "Fiona willingly takes on more responsibilities, due to the sheer enthusiasm she has for social work, even after 9 years of hard work! She successfully juggles this demanding job with bringing up a young family who are a credit to her. On a personal level, we were in the same team for five years and I found her a hugely supportive colleague both professionally and personally."

Kath O'Dwyer, executive director of children and young people's services at Warrington Borough Council, said:- "I would like to take this opportunity to congratulate Fiona on this well-deserved award. The job she does is by no means an easy one and her dedicated work is invaluable to both the people she works with and us as a town. I am delighted she has been recognised in this way."

UNISON, which has more than 40,000 social work members, set up the scheme last year. In recognition of her work, Fiona will be presented with a Kindle e-book.