Merseytravel's Zeebrugge Creative Writing Competition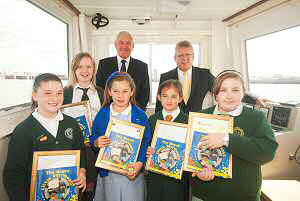 "Miss, why is that Ferry called the 'Royal' Iris?"
JASMINE Ryder, a 9 year old pupil from Our Lady of Compassion Primary School in Formby has won Merseytravel's latest Creative Writing Competition.

Children from across the region were asked to write a poem or story based on the Zeebrugge raids of the First World War and the role that the Mersey Ferries, Iris and Daffodil played in them.

The runners up were Alice Backstrom and Lauren Thorpe from Dovedale Junior School and Charlotte Perrin and Mia Grimes-Ventro from St Oswald's Catholic Junior School, Old Swan.

The winning authors will receive their work in a frame and a signed book from the authors Maria Saunderson who wrote the children's book, The Brave Little Ferry Boats, which is the story of the Zeebrugge raids, and fellow Liverpool author Michael Kelly.

Jasmine has also won a visit from Maria Saunderson to her school for the day.

The winner and runners up received their prizes at a special presentation on board the Mersey Ferry, the Royal Daffodil, on Monday, 20 June 2011.

Each year the bravery of those who fought at the Zeebrugge raids, and the part that the Mersey Ferries played, are remembered by retired Royal Marines on Merseyside by the laying wreaths at Seacombe Ferry Terminal and on the River Mersey.

Neil Scales, Chief Executive of Merseytravel and judge, said:- "We should never forget those who lost their lives at Zeebrugge nor the bravery of the crews of our own ferries who took part. By introducing this creative writing competition we are trying to ensure that the young people of Merseyside know the reason why the Iris and Daffodil have a 'Royal' prefix and the part they played in the Great War."
Mark Dowd, Chair of Merseytravel, added:- "We are constantly striving to find new and innovative ways to educate and inspire young children. Encouraging children to write creatively helps them with all subjects of their education and learning about the history of the Mersey Ferry adds to their local knowledge."

The winning poem by Jasmine Ryder aged 9:-
Iris and the Daffodil
Two boats of little renown
Were called into service
To carry soldiers of the crown
They crossed the seas to Belgium
To a place they call the mole
And with them took three ships
To be sunk to fill a hole
Once filled it stopped the uboats
And enemy of the day
From using the harbour
As a place were they could stay
And Royal was placed before their name
For their bravery on the daye
City to celebrate Armed Forces Day
LIVERPOOL City Council's rising stars are encouraging schoolchildren to consider a career in local government on Friday, 24 June 2011. 4 graduate trainees who work in departments ranging from the Chief Executive's office through to the youth service and transport, are taking part in national Give and Gain Day - the UK's only national employee volunteering day. This year it is aimed at raising the importance of young people studying subjects including science, maths, engineering and technology. The staff will be at a special day being held at Everton Football Club to explain to groups of 13 year olds the type of opportunities and roles available within the city council, and the subjects they need to study.

Councillor Nick Small, Cabinet member for employment and skills, said:- "Many young people don't even consider a career in local government when thinking about what they want to do when they leave school. This is a good opportunity for us to explain the huge range and diverse number of jobs that are on offer. It's hugely important that we get our young people thinking about working for the council, because they will be the workforce of tomorrow."

One of the people taking part in the event is 24 year old graduate trainee Rebecca Shaw, who works in the Chief Executive's office. She said:- "Not all young people know what they want to do when they leave school and we know many won't know what the council does, so we are going to be asking them what they are interested in and their hobbies. We'll then link it with jobs that might suit them, and get them to think about the qualifications they would need. So if they're really into sport and fitness, we can give them information about working as an instructor at a Lifestyles leisure centre. If they have a passion for theatre and performance, they might consider working in tourism and culture. If they are into technology and engineering we can tell them about what our ICT department do, and if they're good at maths there are opportunities managing the council's budget. Even I hadn't realised the wide range of roles in the council before I started working here, and that's why I feel it's important to get young people to think about a career in local government."

Nick Kavanagh, Director of regeneration, employment and skills, said:- "It's great that our graduates are taking part in Give and Gain Day and encouraging other young people to follow in their footsteps."

Give and Gain Day is organised by Business in the Community - a charity that advises, supports and challenges its members to create a sustainable future for people and the planet and to improve business performance.

GRANDURE, LOVE AND SORROW COME TO VUE SOUTHPORT IN THE CHERRY ORCHARD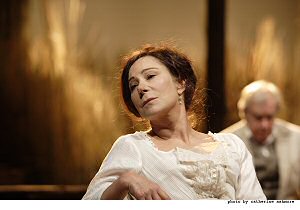 A special live recording of Chekhov's moving play, The Cherry Orchard, starring Zoe Wannamaker, is being screened at Vue Southport, at 6.30pm on Thursday, 30 June 2011.

The influential play tells the story of Ranevsky, played by Zoe Wannamaker, a Russian socialite who returns to her family home, Cherry Orchard, after ten years of travelling, which have left her on the verge of bankruptcy. Ravevsky continues to spend lavishly and it is revealed that the estate will be put up for auction to settle the family's debts. The play progresses following the family, their friends and servants in their turbulent love affairs, day to day lives and attempts to save the property, including the orchard after which the estate is named.

The play by the National Theatre, captures a poignant period of Russian history, will be screened in high definition and Dolby Digital 5.1 surround sound to ensure that cinema goers are fully immersed in the performance and setting.

Mark De Quervain, Sales and Marketing Director of Vue Entertainment, comments:- "The Cherry Orchard is a dark, but humorous play and with a well known stage, TV and film actor like Zoe Wannamaker in the leading role, it's a gripping performance that's not to be missed. What's more with our screening offering views from across the theatre, cinema goers will have the best seats in the house. 2011 has been a fantastic year for alternative content, with screenings of the National Theatre's Frankenstein, the UK's first 3D opera, Gisele 3D and concerts by JLS, the Foo Fighters and Faithless, but there's still a lot to look forward to including the upcoming screening of the Kings of Leon's tour documentary, Talihina Sky."

Tickets to the live performance of Cherry Orchard cost £12.50 and can be booked at:- myvue.com.
DO NOT FORGET THE SOUTHPORT CARNIVAL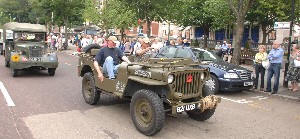 THE Veterans Fund is holding the Southport carnival and Southport Veterans Day on Saturday 25 June 2011. The Carnival starts at 1pm and travel along Lord Street ending at Princes Park, opposite Vue Cinema. In attendance at the Park will be the two Miss Prestons and this year's Miss Southport as well as this year's Carnival Queen, Carnival Prince and Princess and other VIP guests... But you will have to pop on down to find out who the other VIP's are! If the weather conditions hold, then visitors to the park will also see a parachute display, by the Royal Artillery. If you do not know what it is all about, the event is part of the national British Armed Forces Day. The idea behind BAFD is to bring awareness to the Armed Forces, past and present, our Veterans and Cadet Forces. Also, keep an eye on the UK's Town Halls as they will be flying the BAFD flag for that day and then for a week after. But it is not just the armed services taking part and raising cash. Steve Hawkshaw, who is organising the show, told us:- "Last year we took it over from the Champion Charity Carnival and added an event to form the Southport Veterans Day Charity Carnival. However we want to hold the same traditions of the past to help raise money for local charities. So we do not just have the Armed Forces taking part, even though they will be leading it with a military band, local units, cadets and ex-service organisations. Other groups will be taking part as you can see from the list below. So please come out and support the many charities and groups taking part. They all require lots of help over these difficult financial times."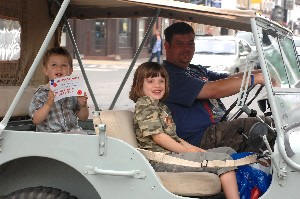 Taking part at this year's event will be:- RAF CAREERS; RAFBF RAF POLICE ASSOC. SOUTHPORT ATC; SOUTHPORT ARMY CADETS; SOUTHPORT SEA CADETS; ARMY CAREERS TEAM; REME RECRUITMENT; SUPPORT OUR SOLDIERS; HELP FOR HEROES; GURKHA WELFARE TRUST; LIVERPOOL KINGS REGIMENT ASSOCIATION; ROYAL NORTH LANCASHIRE REGT. PHOTOGRAPHIC DISPLAY; BROUGHTON HOUSE; ROYAL ARTILLERY PARACHUTE TEAM; RA LIGHT GUN DISPLAY; 103 ROYAL ARTILLERY; 156 TRANSPORT REGT.; THE RIFLES; ARMY VINTAGE VEHICLES; ROYTON ATC BAND; SOUTHPORT LIFEBOAT; SOUTHPORT FIRE BRIGADE; SOUTHPORT ROTARY;SOUTHPORT ROUND TABLE;SOUTHPORT ROYAL BRITISH LEGION; SOUTHPORT AND CROSBY ROYAL NAVAL ASSOCIATION; FORMBY BRITISH LEGION; RBL RIDERS BRANCH; CROSBY FIRE ENGINE MUSEUM; ABF PAINTBALL; ROYAL MILITARY POLICE; 4 PARA RECRUITMENT; 108 FIELD HOSPITAL; DUKE OF LANCASTER'S ZIP WIRE; ASSAULT COURSE; PAINTBALL; CLAN WALLACE PIPE BAND; MERSEYSIDE MOUNTED POLICE PAT AND CHAT; LANCASHIRE ANIMAL AMBULANCE; CENTRAL STUDIOS; CHILDREN'S FAIRGROUND RIDES; INFLATABLE'S; PAINTBALL; ARCHERY; FOOTBALL SHOOTOUT BY SOUTHPORT FC; DANCE TROOPS; MD TRAVEL VEHICLES; TINY TANKS; G FORCE.

Also on Sunday, 26 June 2011, the Duke of Lancaster's Band will be leading a procession and service at Southport's Cenotaph. Again, please join the Veterans and members of the armed forces at this service that will take place from 10:30am to 12noon, on Lord Street.