UNIVERSITY OF LIVERPOOL PAINTS THE TOWN PINK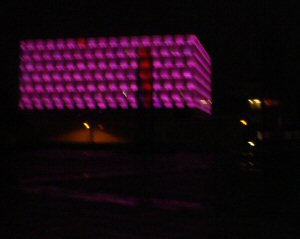 THE University of Liverpool's Active Learning Laboratory on Brownlow Hill shone PINK to celebrate the opening of 'Legally Blonde the Musical' at the Liverpool Empire Theatre. For the first time ever, Legally Blonde the Musical, the West End & Broadway sensation and 2011 Olivier Award winner for Best New Musical, is on tour in the UK and Liverpool was chosen as the city in which the tour should begin. Based on the hit movie starring Reese Witherspoon, this critically acclaimed new musical stars Liz McClarnon (Atomic Kitten), Neil Toon from Hollyoaks, West End legend Dave Willetts as Callaghan and Faye Brookes. Andrew Rawlinson, Empire Theatre General Manager said:- "The excitement around the city is reaching fever pitch. It's the hottest show in town!" The show, which opened to rapturous applause last night, runs at the Liverpool Empire until Saturday, 16 July 2011. The Active Learning Laboratory will remain pink until this date, too.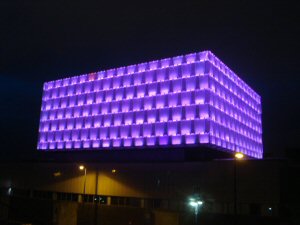 The University of Liverpool's Active Learning Laboratory on Brownlow Hill is lit with hundreds of LEDs and can be seen as far away as Wirral. The facade of the building comprises 826 glass panels of which 413 panels are constructed from twin layers of glass, sandwiched with a dotted pattern. These translucent dots give a surface on to which light is reflected but also allow a direct passage of light through. The latest LED technology and electronic solar tracking equipment means the light display can be illuminated with the benefit of hugely reduced energy running costs.

The University of Liverpool's Active Learning Laboratory is home to the 'Liverpool Engineer' – a programme of study that aims to produce the next generation of high-calibre graduate engineers. The Active Learning Laboratory was completed in 2008 following a £36M refurbishment of research laboratories and in building new teaching facilities for future generations of students and consists of two large open spaces, one on top of the other, with a total floor space of almost 1,000 square metres. It can accommodate a total of 250 students simultaneously – an entire year's intake, which is almost unprecedented in any engineering department.

Community Supports New Residential Unit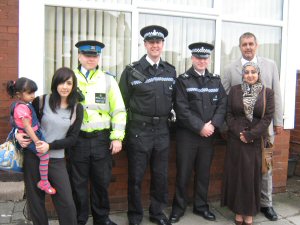 A group of dedicated youth professionals committed to offering quality provision, accommodation and supported care to young people has opened their first Southport residential unit in Ivy Street. Ivy House, which provides 24/7 supported living accommodation for 16 to 24 year olds is geared towards young people who are in need of an independence unit in a supported environment.

Anthony Alexis, a director of the unit said:- "We are really pleased with the reception Ivy House has received from the local community. Our aim is to provide young people in the area with the necessary skills to maintain independent living. Through personal development programmes, we will aid young people to achieve their potential, offering them a wider range of choices that they can apply to their future. The support the Unit offers will give young people the confidence and set values to achieve aspirations that would be ordinarily out of their scope."

Anthony, who has 35 years experience in the sector, is joined by other professionals in delivering the Units goals. Southport Police joined directors and staff at the Unit for the opening of Ivy House along with members of the community to show their support for the new residential scheme.

For more information and for referrals contact Ivy House direct on:- 01704 500542.
"WHITE PAPER A RECIPE FOR POOR QUALITY, HIGH COST, RISKY PUBLIC SERVICES"
UNISON chief, Dave Prentis, is warning that Government plans for the wholesale privatisation of public services, will lead to "poorer quality, high cost services at the mercy of the open market and risky competition".

Dave Prentis, UNISON's General Secretary, went on to say:- "The Government wants to wash its hands of providing people with decent public services. For all its talk of mutuals and charities, the White paper is nothing but a smokescreen for privatisation and will do nothing to improve quality. We will be looking carefully at the fine print and holding the coalition to account for any illegitimate attempts to hand over services to private companies, whose primary concern is the bottom line rather than service users. The collapse today of home care owners, Southern Cross, should act as a grim warning about what can happen when the private sector take over public services. There will be many thousands of elderly residents across the country who will be deeply distressed about what the future may hold for them. And staff too will be worried about their jobs at a time of growing unemployment. We want urgent Government action to protect the well-being of residents in Southern Cross homes. The bottom line should not be profit but public services run by committed public service staff. The quality, efficiency, accountability, flexibility and economics of in-house public services just cannot be matched."