THE COUNTDOWN TO START OF BRITAIN'S BIGGEST BRAZILIAN SAMBA CARNIVAL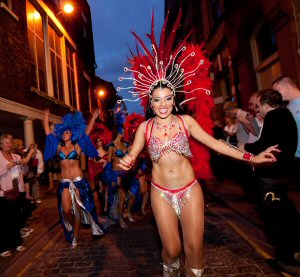 BRAZILICA, a Rio-style Brazilian samba carnival exploding with life, music and dazzling costumes will take place this weekend Friday, 15 July to Sunday, 17 July 2011, at the heart of Liverpool City Centre.

After months of planning, the final preparations are now underway for what promises to be Liverpool's most exciting, exotic and vibrant spectacle of 2011. The last few sequins and feathers being stitched onto hundreds of dazzling, glamorous costumes, the finishing touches are being made to the many colossal floats and organisers are itching to transform Williamson Square into an authentic Brazilian town square, ready for the ultimate FREE fiesta to begin.

Friday, 15 July 2011, will see the festival kick off in a grand style with a plethora of events across the city. The Carnival Queen will be crowned at a glittering competition at Bem Brasil, The Rebel Soul and Misturado Carnival Ball will rock LEAF (Bold St) and Alma de Cuba will celebrate the start of the festival with the world famous Alma de Cuba petal drop.

There will also be a serious side to Friday's programme with Action for Brazil's Children Trust's Brazilica Big City Sleep at the Bluecoat. The ABC Trust will hold a sponsored sleep out challenge for the people of Liverpool to help raise awareness and vital funding for their work in Brazil.

Bebel Gilberto, the Grammy nominated Brazilian singer and Patron of the ABC trust, said:- "The biggest Brazilian samba carnival in the UK sounds absolutely fantastic - I wish I could be there. It is made even more wonderful for me to know that Brazilica is partnering with Action for Brazil's Children Trust - a charity that is very close to my heart and works with street children in my home country"
Saturday, 16 July 2011, will see Williamson Square turned into a Brazilian piazza for a completely FREE day of fun for all the family, complete with a BRAZILICA food market and craft hub for everyone to enjoy. The Latin themed bar will also be open throughout the day, serving beers and delicious PITÚrinha cocktails, or sample some Barefoot Wine from stalls around the festival site.

Before the carnival parade hits the festival site at around 9.30pm, there will be Brazilian themed acts on the Main Stage at Williamson Sq from 12pm including free dance classes from local dance group Movéma, DJ sets from DJ Muvelo and DJ Gary Garamendi, Samba performances from Pulse of the Place from Edinburgh and a massive performance from MD Productions.

If sport is more your thing then the BRAZILICA Soccer Zone, which will take place on Williamson Sq from 12pm – 6pm is for you. BRAZILICA has teamed up with The Street Child World Cup, Liverpool FC and AFC Liverpool to offer a thrilling afternoon of Brazil's favourite sport for everyone to enjoy!!
The highlight of the festival! The BRAZILICA Carnival parade promises to be an unmissable, dazzling spectacle. Over 500 samba dancers, drummers and stunning floats from 14 samba schools from the UK and Brazil will process through the city's streets. The parade begins at Abercrombie Square at 8.30pm and takes in Hope St, Hardman St, Leece St, Bold St and Church St, ending at the Main Stage on Williamson Square. As the parade reaches Williamson Square, a large number of performers will take to the stage to give you an evening that you'll never forget, with the outdoor party continuing until 10.30pm!

Richard Galbraith of Paraiso Samba School, who are travelling up from London to take part in the Carnival Parade said:- "We are delighted to be able to support Brazilica and are especially looking forward to taking part in the carnival parade through Liverpool's streets. Hats off to Liverpool Carnival Company for creating the greatest annual Samba Carnival in the UK, long may it continue."

Carry on the fiesta from 10pm at Nation with the BRAZILICA after party. Let loose and party along to a plethora of Brazilian, bands, dance acts and DJs including the world renowned DJ Silvao.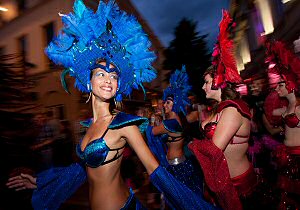 Sunday, 17 July 2011, is far from a chill out Sunday as a massive crowd of people are expected to turn out to keep fit for a good cause at the BRAZILICA Zumbathon® event on Chavasse Park, Liverpool ONE, from 2pm to 5pm, hosted by Juice FM's Leanne Campbell to raise funds for The Marie Curie Hospice, Woolton and Liverpool Carnival Company.

End your weekend on a high with Rebel Soul and Misturado with events at Ropewalks Square and Santa Chupitos, Parr St. Come along to round the festival off in style with a night of new and exciting music, cocktails and DJ sets from Audio Voyeur who will be playing a mix of Brazilian music from Brazilian Folk to Batacuda.

Roger Morris, festival producer at Liverpool Carnival Company said:- "Since we started in 2008, the Liverpool Carnival has continued to grow and we're looking forward to our biggest year ever with BRAZILICA this weekend. It's so exciting to think that we now have Britain's biggest Brazilian carnival on our hands and it's just days away – we can barely sleep with the excitement! The festival is going to be immense and I hope that the people of Liverpool will come along and join in, shake their hips and dance along to the music with us. it's going to be sambatastic!"

BRAZILICA is an exciting expansion of Liverpool Carnival Company's hugely successful carnival parade, which has existed since Liverpool's Capital of Culture year in 2008 and attracted over 30,000 spectators in 2010. With irresistible rhythms, extravagant costumes, sparkling dancers and colossal floats there is guaranteed to be plenty of glitz and glamour for EVERYONE to enjoy. Are you ready to samba? To download the full BRAZILICA programme please visit:-- brazilicafestival.com. "WE ARE READY TO SAMBA ARE YOU?" asks BRAZILICA...