High speed rail message sent to council leaders across the North West
NORTH West councils are being urged to show their support for a high speed rail link that would let them share in a £1 billion a year economic boost for the region. The leader of Greater Manchester's transport authority is writing to council leaders asking them to say yes to the rail plan, known as High Speed Rail 2, which would provide high speed links between Manchester, Birmingham and London.
The current proposals for high speed rail are for a Y-shaped network linking London to Birmingham, then branching out to Manchester and Leeds. This would allow at least 14 additional services to the North West every hour, on longer trains carrying up to 1,100 passengers.

Councillor Andrew Fender, Chair of the Transport for Greater Manchester Committee, said:- "High speed rail is not simply about quicker connections to the south and the economic benefits that this would bring. It would also take a significant amount of demand off our regional network which, in turn, would reinvigorate local services which provide essential connections that underpin the northern economy. How many of us could cope without the M6 now? Because high speed rail has exactly the same economic significance as the motorway network that we all now take for granted every day. This is a once-in-a-lifetime opportunity to build for our future and we don't want to miss it."

Cllr Fender is asking every local authority in the North West to pass formal resolutions in support – and respond positively to the government's consultation before the 29 July 2011 deadline.

In his letter he adds:- "It has been the long term view of politicians both nationally and locally that there is a real need to rebalance the economy outside of the South East. As the 2nd largest economy outside of the South East, the North West is amongst those regions best placed to meet this challenge. High Speed Rail 2 is a key opportunity that would really benefit the North West economy as it would release capacity along the extremely busy West Coast mainline and therefore allow businesses to access new and diversified markets. High Speed Rail 2 would be pivotal in the process of closing the £30bn productivity gap between our region and the South East."

A briefing pack, full of supporting facts, accompanied Cllr Fender's letter saying:- "We simply cannot afford for the significance of High Speed Rail to be lost among parochial arguments. Just as support and bold decision-making gave us the M6 and the M60, high speed rail will be fundamental to the success of the regional and national economy. I am writing to every council in the region - to make sure our voice is heard loud and clear and to make sure that the chance to close a £30bn gap is not lost."

WIRRAL'S CLARKEY MAKES TEST MATCH DEBUT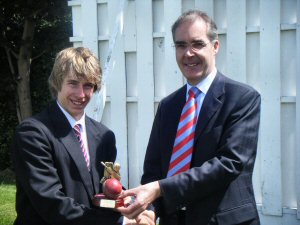 NOW in his 3rd year with MCC's Young Cricketers' squad, Wirral's Andrew Clarke is continuing to make his mark in top level cricket. The 20 year old from Prenton was recently 12th man in the England team, coming on for a brief spell as a substitute fielder in the test match against Sri Lanka. Andrew's career with MCC is also going from strength to strength. With the encouragement of the club's coaches, he is bringing a new dimension to his 'all rounder' abilities. Already an acclaimed batsman and seam bowler, he is now adding spin bowling to his talents. It's not unusual to find him in the honours as a batsman, seam bowler and spin bowler, all in the same match, for MCC Young Cricketers. Known to everybody in the sport as 'Clarkey', Andrew joined the MCC – Marleybone Cricket Club - from the Lower 6th at Oxton-based independent Birkenhead School. He was taken on by the world's oldest and most famous cricket club after succeeding in a highly competitive trial at Lord's cricket ground. At Birkenhead School, Andrew was renowned for his cricketing abilities, joining much older players in the school's First XI during his 2nd year. When he was only nine, he was spotted by County coaches and joined Cheshire schoolboys' squad. Birkenhead School games coach Steve Gill said:- "Andrew always had sensational talent. We're following his career avidly here and it's great to see him progressing so impressively." Andrew, who trialled for Gloucester last year, hopes to be selected for a County side and ultimately would like to follow in such famous footsteps as Ian Botham and Phil Tuffnell, both of whom are former MCC Young Cricketers. For his England test match appearance, he arranged for his grandad, Alan Pritchard, also from Prenton, to be in the crowd. "He's mad about cricket and has always been my biggest fan. It was a terrific occasion. I was really nervous at first but I got a touch of the ball almost immediately which helped me to settle down. I'm really enjoying my time at MCC. It's exciting to be encouraged to expand my bowling skills. If I can manage to be really proficient as a batsman and as both a spin and seam bowler it will make me pretty unique in the game." said Andrew.