RICS research looks at changing trend
INCREASING numbers of homeowners are deciding to improve rather than move home, according to new research from RICS.

Overall, 48% of chartered surveyor estate agents in the North West revealed the slow sales market is prompting people to improve their properties rather than move.
Across the UK, this was most prevalent in areas where the property market is more depressed, such as Northern Ireland, where 75% were improving rather than moving and the West Midlands (71%). However, even in more buoyant areas such as London, buyers are facing high property prices which are also prompting them to stay in their homes.

For those undertaking work to their homes, 50% of surveyors reported additional bedrooms were the improvement which added the most value.
Traditional improvements such as adding a new bathroom or kitchen were the next most valuable, at 29%.
Adding a conservatory, or adding double glazing or a downstairs w.c were seen as desirable optional extras, but not ones which add value.

Surveyors also noted that costs incurred for improvements will not always be covered by the potential increase in a property's value, as this also depends on the quality of work and other features of the property, such as its style and location.

Respondents added that external factors were most likely to detract from a property's price. 43% of surveyors found a property's proximity to a noisy road or a railway decreased value, while known subsidence and lack of parking were seen as the next most likely to affect value.

RICS chartered surveyor estate agents advise homeowners on how to get the most out of property improvements:-

► Don't be tempted to over value an improvement and expect high instant returns irrespective of market conditions

► If extending, make sure that the accommodation provided (i.e. property size) is balanced with the size of the plot, bigger is not always better

► When undertaking a loft extension or basement conversion try to keep the style of the new rooms in sympathy with the style of the rest of the property. A modern extension on a traditional property may look odd and lose appeal

► If you are trying to sell, bear in mind most areas have a ceiling price, i.e., a maximum sale price you can expect to achieve. Improving a poor property in a good location is better than improving a good property in a poor location

► Don't bite off more than you can chew, so stick to a budget and ask the experts for advice.

John Halman, residential spokesperson for RICS North West and a chartered surveyor says:- "Most properties provide some potential for expansion and improvement, but we would advise people to think about how much they are investing and their key motivator before undertaking major projects.
It is important to think about the style and age of the property before undertaking any works - remember, what appeals to some people may not appeal to others, and further factors such as buildings insurance should be re evaluated.
Costly disappointments can be avoided by prior planning and research. RICS advise that whatever you decide to do with your home you should seek professional advice and ensure all works are carried out by qualified contractors."

ANDY FLOWER IS NEW SKIN CANCER CHARITY AMBASSADOR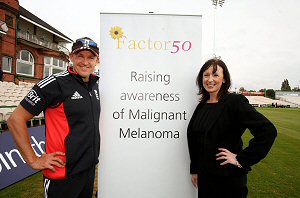 THE England Cricket coach and legend Andy Flower has announced that he is to become an Ambassador for Skin Cancer charity Factor 50. Factor 50 campaigns for greater awareness and the dangers of malignant melanoma, the skin cancer which kills over 2000 people a year in the UK. Factor 50 work with The Christie, and also raise money to conduct research into Malignant Melanoma. As people embark on their summer holidays Factor50 hope that the appointment of Flower as an Ambassador will help alert people to the dangers of not using sun cream and sun burn. In a recent survey over 60% of adults and over 70% of young adults were still too careless when it comes to sun screen and the dangers of the summer sun. Over 10,000 new cases of malignant melanoma are diagnosed each year. Gill Nuttall, CEO and founder of Factor 50 said:- "I am over the moon that a legend such as Andy Flower has agreed to lend his support to our cause - Skin Cancer is increasing in the UK faster than at any time and our campaign this summer is to get everyone to slap on the Factor50 and enjoy their summer holidays safe in the knowledge that they are at least protected." Andy Flower commenting on his new role said that:- "When Gill approached me to ask for my support it wasn't a difficult decision for me at all. I wish the team at Factor 50 and The Christie much success and am delighted to be associated with them."
EXPERTS WARN LOCAL SCHOOLS & COLLEGES ABOUT NEW GOVERNMENT GUIDELINES ON SCHOOL TRIPS
EARLIER this month the Government published slimmed down guidance for schools wanting to take their students on school trips. TripSafely.com, a company that provides schools with a specially designed online system to help teachers plan and run school trips, has welcomed the Governments announcement but has warned local schools and colleges that the measures are not a panacea. The Health & Safety Executive (HSE) have also issued a myth busting statement about school trips to coincide with the Department for Education announcement.

Health & Safety expert and TripSafely.com Director Mark Rastrick, who had an input to the new HSE statement, said:- "TripSafely.com welcomes the fact Government has reduced 150 pages of unduly complex guidance to just 8 - a reduction we have long called for. Since our establishment we have also been calling for teachers not to be discouraged from taking children on school trips because of misplaced health and safety concerns, so we naturally welcome Education Secretary Michael Gove's statement to this effect. However, the changes do not mean that risk assessments no longer have to be completed in all circumstances, something that appears to have been lost in media coverage over the last few days, just that they must be proportionate. Clearly taking a group of teenagers on an adventure trip needs careful planning and assessment. Indeed the HSE guidance clearly states that full assessments should be carried out for higher risk activities such as climbing, caving or water based activities as the risks from these are more significant. We urge all local schools and educational institutions to take a proportionate and common sense approach like those who have been using our risk based online planning system." So if you agree with these new guidelines that have been issued, or you are a teacher and have views on this, please let us know by email.