New passenger facilities open at JLA ahead of the summer getaway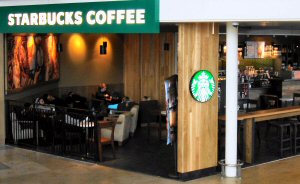 TRAVELLERS setting off for some Summer Sun from Liverpool John Lennon Airport (JLA) will now be able to experience further improvements with the completion of the Airport's £12m developments which have been ongoing for the past 18 months.

Just this week, the new Estuary Kitchen and Grill opened in the departure lounge, following hot on the heels of the opening of a new Starbucks coffee outlet close to the Airport Information Desk and the addition of famous high street sportswear giant JD Sports' new outlet in the departure lounge.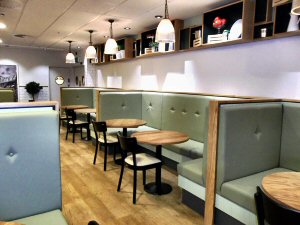 The Estuary Kitchen and Grill is the largest food retail area at the airport and replaces the previous passenger catering facility which had remained largely unchanged in over 10 years. Operated by food travel experts SSP, the new food retail area now covers 90sq m with a vibrant, fresh and contemporary feel offering passengers the very best choice of freshly-prepared meals, drinks and snacks using locally sourced ingredients wherever possible.

Almost £1m has been invested in these latest improvements which have also seen the creation of over 40 new jobs and the Airport are recommending passengers arrive in plenty of time to take advantage of the improved choice in facilities following the completion of these latest developments.

Matthew Thomas, Commercial Director of Peel Airports commented:- "We've been working flat out to complete these developments to ensure that our passengers can enjoy these latest improvements during our busiest time of the year. Whilst the choice of catering has been improving steadily in recent years, these new food and beverage facilities also help to raise the quality of both the food and the eating environment, in areas that haven't seen improvements for some time. The passenger reaction both to these latest changes and the work that commenced 18 months ago, has been very positive and demonstrates our commitment to offer passengers some of the best facilities available."
QUIGG v VARELA LIVE ON YOU TUBE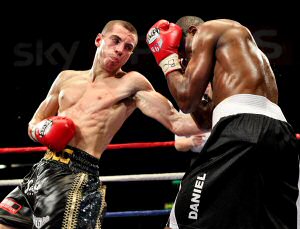 SCOTT QUIGG'S WBA world super-bantamweight title eliminator against Franklin Varela this weekend will be broadcast live on You Tube for FREE. Unbeaten Quigg faces the tough Venezuelan in his hometown at Bury's Castle Leisure Centre on Saturday night, (23 July 2011). Hatton Promotions have decided to broadcast the entire card live following the amazing internet success of last week's Lee Purdy v Craig Watson bill. Hatton Promotions President Ricky Hatton said:- "This sort of thing is still in its infancy, but the feedback we are getting from all over the world is fantastic. Purdy-Watson did huge numbers and I am expecting boxing fans from all over the world to tune in this weekend and see fights and a stream of the highest quality. We are putting on a top class show featuring some of Europe's best fighters and fans who log on will see a world class fighter in Scott Quigg." Quigg, 22, added:- "It is amazing to think that so many people around the world will be watching my fight live. It is exposure that money cannot buy and makes me even more determined to put on a special performance." Undefeated Quigg, 22, will also be defending his WBA intercontinental crown against Varela. In other contests on the card Italy's former WBA world and European light-middleweight title challenger Luca Messi boxes Tony Randell. Mandatory European light-middleweight title challenger Sergey Rabchenko faces Kevin McAuley over 8 rounds. In 4 rounders Hatton Promotions new signing Kieron Farrel faces Sid Razak, Tony Shaw is up against Jason Carr and Rhys Roberts tackles Marc Callaghan. To access the broadcast just click here, then click on the live button, under the Hatton logo. The broadcast begins at 7.30pm (BST) with Quigg due in the ring at 9.45pm (BST). The direct link to the show is click here. The last few tickets for the show priced £75(VIP Ringside), £55 (Ringside) and £35 General admission and available online, by phone on:- 0844 847 2500, or call:- 01925 755222.

CHANGING A NAPPY, CHANGING THE WORLD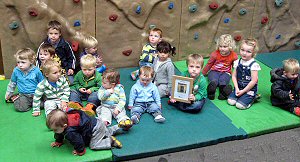 PARENTS at Marshside Road Methodist Church toddler group, Southport, have gone potty for poverty by twinning their baby-changing toilet with a latrine in Burundi, central Africa.

When toddler group leader Carol Drury first heard of the charity partnership Toilet Twinning she bought her husband a 'toilet twin' for Christmas. She then mentioned the idea to her local toddler group and showed them her Toilet Twinning certificate, which has a photo of their twin latrine in Burundi and its GPS coordinates.

The parents were enthusiastic and donations were collected in a box each week. The importance of sanitation resonated with the parents, as Carol explained:- "We appreciate the facilities we have at church and so we wanted to help other children to have better sanitation. That's why we twinned."

Toilet Twinning is a unique and personal way to do something about the 2.6 billion people in the world living without decent sanitation. As well as safe sanitation, donations help to fund access to clean water and hygiene promotion for communities in Burundi.

Children are particularly vulnerable to the effects of poor sanitation. Diarrhoeal diseases caused by poor sanitation not only cause children to miss school, they are also a leading cause of death in infants.

Cherie McClintock, Toilet Twinning's manager commented:- "We are very grateful for the support from Marshside Road Toddler Group. Clean water and sanitation are so often ignored but have a massive impact on a family's health, dignity and ability to earn a living."

Since Toilet Twinning's launch in 2009 over 1600 latrines have been built in Burundi, helping almost 10,000 people have somewhere safe, private and hygienic to go to the loo.

If you want to help children and their families benefit from better water and sanitation, go online to twin your loo.
FOLLOWING IN GRANDPARENTS' FOOTSTEPS TO AID CANCER RESEARCH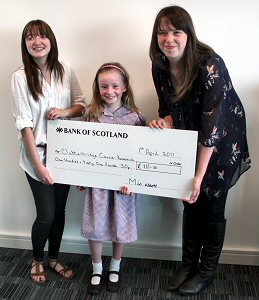 FOR as long as she can remember, 8 year old Mia Abbott from Wallasey has seen her Nana and Grandad organise big events for charity. It always looked so much fun that Mia wanted to do something similar herself.

Grandparents Colin and Angela Saville, also from Wallasey, who are major fund-raisers for Clatterbridge Cancer Research (CCR), explained she would have to wait until she was older.

But that wasn't good enough for Mia who decided to take matters into her own hands by organising a singathon at her school Mount Primary, Wallasey. She enlisted the help of headmaster Mr Bernard Cassidy and organised posters and sponsorship forms.

Friends, relatives, fellow pupils, teachers and dinner ladies, gave their support and Mia managed to raise £156.32, after singing her favourite pop songs in the school hall for an hour. She was helped by her 'backing group', classmates Gabby Kelly, Lydia Shepherd, Ellie Moore, Rachael Higdon, Liam Jones, Louis Gillie and Elliot Miller.

"The Singathon was a real credit to her", said her Nana Angela, who with her husband and two friends form the Black Jack and Bow Tie Committee which organises major events for CCR. "Mia is a very determined little girl and really wanted to do her own bit of fundraising. It was all her own idea and she did a great deal of the organising herself, although the school was tremendously helpful."

Jo Parry, Head of Fundraising for CCR, added:- "Over the past few years, Angela and Colin have been part of a team that has raised the best part of £40,000 for our funds. It's just fantastic that their little grandaughter has been inspired to follow in their footsteps."