Huge boost for City Region apprenticeships
A TOTAL of 739 apprenticeships for out of work young people will be created in Liverpool, Knowsley and Sefton over the next year (2012).

A report to Liverpool City Council's Cabinet on Friday, 15 July 2011, is recommending acceptance of a European Social Fund (ESF) grant of just over £2 million. It will be used to target 14 to 24 year olds who are not in education, employment or training (known as NEETs), or those on Jobseekers Allowance.

Liverpool will receive the funding to support over 700 young people, with 58% of the total going to the city to support 426 people, 25% spent in Sefton to help 185 individuals and the remaining 17% used in Knowsley to create opportunities for 128 people.

The idea is to develop apprenticeship opportunities with employers, particularly focused within the City Region priority employment areas of the low carbon, visitor, superport and knowledge economies. The aim is for more than half of the young people to be still in work 6 months after leaving the programme.

Councillor Nick Small, Liverpool's cabinet member for employment and skills, said:- "Creating good quality apprenticeships is a priority for the city council and also the City Region. This scheme will provide fantastic opportunities for many hundreds of young people, giving them a foot on the employment ladder combined with high quality training. The aim is to make sure the have the skills necessary to compete for jobs at the end of the apprenticeships. At a time when cuts in funding are being made across the board it is really important that we support our young people so they are able to obtain employment."

There will also be a marketing campaign to encourage employers to take part, which will also take in Wirral and St Helens. Greater Merseyside Connexions Partnership will also support the project by providing expertise in working with young people.

Councillor Ron Round, Leader of Knowsley Council and lead for employment and skills for the City Region cabinet, said:- "These 739 apprenticeships are good news and will help us on our way to our ultimate target of creating 10,000 apprenticeships in the city region this year. It shows what can be achieved when we work together as a city region. These are tough times to be starting out in the world of work, but an apprenticeship can be the ideal foundation for a long and successful career. We will continue to work with local businesses, especially those in growth sectors to support them in creating apprenticeships, which I have always believed offer so many benefits to both employer and employee."

Liverpool's director of regeneration and employment, Nick Kavanagh, said:- "This scheme is part of a wider apprenticeships programme which has already proved to be a huge success. We are committed to giving our young people the chance to gain skills through practical experience with leading firms that will help them go on to forge a career in an industry that they are interested in."

Liverpool City Council has already created and supported hundreds of apprentices through a number of other initiatives. More than 100 people taken on under the Liverpool Apprenticeship Scheme business grant initiative in which companies are giving a financial incentive to take on apprentices; grounds maintenance partners Glendale-Liverpool have taken on recruits to look after the city's green spaces and Construction Liverpool is training 180 people every year in building trade skills.

Fun and healthy days out for all the family!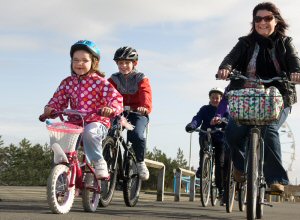 IF you're planning a day trip to one of Merseyside's fantastic tourist sites over the summer, why not leave the car behind and get there by walking, cycling or public transport.

For a fortnight from the 25 July to the 5 August 2011, Merseytravel's TravelWise team will be out and about across the region giving helpful hints and personalised travel planning advice to families and visitors at Merseyside's tourist attractions, as part of the ERDF funded Green Transport Plans project.

Mel Johnston from Cressington, Liverpool said:- "I have 2 children and we travelled for a family day to Southport on the train last week, it was much cheaper than us taking the car and the bikes go free on the train too. We love riding our bikes along the promenade in Southport and around the marine lake. Cycling an easy way for me to keep fit with the kids in tow!"

Cycling is a reliable, healthy, affordable and green way to travel and many of Merseyside's tourist attractions are easily accessible by bike. Bikes are also carried free at all times on Merseyside's local trains and ferries, and there's cycle parking at most train stations too.

It's easy to find out how to get to Merseyside tourist attractions by bike, on foot or by public transport. Look on the website of the attraction you are going to visit and see if they have the new TravelWise journey planner to help you plan your visit. Or if you're planning to travel by bus or train call Traveline on:- 0871 200 22 33 and ask a local advisor how to get from A to B.

There's a FREE Summer Day Trip Survival Kit for the first 25 people to visit TravelWise at each event at the following locations; Monday, 25 July – Sankey Valley, St Helens, Tuesday 26, July- U Boat, Woodside, Birkenhead and North Park, Bootle, Wednesday 27, July - North Park, Bootle and UnderWater Street, Liverpool, Thursday, 28 July - Sudley House, Liverpool, Tesco's Kew, Southport and Spaceport, Seacombe, Wirral Friday, 29 July - Walker Art Gallery, Liverpool and Merseyside Maritime Museum, Liverpool, Monday, 1 August – Sankey Valley, St Helens, Tuesday, 2 August - U Boat, Woodside, Birkenhead, Wednesday, 3 August - Sudley House, Liverpool, Thursday, 4 August - Spaceport, Seacombe, Wirral and Friday, 5 August – Merseyside Maritime Museum, Liverpool.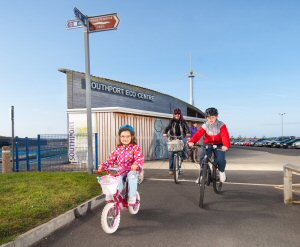 LetsTravelWise.org or call:- 0151 330 1253