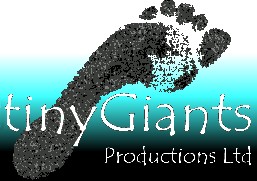 About the Company

Incorporated in May 1999 as a non-profit making company, Limited by Guarantee, tiny Giants productions started out as a team of creative like-minded individuals who identified a range of opportunities whereby they could contribute positively to the developing local arts scene.

Since then tiny Giants have succeeded in writing, producing and performing three original musicals, established a community theatre group, and toured theatre in education pieces to thousands of schoolchildren per year across England & Wales. In the process tiny Giants have provided substantial employment for a number of local performing artists, and with further development will provide employment for many more in the future.

Our Supporters

tiny Giants works professionally for Liverpool, Knowsley, Sefton, Blackpool, Peterborough, Tameside, Derby, Wirral and Wrexham Councils, and is actively developing links with other Education Authorities across the UK. We have also previously developed successful partnerships with Liverpool Football Club, Rushworths Music, Knowsley Arts Service, Merseyside Dance Initiative and Knowsley Community College.

Company Aims (Short Term)

· Establish a reputation for producing quality theatre in Education Productions

· Set up a successful youth and community theatre program

· Provide creative workshops & projects for the local community

· Write, produce and tour original productions

· Create new audiences by making theatre accessible and affordable to under-represented groups, eg low income, hearing-impaired

Company Aims (Long Term)

· Consolidate reputation for original creative work

· Provide creative work, training, and employment for local performers

· Collaborate with other artists and companies in the community

· Encourage wider participation in the performing arts through a vigorous equal opportunities policy

· Research and develop a quality affordable music and theatre service for schools and community
The Project

LIVERPOOL ECHOES

Liverpool Echoes blends fact with fiction, humour with tragedy, and uses music, poetry, movement and drama to tell the story of a 19th Century Liverpool family, and their 20th Century descendants. Inspired by an anecdote concerning the fate of a young Victorian girl accused of petty theft, the piece deals with the larger themes of the history of Liverpool, such as Scouse identity, slavery, poverty and resilience, as well as the human emotions of loss, love and reconciliation.
The songs, poems and dramatic action weave a series of intriguing parallels between the destinies of two separate generations. Whilst giving the audience a warm, intimate portrayal of the lives of its Liverpudlian characters, Liverpool Echoes also holds up a mirror to the lives of powerless people everywhere. The music and the action tell their powerful tale.
Aims of Project

· To promote greater awareness of the history of Liverpool

· To create a contemporary folk-rock music style to reflect some of the main cultural traditions of the city

· To participate in and contribute to the vibrancy created by the city's Capital of Culture bid

· To showcase emerging local talent

· To appeal to a wide range of potential audiences, and to make theatre more accessible, and more affordable

· To create and market an associated concept album

· To create serious interest to promote the production regionally and nationally

· To adapt the production for Theatre in Education purposes

November Performance Schedule

Tuesday 19th 7.30 pm: Knowsley Community College, Rupert Road, Huyton

Thursday 21st 7.30 pm: Valley Community Theatre, Childwall Valley Road, Netherley

Friday 22nd 8.00 pm: Bluecoat Chambers, School Lane

Saturday 23rd 2.00 pm: Bluecoat Chambers, School Lane

Saturday 23rd 8.00 pm: Bluecoat Chambers, School Lane

Liverpool Echoes has been assisted and supported by the Capital of Culture Team, and Northwest Arts Board.
Transatlantic Express
Liverpool and Manchester in New York
From the 18th October 2002 the cream of young, urban music, art, fashion and film from England's Northwest will be hitting the streets of New York. A week long programme of events will showcase the talent of individuals from the Northwest creative industries.

The project aims to promote England's Northwest as a cultural destination as well as stimulating business opportunities in the US for the cultural and creative industries in the region. The project will provide a platform for businesses ready to export and develop their international trade.

Peter Mearns, Director of Marketing, Northwest Development Agency (NWDA) said:-

"This is a fantastic opportunity for England's Northwest to really demonstrate the talent that exists here in the region to an international audience. This trip will provide the perfect platform for New York to experience first hand what the Northwest has to offer and encourage visitors to the UK to see England's Northwest as a prime cultural destination. The trip also has a real business focus, providing the ideal opportunity for Northwest businesses to make crucial contacts overseas."

Andy Lovatt, Director, Creative Industries Development Service (CIDS) said:-

"Liverpool and Manchester have always been home to some of the UK's best creative talent. Music, Art, Fashion and Film in these cities are enjoying a real renaissance and have the confidence and talent to take on the US and sell."

The 'Transatlantic Express' is the first of 6 projects selected from the Liverpool/ Manchester Vision initiative. The project is co-ordinated and funded by the Northwest Development Agency in partnership with Trade Partners UK. It is supported by Manchester City Council, Merseyside ACME, Manchester's Creative Industries Development Service (CIDS), Flux Magazine and Guardian Media group.