'Pete Best Drive' honours drummer
THE ORIGINAL drummer in the Beatles is to be immortalised, after the go-ahead was given to name a new Liverpool street in his honour. Pete Best's contribution to Liverpool's musical heritage will be recognised with the creation of 'Pete Best Drive', at Bellway Homes' new Bellefield housing development in West Derby. It follows a campaign from the fans, friends and family of Pete Best, which has gained the support of over 10,000 people.

The new housing development, which began on-site in the Spring, was chosen as the best location, because Pete hails from the area and the Casbah Club; where Pete and the Beatles began their careers; was located less than half a mile away. The Casbah Club, which was started by Pete's mother, Mona Best, in 1959, and which has now become synonymous with the band, will also be immortalised at Bellefield. Another new street - Casbah Close; will be created, in honour of its important place in Liverpool's musical history.

Pete, 69, who has given his blessing to the initiative, will visit the development to see the street which will be named in his honour, as well as the street which is to become Casbah Close. He will be joined by his manager and brother, Roag Best, the city council's Cabinet Member for Regeneration, Councillor Malcolm Kennedy, Bellway Homes representatives and members of the group which campaigned for the street naming.

Pete said:- "Now everything is finalised, and Pete Best Drive and Casbah Close are actually happening! I feel very humbled, very flattered and very honoured that the city of Liverpool, council members and the people of Liverpool have thought to honour me in such a fantastic way."

Roag Best added:- "I think it's wonderful that Liverpool has recognised Pete's and the Casbah Club's contribution to our city's great cultural heritage. It's a pity our mother isn't here to see it, as without her, none of it would have happened."

Pete Best was born in India on 24 November 1941, moving to Liverpool in 1945. He joined The Beatles in August 1960, one day before they travelled to Hamburg to play a season of club dates. He went on to do more than 1,000 shows with the Beatles, playing an integral part in their formative years, before being replaced by Ringo Starr in 1962, just before the Beatles hit the big time.

The married father of 2 and grandfather of 4 went on to work as a civil servant for 20 years, before starting The Pete Best Band in 1988. 50 years on from his first performance with The Beatles, Pete is still playing to thousands of people, including an estimated 30,000 at a recent concert in Brazil.

In 1981, streets in Kensington were named after John Lennon, Paul McCartney, George Harrison and Ringo Starr but Pete has never received this honour. Last year, a campaign was launched, led by Beatles fans, including fan club organiser Gene Grimes, for a street to be named after Pete.

A petition, run on Facebook, Twitter, and in Beatles-linked hotels and bars, has attracted more than 10,000 supporters from around the world. Liverpool City Council began an exercise to identify the best location for the street naming - and also put forward further proposals for Casbah Close. Cabinet member for Regeneration and Transport, Councillor Malcolm Kennedy and cabinet member for Culture and Tourism, Councillor Wendy Simon then began talks with Bellway Homes over the issue and wrote to Pete Best to ask if he was happy to be commemorated in this way.
Bellway Homes has formally agreed to these street names, and Pete Best has also given his approval. The formal naming process is now being finalised. Councillor Kennedy said:- "We always consider the use of iconic Liverpool names when suitable new streets or public places are created, and we receive regular requests to pay tribute to individuals who have made their mark on the city. We only name a street after a living person if it is an exceptional case. Pete Best is certainly one of those exceptional individuals. He has made a significant contribution to the musical heritage of our city, and he is a worthy recipient of this honour."

The Bellefield housing development will consist of 74, 4 and 5 bedroom homes, with the first of the homes due to be completed in the Winter. David Williams, Regional Director of Bellway Homes, said:- "Bellway are delighted that we are able to honour Pete Best's connections with the area by naming a street after him."

Trust starts £1m mortuary refurbishment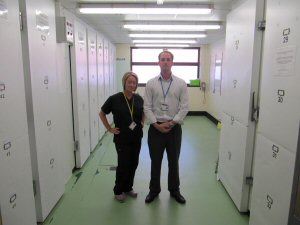 A £1m refurbishment of the mortuary at Southport and Formby District General Hospital gets under way on 1 August 2011. The current mortuary, which is also the public mortuary for the Sefton Coroner, opened with the original hospital building in the Eighties and is now showing its age. The refurbishment will see the stripping out and redesigning the existing mortuary and installation of state-of-the-art post-mortem examination facilities. There will also be additional temperature-controlled storage which will include more spaces for larger bodies. Hospital staff, local funeral directors, the Coroner and contractors have spent 6 months planning the work which is expect to be completed by November 2011. A short term body store, using a temporary chilling system, will be established in a secure room next to the mortuary. The Trust will also be making use of the mortuary at Ormskirk District General Hospital where post-mortem examinations will be also carried out for the duration of the work. Ben Swift, Bereavement and Mortuary Services Manager, said:- "We are making every effort to ensure families are assured there is no compromise in the care and respect we show the recently deceased during the period of this work. Mortuaries have an important but challenging role whose services are often overlooked. They are an extension of the high quality, end-of-life care the Trust provides for patients, so the planning and collaboration with partners has been essential to ensure we get this important work right."
"Too many North West parents using the Child Support Agency" says Minister
A record 112,870 children are benefiting from maintenance payments collected or arranged by the Child Support Agency in the North West, according to the latest statistics. But the Government says the encouraging figures suggest many separated parents could be supporting their children without CSA intervention.

Ministers say reforms now going through Parliament will see better help and support available for parents at the time they separate so that the CSA is no longer the default option. At present the Agency too often drives a wedge between parents, leading to further hostility and souring of relations.

While the Agency netted over £140.5m in the North West region in the 12 months to July, many parents are still failing to pay for their children on time.

"Most separated parents want to support their children without interference from the state. But these figures show that there is still an irresponsible hardcore trying to avoid their legal duty. Our reforms will help and reward parents who make collaborative, family-based arrangements and free-up the state service to chase those who do not meet their financial responsibility to their children." says Work and Pensions Minister Maria Miller MP.

There are currently 156,620 CSA cases in the North West. Over the next few years, all parents with CSA cases will be offered help to make their own arrangements. If they are unable to do so, they will be able to apply to a new, simpler and more efficient child maintenance service.

Separated parents who want to make their own family-based arrangements, you can already access free information and support from the Child Maintenance Options service by visiting:- cmoptions.org or calling:- 0800 988 0988.