LANSLEY'S SURPRISE SUPPORT FOR UNISON PENSIONS CAMPAIGN
UNISON's campaign against the government's pensions' proposals got surprise backing this weekend from Health Secretary Andrew Lansley, after a letter he wrote to the Treasury was leaked to a national newspaper. In the letter, Andrew Lansley warns that the proposals are 'inappropriate' and 'unrealistic', and would hit women particularly hard. He reiterated one of the union's big concerns, that putting contributions up would force people to leave the schemes and rely on benefits when they retire – storing up a massive bill for the taxpayer. Dave Prentis, UNISON General Secretary, said:- "Even Tory ministers are waking up to how unjust, unreasonable and unworkable their own party's proposals for public sector pensions are. Ever since the government came up with these plans, UNISON has been warning that people will leave the schemes if they are forced to pay more in contributions. Health workers and local government staff already pay between five and eight percent of their salary into their pension. Stuck on a pay freeze and with inflation high, it would be impossible for many to afford more. Paying into the pension scheme is the best way for workers to save for their retirement – the alternative is relying on means-tested benefits - at huge cost to the public purse. The attack on pensions has nothing to do with affordability – it is based on ideology. Independent studies have shown the schemes are affordable and sustainable for the long term. In the health scheme, £2 billion more goes in than out every year. The Treasury would use any increase in revenue to plug the deficit – it will not go towards pensions."
DETECTIVES BID TO REUNITE CHARITY FOOTBALL SHIRT WITH RIGHTFUL OWNER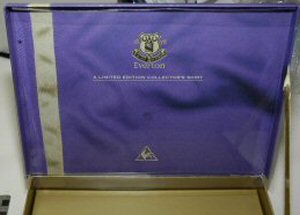 FOLLOWING the arrest of 4 males on suspicion of burglary officers recovered a limited edition Liverpool Unites memorial Everton football shirt in a presentation box with an authentication certificate, which they are now trying to reunite with its rightful owner. Detectives believe the shirt (pictured below) was stolen during a burglary and believe it could have sentimental value. The 4 males (aged 22, 28, 19 and 13 years from the Dingle), who were arrested on suspicion of burglary have been released on police bail pending further inquiries. If you are the rightful owner of the football shirt contact detectives at Admiral Street police station on:- 0151 777 5364.

City still flying the Purple Flag
LIVERPOOL City Centre has earned national recognition as being safe and well managed. It has retained its prestigious Purple Flag, a national award which recognises a safe, clean and well-managed city centre, which it gained for the first time last year, in 2010. The Purple Flag, the equivalent of a blue flag for a beach or a green flag for a park, is an accolade awarded by the Association of Town Centre Managers. In their assessment for this year they said:- "There is much to be commended in Liverpool's positive approach to the night-time economy. The offer is broad and diverse and is clustered into informal quarters, each of different character. There is clearly something for everyone, which is what Purple Flag seeks to promote."

Councillor Joe Anderson, Leader of Liverpool City Council said:- "We are very proud of the way the city centre has developed over recent years. Not only has there been great investment in retail, restaurants and leisure facilities but it is now recognised as one of the safest city centres in the country. Having gained the Purple Flag last year, some people might have thought that we would ease off in our efforts in this area but nothing could be further from the truth. The comments by the assessor clearly show that we are continuing to make our night-time economy thrive and we have a very well-managed and safe city centre.""

Among the initiatives to have taken place in the last 12 months have been:-

► The annual City Centre Perception Survey showed that those interviewed believed the city centre had improved over the past 12 months and is now seen as a safe and welcoming place to visit.

► The City Council and partners commissioned a consultation exercise to determine the future direction of the Stanley Street area.

► The city centre's Licensees Watch was successfully re-launched this year with much improved engagement between various agencies and licensees.

► Earlier this year an initiative lead by the private sector resulted in the opening of a Copshop located right in the heart of the city centre in the St John Centre.

► The Concert Square Interest Group (CSIG) was established last summer and has been meeting on a monthly basis to develop a vision for the square's future direction which is based on a more diversified provision.

► The "Lucy in the Sky" lighting framework installed in Temple Court in 2003 is due to be extended along most of the length of Mathew Street.