ALL THAT GLITTERS IS NOT GOLD... IT'S VOGUE HOUSE OF SUAREZ RETURNS WITH THE DEATH BY GLITTER VOGUE BALL
Photographs on this page by Matt Ford Photography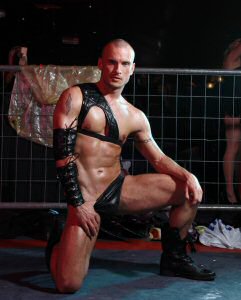 FOLLOWING the massive success of the Justice Vogue Ball in 2010, Renowned Dance Company House of Suarez return with the 'Death By Glitter Vogue Ball', which will stomp into the Black-E, Great George St, Liverpool on Saturday 1 October.

For one night only club culture meets high art in a dazzling battle for supremacy on the Runway. If you thought Harry Potter and Lord Voldermort had the ultimate fight to the death, you were wrong. This is the fiercest fight that you'll see in 2011 and it'll be the most magical one of them all.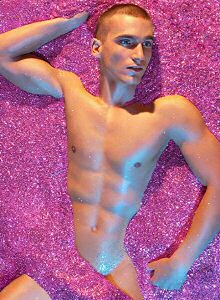 Hosted by the one and only Rikki Beadle Blair (Actor, Director, musician and Gay Rights Ambassador), the Death by Glitter Vogue Ball promises a feast to the eyes and the senses, glitter is the one thing on this menu, so get ready to splurge.

Filled with seriously sexy human specimens, bizarre creatures, lady-boys and everything else in-between when the Vogue Ball rocks up to put the bass back in your walk in what promises to be Liverpool's most glittering event of 2011. If you go, please let us know if you think it is!

A dance form popular in the 1970s and 80s, Vogueing began in the New York gay scene as a non-aggressive battle between two feuding individuals or group (houses) who chose to use dance instead of violence to settle differences. Vogueing often imitated the perfect lines and flexibility of model poses seen in fashion magazine such as Vogue, from which the dance got its name. No touching was allowed during vogue challenges, even though dancers would often become intertwined in each other's extended arms, legs and hand moves. The Voguer with the best dance moves was declared the winner of the battle. There were different styles of the vogue, including pantomimes or moves imitating the challenger.

The Death By Glitter Vogue Ball will showcase this stunning form of dance, which is now synonymous with Madonna's massive 1990s hit 'Vogue'. Several Vogueing Houses from across the country will compete to win cash prizes and dance supremacy in front of a distinguished panel of Judges. This year's categories include Bizare, Solos, Boy/Femme Realness, Club Freak, Erotica and Choreography in addition to the battle for Best House. This title is given to the House that shows full involvement and embraces most of the categories, if not all of them.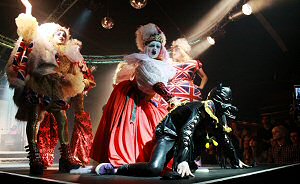 The evening will begin with a dazzling performance from Artistic Director of House of Suarez, Darren Suarez; who will create his sparkle-tastic new dance piece 'Death by Glitter' with the other members of the House of Suarez. Following this, the competition will get underway.

Those in attendance are asked to grab their glitterfied Basques, masks and panty hose to come dressed and ready to sparkle. This is the one event of the year were boys and girls can dress as outrageously and be flamboyant as they dare! Take inspiration from the glitter and ensure that your attire will dazzle the crowd, make sure you aren't outshone on the Runway.

Darren Suarez, Artistic Director of House of Suarez said:- "We want to see people from all walks of life and every scene taking part at the Vogue Ball. We want to see you dressed to impress in your glitziest outfit and ready to party. We want to create an environment that the local LGB&T Community is proud of and feel that they can express themselves at in a similar way that they can at a Pride event. It's going to be an incredible evening and there are dozens of Divas already rehearsing to make sure that they put on a stunning show. You're going to need sunglasses to cope with all of the sparkle. It's definitely going to be a night to remember."

For a short video introduction to Darren Suarez, Vogueing and the Vogue Ball, is hosted on YouTube.

The Death by Glitter Vogue Ball will be bigger, better, camper and more glittering than anything which has gone before. Prepare to tear up the runway in the most glitter-tastic event of 2011.

PERFORMANCE DETAILS:-
The "Runway" Death by Glitter Vogue Ball will be on at The Black–E, Great George St (nr China Town), Liverpool, on Saturday 1st October 2010, from 7.30pm. For ticket prices and more information visit:- houseofsuarez.co.uk.
The event organizers want to point out that, THIS IS STRICTLY AN OVER 18s EVENT ONLY!

Busy summer period expected for JLA
THIS week sees the start of Liverpool John Lennon Airport's (JLA) busiest time of year with thousands of the region's holidaymakers jetting off abroad every day for some Summer Sun and taking advantage of the great choice of destinations now available from their local airport. With school holidays having now started, the airport expects over 130,000 passengers to pass through each week, an increase of approximately 5% over last year's busy peak Summer season. Management at the Airport are keen to remind passengers that they should leave plenty of time to not only travel to the airport, but importantly to pass through the Airport too at peak times. JLA recommends passengers arrive 2 hours before their departure to allow sufficient time to check-in, pass through airport security and to take advantage of the many new passenger facilities now available in the departure lounge. Only last week the Airport completed work on a £12m programme of improvements for passengers with the opening of a new Estuary Kitchen and Grill, a new Starbucks Coffee outlet and the addition of famous high street sportswear giant JD Sports' new outlet in the departure lounge. Work has also just finished in the Airport's arrivals area with around £100,000 having been invested in developments to create more space and improve the arrivals experience for passengers returning to Liverpool. Passengers are once again also reminded to think carefully what they pack in any hand luggage that they intend taking through the airport with them, with hundreds of items still being confiscated daily that don't comply with the stringent security regulations still in place at all UK airports. Liquids and liquid based items in particular continue to be the main items causing disappointment and delays for a number of passengers passing through the new search area. Dave Walsh, JLA's Head of Terminal Services commented:- "With direct flights to almost 80 destinations on sale from Liverpool, the region's holidaymakers are taking advantage of great value flights and choice of destinations available, with the Mediterranean sun spots once again proving popular. We expect the airport to be really busy over the coming weeks and want to make sure all our passengers have a great start to their holiday. With a little thought and preparation in advance, passengers can help us to help themselves by making sure they allow plenty of time and don't try to take items through security that they shouldn't." Passengers unsure of the latest security regulations in place can check the travel/security advice sections of the Airport website or the Government's own information website.
Sky 1 prime time show wants YOU!!!
COULD you entertain an audience on TV for 100 seconds, to win yourself £25,000? A brand new, Sky 1 prime time show is looking for... "ASPIRING SINGERS - BUDDING COMEDIANS - UNUSUAL DANCE ACTS - VARIETY ACTS..." to take part in a unique television experience! "Sky1's brand new game show 'Last Act Standing' (working title) is loud, funny and a little bit naughty. A rapid-fire, high-stakes talent contest where everyone in the audience is potentially a star and wants the chance to prove it. A studio full of acts all hoping that they'll get called onto the stage to perform in front of the nation and win £25,000. The stage will have three different looks for three different types of acts and will see stand-up comics, singers and variety acts all try their hand at impressing the audience. However, if they're not as good as they think they are, they will be ejected from the stage - literally. With the risk of a hilarious exit via trap doors, horizontal bungees and exploding stages, it is a talent game show that takes no prisoners. The rest of the audience act as judge and jury: every member of the studio audience has a voting keypad and the moment more than half of them have had enough, it's all over for the performer. Those who make it through the full 100 seconds performance time will line up for the final judgement in which the host will reveal who will be the winning act and walk away with £25,000 prize money. Each week a celebrity commentator will join in with reviewing and analysing the acts during their moments of glory. " said Michael McIntyre. You don't have to be the next Leona Lewis, Diversity or Michael McIntyre, just be entertaining. To apply all you have to do is send your name and a request for an entry form via emailing:- talent@magnumtv.co.uk now.
Support sees Sophie on route to success
DYSLEXIA didn't get the better of one student who overcame her personal battles to graduate from Edge Hill University, with the support of her tutors. As any graduate will tell you, working your way through a 3 year degree is difficult enough, but when you are faced with further challenges, structured support is vital in order to succeed. Sophie Hunter, 22, from Southpor,t has just graduated from the University with a BA Hons in Childhood and Youth Studies and her success is down to a combination of her own hard work and the support provided by Edge Hill as soon as she started her course. "When I first started at university, what was great was that I was assessed and given support for my dyslexia straight away. This proved to be a huge help and towards the end of my second year I got a personal tutor through Edge Hill, who provided me with help with essay style and spelling. There is absolutely no doubt that without this support I would not have achieved my potential on my degree." said Sophie.

Sophie first developed an interest in childhood studies at school, undertook a course at college and then decided to widen her interest by studying youth studies as well at degree level. She feels it was a choice well made and she really enjoyed her time at university. "I enjoyed all of the modules within the course, but my favourites were safeguarding and experiential learning, as in my second year I got to go and find my own placement volunteering in a youth club, which is something I've been lucky enough to carry on with. The overall student experience was great. The lecture class sizes were ideal because they were small, it meant we could interact with the tutors, meaning that I could go over certain aspects with them to make sure that I'd understood the lecture fully."

Sophie was delighted to secure her 2:1 degree and is now busy searching for a job in the child and youth area. "A 2:2 was what I was aiming for, so I'm definitely happy. I'm now trying to find employment, but may also take time out to travel or even go and do a Masters. It's just great to have my degree behind me and to have that choice."

With the support Sophie received helping to ensure her degree success, what advice does Sophie have for other students who may have similar needs? "I would encourage them to go and look for additional support before lectures start, as that way you don't miss out on anything and can really start to benefit straight away. With hard work and support there is nothing you can't achieve, so there really is no reason not to reach your potential."

Well done Sophie and we wish you all the best in your search for a job with in the child and youth area.