HPI REVEALS 1 IN 12 VEHICLES CLOCKED IN NORTH WEST ENGLAND
NEW figures show that 1 in 12 vehicles in North West England checked with HPI show a mileage discrepancy. The growing trend of car clocking is an increasing threat to used car buyers, with false mileages costing UK consumers around £580 million a year**. Whilst 'adjusting the mileage' is not, in itself, illegal, selling the vehicle on without declaring the mileage adjustment IS breaking the law, and increasing numbers of unscrupulous sellers are tampering with the mileage of a vehicle as an easy way to increase the price tag. HPI warns consumers to remain aware of this potential pitfall when buying a used vehicle as they could end up paying hundreds, or even thousands, of pounds more for it than they should.

Modern digital odometers are now commonplace, making it even easier for clocked vehicles to evade detection, as the traditional tell-tale signs of damage to screws or poorly aligned numbers are not visible. On average, winding back the mileage can add between £100 and £400 to the value of the vehicle for every 1000 miles taken off, leading buyers to pay substantially over the odds for a vehicle which may also have the additional risk of potential serious mechanical failures if the correct servicing schedule isn't maintained.

Nicola Johnson, Consumer Services Manager of HPI explains:- "Worryingly, clocked vehicles may also represent a safety concern. Vehicles with incorrect mileages may have missed important services and part replacement dates, increasing the risk of them being unreliable and potentially un-roadworthy. Our regional figures show that all motorists must protect themselves from this type of fraud, to avoid paying over the odds for a clocked, and potentially dangerous, vehicle."

HPI's National Mileage Register now contains over 130 million mileage records, giving buyers extra assurance that a vehicle checked by HPI has not been clocked. With more vehicle information than anybody else, HPI also confirms the vehicle description, whether it is currently recorded as stolen, been written-off by an insurance company or is subject to outstanding finance. In addition, the HPI Check offers a financial guarantee, offering added peace of mind to used car buyers at a time when finances are tight.

Johnson concludes:- "Buyers who conduct an HPI Check are getting the best protection from the risk of clocking and used car fraudsters. By taking steps to protect themselves, consumers can avoid paying over the odds for a vehicle that may need unexpected repairs."
HPI'S TIPS ON SPOTTING CAR CLOCKING
► Check the service history for recorded mileages and make sure they look reasonable in relation to how you believe the vehicle has been used. You can also contact the servicing dealers to verify the stamped mileages.

► Speak to the previous keeper (on the V5) to check the mileage of the vehicle when they sold it

► Check the mileage when you view it. Clockers have been known to wind the clock back, and then return the mileage to its original value once a vehicle is sold, so check it again before you collect the vehicle.

► Look for signs of wear and tear. If the seats and steering wheel are worn, but the mileage is low, beware.

► Trust your judgment. If in doubt walk away

► Conduct an HPI Check

* Many of these signs could be innocent, so look for more than one of the above as possible evidence of clocking

** Estimated by the OFT in their report into the Used Car Market in March 2010 - website.

Gok's Clothes Roadshow coming to Liverpool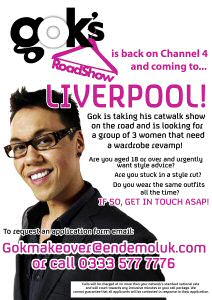 HE is on the way back to Liverpool, so ladies take note! The TV show are currently looking for groups of 3 women who would like a fashion revamp from Gok. They are looking for Merseyside ladies to take part this new show and get the Gok treatment. to take part email the show or call 0333 577 7 776. You must be 18 or over with ID. Click on picture for more information!
NEW ANIMAL ENCOUNTERS AT BLACKPOOL ZOO
BLACKPOOL Zoo is gearing up for a sensational summer season with the introduction of new and exciting animal encounters and an extended feed and talk time itinerary.

The programme of animal experiences will be on offer for the first time and includes giraffe feeding, tapir tickling, aardvark encounters and a behind the scenes look at the lemurs. And, for those who want to go that extra mile, a big cat experience and the chance to be a sea lion and bird trainer for the day can be arranged.

With more feed and talk times than ever before, and new species added to the list, visitors can choose to learn more about a whole host of their favourite zoo residents.

An action packed day kicks off with a talk about huge tortoises and the schedule continues with otters, gorillas, penguins, red pandas, pelicans, camels, elephants, lemurs, spider monkeys, giraffes, big cats, penguins, orang-utans, wallabies and creepy crawlies. There are also 4 sea lion and four bird demonstrations throughout the day and the recently opened Children's Farm will also be hosting fun and educational interactive sessions.

All this come as the award winning attraction launches its first ever TV advertising campaign, which has been developed to showcase the results of the millions of pounds worth of investments carried out in recent years and demonstrate how close people can get to some of the animals.

Jude Rothwell, PR and Marketing Co-ordinator at Blackpool Zoo, said:- "We have been working on fresh and stimulating ways for our visitors to engage with our animals following feedback we receive on an on-going basis. Introducing animal encounters and adding favourites to the talk and feed itinerary are aimed at enhancing the experience of coming to Blackpool Zoo. We are all very excited about our TV advertising campaign too as it gives you a snapshot of some of the fantastic things to see and do here. We are very much looking forward to hearing what our visitors think!"

It has been a busy year at Blackpool Zoo. A refurbished and extended restaurant opened in February after a huge £850,000 investment followed by the launch of the Zoo's new £500,000 Children's Farm, which consists of a huge barn and outdoor paddocks and is home to a wide variety of farm favourites including donkeys, rabbits and ferrets.
Visitors can save 10% on entry by booking online.