A scenic summer cycle
LIVERPOOL City Council's latest free cycle ride hits the road this weekend, giving people the chance to enjoy the sights and sounds of one of the city's most popular green spaces.

Cycle Speke – the city's successful cycling scheme, which has got hundreds of people on their bikes since 2009 – is inviting local people to join in a bike ride to Sefton Park this Sunday (7 August).

The circular, 2-and-a-half-hour ride leaves Lifestyles Austin Rawlinson in Parklands at 11am. The ride will make its way at a leisurely pace along National Cycle Routes 62 and 56 to Sefton Park, before heading back to Austin Rawlison.

The route, which includes on-road stretches, will be led by qualified and experienced cycling instructors.

It is a great opportunity to have fun, meet other people who enjoy cycling, get some exercise and take a fresh look at the picturesque park, which has just become the first in the city to be awarded Green Heritage status.

Everyone is welcome to join. Children under 14 should be accompanied by an adult and all participants must have a roadworthy bike to take part.

If you don't have a bike, don't worry! Cycle Speke have a limited number of pool bikes available. To book your bike in advance, please phone Claudia on 0151 233 5246 or email. First come, first served. Beautiful

Cycle Speke's and Cycle Aigburth's Cycling Sundays will continue throughout 2011, and additional rides will be organised by the Five Families Centre. Visit cyclespeke or cycleaigburth for further details, to find out about forthcoming city council cycling events or to download guides, showing you great places to explore on 2 wheels.
Get a taste of the Olympics – only one year to go!
THE National Rifle Association (NRA) is holding its sixth Open Day on Saturday, 27 August 2011, at Altcar Training Camp, Hightown, Southport. This is the last chance for members of the public in the North West to try Olympic shooting sports for themselves in the run up to 2012. The NRA has run a series of hugely successful Open Days and we'll be offering visitors the chance to try lots of different shooting activities. It's a great day out for the whole family as we also have expert instructors giving one-to-one tuition. We offer visitors the chance to try air rifle, shotgun, laser clays, archery, gallery rifle, fullbore rifle, sporting rifle, historic firearms and black powder pistol – there's something for everyone! The Open Days are an excellent opportunity to promote the sport of target shooting and visitors can also try their hand at shooting shotgun and .22 smallbore rifle – two of the firearms which are shot as part of the Olympics.

Runners race for the RNLI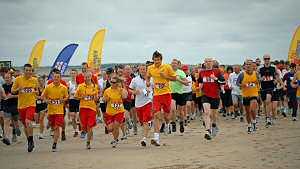 RUNNERS will be jostling for first place in the starting line-up of the Royal National Lifeboat Institution's (RNLI) Summer Series fun runs taking place on Crosby beach this weekend.

It's the second year the charity's popular Summer Series 10km and 5km runs have been held in the north west, proving popular with serious, occasional and fun runners all keen to take part.

Tabea Heckrodt, RNLI Events Coordinator, said:- "with good weather expected for the event, they're looking forward to welcoming runners from far and wide on Saturday, 6 August 2011. We had a real variety of people taking part in both the 10km and 5km runs last year. It's a lovely route and a lot of fun and we're delighted with the numbers of runners who have signed up this year to take part. People can still enter on the day though and we do always get some late entrants. All the money raised from the runners goes towards helping RNLI volunteer lifeboat crews and lifeguards save lives at sea and we're exceptionally proud of the lifesaving service our volunteers provide on and around the Merseyside coastline."

The Summer Series, on Saturday 6 August 2011, begins on Crosby beach and will take runners south towards Waterloo before doubling back north to the Maritime Rescue Co-ordination Centre on Hall Road West.

Runners can still register for the event by logging onto:- rnli.org.uk/summerseries or by turning up at Crosby beach on the day. Entry fees are £16 for the 5km run and £18 for the 10km event. All runners will receive a free t-shirt to run in and a medal on completion of the run.
Bowling at the Black Horse, Croston
THE Black Horse are running a doubles (mixed) bowling event on Sunday, 7 August 2011. Contestants may enter individually and partners will be found. It will be on a round robin basis, ensuring a minimum of 4 mini games, and the only charge is greenage of £1.50 per person. Start time approx 11am. ring Tony Dobson (01772 434692) or Rona Wade (01772 601080) for details.