Girls US Soccer Team visits Southport's New Tattoo Museum...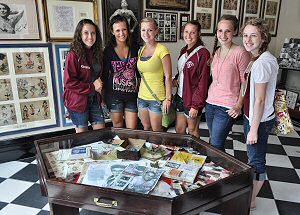 SOUTHPORT now has 2 unusual attractions, the British Lawnmower Museum, which is already internationally renowned and now a Tattoo Museum, that is soon to become internationally famous! The new museum is located on Princes Street, near Southport's Indoor Market, and was opened last week by brothers and now business partners, Willy and Tony Robinson. Already it is attracting tourists and locals alike. It is a very interesting display of a hidden world, that many do not know very much about. It celebrates the art involved in Tattoo work and shows a massive collection of photos and items from the industry, from its early days through to the modern tattoo display. We are running a feature in next week's issue as they get ready to open their workshop area. But for now the attraction is already garnering international interest, with a few European tourists heading over already to see the display and also even some US visitors. In fact; the Museum on Wednesday, 3 August 2011, had some surprise visitors; an under 18's Female Football Team, sorry 'Soccer Team', all the way from Pennsylvania in the USA! The girls from the 'Berks Euro Tour' are on Merseyside until Friday, 5 August 2011, and will be heading in for a visit to Liverpool's football clubs very soon as well. When asked if any would want to get a tattoo later in life, one said:- "Yes. I would love a small one, but only if my Mum did not know I had it." Well we had to ask...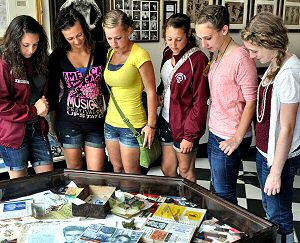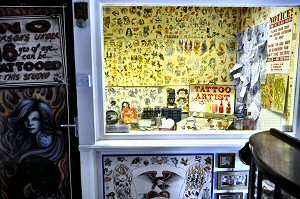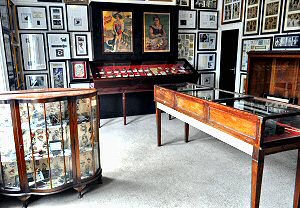 More 'Tattoo' in next weeks issue!

As the World Tipped
Report and Photographs by C Trollope and L Trollope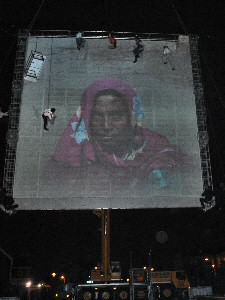 YET another striking event occurred in Liverpool over 30 July to 31 July, 2011, within the grounds of Liverpool's Anglican Cathedral. The event called:- 'As the World Tipped', was performed before a large crowd by a 10 strong cast from the Liverpool Wired Aerial Theatre, in association with artistic director, Nigel Jamieson, already known from the opening of Liverpool's Year of European Capital of Culture, 2008 ceremony spectular. 'As the World Tipped' was commissioned by the City Council and Liverpool Primary Care Trust as part of the Decade of Health and Wellbeing, and highlights a key aim as Liverpool attempts to become a greener city.

The performance's action begins with frenetic activity at the Copenhagen Climate Change Conference, when we heard many of the purported World's leaders and thinkers expressing great concern and making extravagant statements and promises about the need to act on climate change, only for these to be repeatedly countermanded on all sides with excuses and arguments. As that accelerates, a strange phenomenon begins and catches the participants as the stage surreptitiously starts to tip, until it reached vertical, and then their world has literally tipped up leaving the characters struggling 20 meters above. Although geographically weird, the impact is very powerful and illustrates the dangers of denial and prevarication in the face of world climate change. Scenes of global disaster, poverty, misery and death were screened behind the performers as they expressively portrayed their progressive loss of control and despair. Their dramatic swings, plunges and frantic scrabblings, were counterbalanced by colleagues semi- hidden in the darkness at the side of the vertically tipped stage. The performance culminates with the revelation of the Message: Demand Change Now.

Inside the Cathedral, before the performance, were various stalls and exhibitions by Faith 4 Change, Energy Project Plus and other specialists offering advice and information to help people to become more ecologically aware.

The Dean of Liverpool Cathedral, Justine Welby, welcomed the event which he said warned of the danger of wait and see. He is also reported as saying:- "It is up to us to take responsibility for the earth God gave us, and I think that, 'As the World Tipped' shares that message in a striking yet accessible way. As a Cathedral we are always looking for ways to be more green in everything we do, and I hope that this show will inspire others to do the same." and then the director of Cathedral Enterprise, Eryl Parry added:- "..this important, innovative spectacular .... (and) its ability to present an important ecological message in such a dramatic fashion will resonate with all those who, like us, care about the future of God's world."




PAGE 1 of 5
If you like the photos, please order them and do not copy them. Keep this site online.... Click on here to find out how you can get you copy of these photos.