SOUTHPORT FLOWER SHOW 2011 - PART 1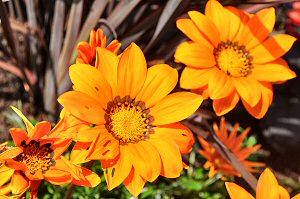 THE UK's largest independent flower show has again attracted thousands of visitors, over the 4 day event, on Southport's Victoria Park. It is thought that 80 thousand flocked to this year's show, but the final count has yet to be announced. This year's show was packed full of things to see, do and taste. Sadly, due to the cuts the Grand Floral marquee looked strange without the large displays from Sefton and Liverpool Councils. However, 2 excellent large exhibits were on offer from HM prisons Thorncross and Kirkham, both of which won deserved medals. Also many noticed that the National Bonsai Society did not exhibit, especially as they are based in Southport. But saying that, the lack of some of the older exhibitors meant new exhibitors could come in and show off their horticultural skills. It was once again an outstanding show, with many horticultural attractions and other entertainment on offer, from fashion shows and dog displays, to Medieval Jousting and even a cinema showing film of Southport from by-gone years. The show was also visited by lots of VIP's from celebrity Master chef winner, Liz McClarnon to Coronation Street stars, Shobna Gulati and Jimmie Harkishin. Also visiting the show was David Bellamy OBE, who has been a patron of the show since 1996 and is still as enthusiastic as ever about it. David also had a surprise when he found out a new sweet pea had been named after him! He was joined by fellow patron Stefan Buczacki who said: - "I love this show. There is no stuffiness about this show. It is always friendly and has so many talented horticulturalists from all over the United Kingdom. It is a joy to attend." Dev and Sunita also commented how open and friendly the show was. We have shot some video footage and also lots of stills at this year's show and will bring to you as many as we can over the next 2 editions.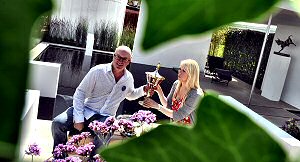 Please click on

and enjoy Part 1 of our photographic coverage.
Also if you went, please email us via our news room email address, news24@southportreporter.com and let us know what you liked or didn't like about the show.

If you want to find out more about the show in 2012 please visit:- southportflowershow.co.uk also why not check out the Wikipedia listing as well for more information about the shows history.
...HAPPY BIRTHDAY...
Happy Birthday to T. Shindler, from all her friends.... Have a fantastic day!
If you have someone you want to say happy birthday to, for free, then use the email address below to send us the names you want us say happy birthday to, and/or a photograph. Email us today!
Audio Copy - Experimental Option...
Click here to hear this weeks edition in audio format. Also please do let us know what you think about it.