Cockle Pickers Flock To Southport
IT'S not just birds who are flocking to Southport's Beach for shellfish, but now hundreds of cocklers risked dangerous tides to harvest the profitable crop. Rumours of a bumper crop have attracted a huge number of pickers with 460 licences granted to fish the beds, but none to local fishermen have been barred from the harvest. It is reported that the next permits available will not be until 2013, so local people are not proffering from the harvest. In fact 3 large foreign vessels are said to have visited taking most of the huge haul of cockles directly to Europe, with no real benefit at all to the local economy. This has upset many locals and also many have complained about the rubbish being left behind the cockle-pickers.

But one of the cockle-pickers from Morecambe responded when asked about these issued by saying:- "It is not all bad news for the local area. We have to rent accommodation, go and get food locally and also we need to get entertainment as well. It is a highly dangerous occupation and we have spent years learning the trade. We agree that their are many who have in the past tried to take advantage like the events that happened with the Morecambe Bay tragedy of 2004. It is our lives and are friends lives at stake and we all look after each other. Health and safety is key to our work and it might be bad that their are no licences granted for locals, but they are their to ensure there was no repeat of what happened in Morecambe, in Southport." This was echoed by a group of Polish group. "It is only that we come and show that prices are high for the Seafood that people are now interested. They could travel and work like we do as well! I would like to say that Southport is a fantastic place and I will be back for a holiday now I know about it. As for accidents, so far only a few accidents have happened, but it will happen. It is a dangerous environment and we would like to thank all the local emergency services for assisting us. I am puzzled by the response of locals though. We put in lots of cash into the local area, via staying here. If we did not come, I do not think this crop would be harvested, if it was a free-for-all and no licence issued, I could see this being unsafe." Another chap from Wales added:- "Over the years I have seen many good local fishermen and I do think some type of priority should be given to locals, but no matter how good they are, many are inexperienced with this type of work. We do this as a living and I have seen many local people, in other areas, hoping to make a quick buck after they see the cash we bring in. But they do not see the risk and the investment we make. Most local fisherman do not have the expertises for this, nor the equipment. I have spotted shrimpers here and some of them might be able to do it. But why discriminate people who make a living from it, to make way for all local groups, when they can always come to our area and do this, should they wish?" So far the Liverpool Coastguard and Merseyside Police, The RNLI, Southport Lifeboat, Merseyside Fire Service, Sefton Council's Ranger Service and the Gangmasters Licensing Authority (GLA) as well as The North West and North Wales Fisheries Committee, all have been keeping keeping an eye on the beds north of Southport's Pier. The huge operation also involves a new bit of rescue kit. The new Merseyside Fire Service Hovercraft has been brought in ahead of schedule to cover the harvest and has been based at Southport Fire Station. "We hope to bridge the gap covered by the likes of Southport Lifeboat, The Ranger Service and the RNLI Lifeguards. We hope this will add to the safety of these cockles and provide valuable training opportunity for our crews. When finished its duties covering the harvest, they will move it to the Insure Rescue base on the River Mersey." we where told. It was interesting to hear just how much the cocklers appreciated the efforts of the local emergencies services. In fact one man working on the bank told us in no certain words:- "With the fast tides, deep channels and the flow of water from the Ribble, all of us feel a lot safer knowing they are near. I and all the people working on the bank know that the potential for disaster when cockling is so high. Sinking sands is all over here and if that does not get you, then you have to worry about the tide running in fast and cutting you off, before you even know about it. All of us have to overseen each other when out on the banks and It is good to know that the local emergency services are ready should the worst thing happen and we have an accident. It is not a surprise why costs of cockles is so high, as we take high risks doing this job. But I am sad to hear Liverpool Coastguard could be closed. I was talking to some of the emergency service man and I knew some areas are likely to close, but I did not realise Liverpool was to be closed. I am from the South Coast and I am shocked, as it is times like this, they are needed. I hope they are not closed! All the local services are doing a fantastic job and we hope in some way to repay them, later down the line. I am also surprised to learn Southport's Lifeboat is not RNLI! I would like to say thank you to all of them for looking out for us all..." Please do let us know your views on this to:- news24@southportreporter.com and tell us what you think about Southport's Cockle Rush!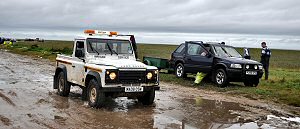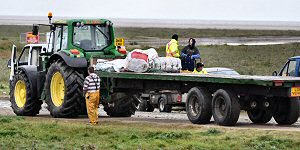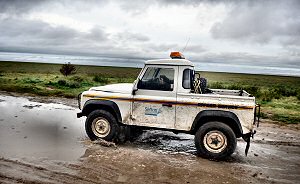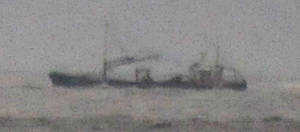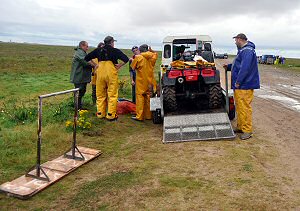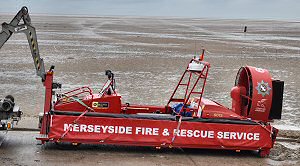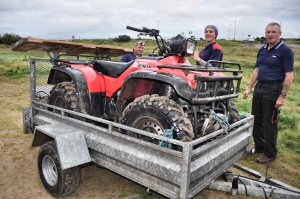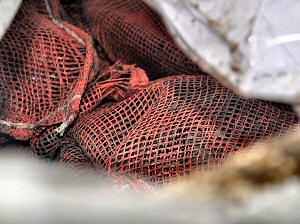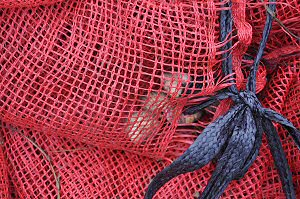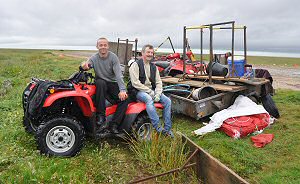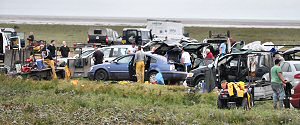 PAGE 1 of 2
If you like the photos, please order them and do not copy them. Keep this site online.... Click on here to find out how you can get you copy of these photos.