Red Rum Trainer / Owner Ginger McCain Has Died.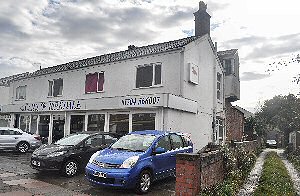 A local legend has been lost. Southport's colourful racehorse trainer, Ginger McCain, sadly died in his sleep, on 19 September 2011 after suffering from cancer. Ginger McCain, rose to fame after he had 3 winners and 2 second places in just 5 years period during the 1970s, with Red Rum. McCain gained the nickname "Mister Aintree" after his National win with Amberleigh House in 2004. He was to hand the reins to son Donald, in 2006, who then went on to win the Grand National with Ballabriggs this year (2011). Oddly, this international star of the horse racing world had been an unknown taxi driver and car salesman in Southport, up to the unforgettable record set by his horse Red Rum. The press have been told that there will be a private, family funeral followed by a memorial service in the next 2 weeks. There will be more information in the coming weeks. An employee of Tienne, in Wayfarers Arcade, Southport, where the statue of Red Rum is located said:- "I was shocked to hear the news. It is so sad. I remember him as a kind chap. He use to letting me stroke Red Rum. He will be missed by many who carry fond memories of him."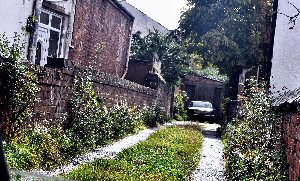 Related, non- Southport & Mersey reporter links:- Wikipedia - grand-national.com.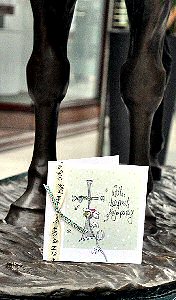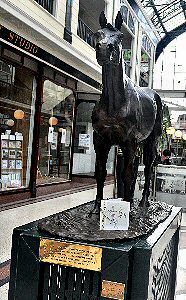 Roll on Sunday!
LIVERPOOL City Council are now inviting local people of all ages to get on their bikes once more this weekend, as the city's latest Sunday cycle gets rolling.

Cycle Aigburth – the city's popular FREE cycling scheme, hits the road again on 25 September 2011, with the latest Cycling Sunday event – a picturesque pedal, from Sefton Park to the Trans Pennine Trail (Liverpool Loop Line).

Meeting at Sefton Park Gates (Ullet Road/Aigburth Drive) at 11am, the ride makes its way at a leisurely pace to Otterspool Park and further along the Waterfront to the Liver buildings, from where it heads to Stanley Park.

The ride continues through Stanley Park to the Loop Line, which cyclists will follow until Gateacre Brow. It's then back, via Calderstones Park, to Sefton Park where the ride finishes after about three hours.

It is a great opportunity for cyclists of all abilities to have fun, meet other people who enjoy cycling, get some exercise and enjoy some of Liverpool's most splendid sights.

The route, which includes on-road stretches, will be led by qualified and experienced cycling instructors.

Historic Liverpool Street Is Re-born
ONE of the oldest streets in Liverpool is now going to enjoy a new lease of life, with the completion of a £2.9 million improvement project.

The Castle Street scheme, which began last November, has upgraded the road and pavements along the street – offering pedestrians, motorists and businesses a more attractive, modern route.

The sympathetic renovation takes into account the street's position in Liverpool's Conservation Area and the World Heritage Site, linking the Commercial Quarter and the main shopping area.

Liverpool City Council has worked with lead consultant 2020 Liverpool, urban design sub consultant Camlins and contractor North Midland Construction to create an improved environment for pedestrians.

The road is now one way from the Town Hall to Cook Street, and a new public transport interchange has been created on Cook Street, with new bus stops, seating and information boards.

Wider pavements with York stone paving have created more space for pedestrians, helping support the development of a café culture to enable more people to enjoy the beautiful architecture.

Councillor Malcolm Kennedy, Liverpool City Council's Cabinet Member for Regeneration and Transport, said:- "I am so pleased that this important project – to regenerate one of our key city centre streets and bring it up to 21st century standards – has now been completed. Castle Street was one of the original highways through Liverpool and is of huge historical importance to the city, so it's great to see it shining once more. This project will improve life for the thousands of people who use this road every day. And it will play a major part in attracting more investment and business into the area."

Signs have been reviewed and upgraded and new signal controlled junctions introduced, along with a new puffin crossing, seating and trees which compliment the design of adjacent Derby Square.

Street clutter has also been reduced, with lighting and traffic signals combined in a single column. For the first time, CCTV cameras for traffic monitoring have also been mounted on the same columns, which further reduces the number of posts required.

And the civic heart of the city has benefited from the works, with the repaving of the streets around Liverpool Town Hall, as well as the widening of the footpaths and narrowing of the road between the Town Hall and Cook Street.

The city council has worked closely with its partners to minimise disruption and keep local businesses up-to-date with the progress of the works. Several local businesses have praised the project team for the way it has carried out the work.

And a new era for Castle Street will get off to the perfect start on Saturday 24 September with Fiesta Latina, a spectacular, free event co-ordinated by the Commercial District Partnership. Castle Street will be closed to traffic from 12noon to 6pm, as the festival springs to life along the street, filling it with the music, sights, tastes and smells of Latin America.

Nick Kavanagh, the city council's Director for Regeneration and Employment, said:- "This scheme is the latest part of our work to drive up the quality of our roads. Castle Street is one of the most important and historical roads in the city centre, so it was vital to bring it up to modern standards while remaining sensitive to its unique heritage. These improvements will bring huge benefits to motorists, pedestrians and businesses for many years to come, providing a more attractive, spacious area, as well as creating an environment which better reflects the balance between low vehicle flows and high levels of pedestrian use."

In keeping with the historically sensitive work, the Sanctuary Stone – a Borrowdale Volcanics marker believed to be the only surviving surface monument from Liverpool's medieval past – was lifted from its existing location on Castle Street during the work, and taken to the Conservation Centre for storage, while a new setting was prepared to make more of a feature of it.

The stone, which possibly dates back to the 13th or 14th century and served as one of the boundary markers for the city's fairs, has now been returned to the street and is taking pride of place in the new, improved setting.

Chris Lavery, Managing Director of 2020 Liverpool, said:- "Castle Street is a beautiful street with a long history and now, a bright future too. We're delighted to have worked with the Council, other partners and local businesses to help bring about this transformation."

The project is funded by the Northwest Development Agency, Liverpool City Council and Merseytravel. It is part of the City Centre Movement Strategy which aims to balance the needs of all road users, motorists, pedestrians, public transport and cyclists as well as helping to attract private sector investment in the area.

For more details on this and other city council highway schemes, visit:- liverpool.gov.uk/highwayprojects.