The Labour Party Conference In Liverpool - Part 1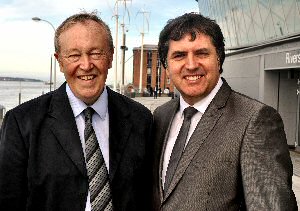 St Helens Councillor Terry Shields & Liverpool's Steve Rotheram, Labour's Spokesperson for 'Enterprise and Tourism' and 'Culture, Media and Sport' welcome deligates.
AS Britain basked in sun and with a mini heat wave hitting the UK, it was no surprise many attending the Liverpool Labour Party Conference should take average. As the Parties website stated:- "Over 11,000 delegates and visitors also come to conference for the wider experiences available. With over 400 fringe events, a vibrant exhibition and great opportunities to network and share ideas, Annual Conference is an event not to be missed!" The autumn conference was expected to generate tens of millions of pounds for the city's economy and for the Merseyside area, but the "Indian Summer" meant businesses throughout the city have benefited far better than predicted. It is the first time the Labour Party has held its Autumn Conference in Liverpool, so it was pleasing to hear so many of the delegates and visitors attending, saying how fantastic the venue and the city have been. It was not to be the only first, as it was Ed Miliband's first Annual Conference as the Leader of the Labour Party. Ever since he was elected back in 25 September 2010, he has inherited a party dogged by its past and he wanted to change that. In June 2011 a Ipsos MORI found Labour 2% points ahead of the Tories, but Miliband's personal rating was low.
This Conference was Miliband chance to lead with confidence and he came out fighting with a new slogan, "Refounding Labour to win. A party for the new generation." In his first address, on 27 September 2011, he pledged a "new kind of Britain", slamming what he called the "fast buck" culture that had developed over the last 30 years. The address was started with the words:- "Thank you Conference. It's great to be in Liverpool. Labour Liverpool." Miliband then added that:- "A generation ago a Labour leader came to Conference to condemn the behaviour of a Labour Council in Liverpool. Today I come to Liverpool, proud to hold our Conference in this Great City. Proud of the work our Labour Council is doing. Conference, it's been a busy year for me." He then went on to thank his wife and a short statement about his family, including a joke about his nose. Then it was down to business. This speech was a scathing attack on the Conservatives and also Liberal Democrats policies. Opening the business part of his speech he also addressed the errors of Labour in the past and went on to focus another topics like the economy and the media. Milibrand then focused in on some of the UK's top of companies and banks, stating that he wants an end to "asset stripping predators" and "cosy cartels." Unfortunately this part of his speech lead to many business groups wanting clarification of that he meant. The CBI Director General John Cridland was one of them warning "he must be careful not to characterise some businesses as asset strippers." but also added that Miliband was right to encourage "long termism". In the address he said also spoke of an end to the "something for nothing culture." Miliband also pledged that if elected, a new Labour government would use tax breaks, regulation and contracts to reward firms, who contribute to their community. The speech was well received by Labour members in the conference hall, and the following day he took the brave step of answering questions from the public and Labour members, live on stage, at the Conference. So far as some union leaders have said Mr Miliband is a "man on a mission" and should he get the party moving, his new approach might just win the next election.
For a round up report, interviews with delegates and also lots of photographs of those attending, please see next week's edition. We have some more photos within this edition to wet your appetite for now. To see them, please click on here now.
Manx
Direct

08447
402 038

2 Years Parts & Labour Worranty