British Musical Fireworks Championships 2011
AFTER 3 nights of pyrotechnic artistry, over Friday, 30 September to Sunday, 2 October 2011, from Reaction Fireworks, Vulcan Fireworks , Komodo Fireworks, Pyrotex Fireworx, Skyburst, Walk the Plank and Star Fireworks, there could only be one holding the converted title of British Musical Fireworks Championship Winner 2011. The event had many surprises and was not without incident, but the biggest surprise was the weather! As the county baked in a mini heat wave, the record temperatures meant that people came out in the droves to what was probably one the be best Championships held.

One of the problems occurred on Saturday. After a very original and well timed start to Komodo Fireworks display, just over half way through it had to be cut short because of a problem beyond the teams control. We hope they will be back in 2012 to try again as what we did see what very interesting, with very highly effective background music, and we would have love to have seen the full display. On the Sunday another problem struck one, but the firing was able to be continued without interruption.

It was a hard decision for the judges as all teams showed great skill in their displays, but all eyes were on one team after what was a stunningly well choreographed display. That display not only lit up the sky and Kings Gardens, but also flooding Marine Lake with many dazzling effects. That firing set so high a standard so high on the Friday night, that it was hard to perceive that it could be beaten.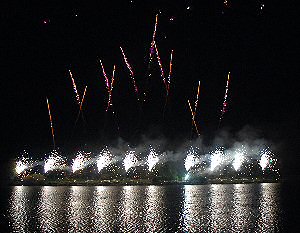 Many of the teams came close though, but the display by the winners of the 2010 British Musical Fireworks Championships had again delivered a show that was just "jaw dropping", thus retaining the title for the second year running. Pyrotex Fireworx Ltd. quality firework display now puts them just one title off the record set by Millennium Pyrotechnics at the event. Also delivering a very synchronised firing were Vulcan Fireworks who scooped up second place after their display on Saturday. Taking third place was Star Fireworks. Sefton Councils Tourism Department who said:- "A big well done and thank you to all of the competitors and supporters of the event, without you all we wouldn't have such a fantastic weekend! A very big well done to Pyrotex Fireworx Ltd, who are the winners of the Southport's British Musical Fireworks Championships 2011. We look forward to seeing them again in 2012." Alongside of the fireworks we have to point out the splendid work done by all the Sefton Council's Tourism Department, the Judges, Toucan Events , Adlib Audio Ltd. not forgetting Real Radio, Willow Catering Ltd., Champion Newspapers, St. John Ambulance, Frankie Barry's and a host of other who made this show work. All of them helped deliver what was a very enjoyable atmosphere and a spectacular event.
Click on here to see our photograpic coverage of this fantastic event.
Manx
Direct

08447
402 038

2 Years Parts & Labour Worranty