Save hot water, save energy, save money
CONSUMERS are being encouraged this week to think about their use of hot water in economic and environmental terms as part of the 15th Energy Savings Week running since 24 October to 28 October 2011.

The Consumer Council for Water is urging people to think about their hot water and how they might use it more efficiently to both save money and to help reduce their impact on the environment. Around one-third of a household's energy bill relates to heating and hot water for use in baths or showers or for washing clothes and dishes. By taking simple steps to use hot water more efficiently, households could see a reduction in their energy bill, and those who are charged for their water by meter could see a reduction in their water bill too.

Cutting back on the hot water you use will also cut your carbon footprint, or the amount of CO2 you create through your daily activities. It is estimated that about one-fifth of a household's carbon footprint comes from heating water at home.

Dame Yve Buckland, Chair of the Consumer Council for Water, said:- "Taking a few minutes to consider whether you are able to benefit from some simple efficiency tips could pay off in the long run. It could also have the added benefit of helping reduce not only costs but also your carbon footprint."

► Replace worn washers on leaky taps. A dripping hot water tap wastes both water and energy and over a year could unnecessarily add over £12 to your annual water bill if on a meter.

► Shorten your shower. For every minute less you spend under the shower you could save money. Or go one step further and install a water-saving shower head, which can cut the amount of water used by about 30%.

► When putting the kettle on to boil, only fill it with as much water as necessary. Two-thirds of us boil more water than we need.

► Make sure that the dishwasher or washing machine is full before turning it on, and avoid using the half load setting. Half-load cycles use much more than half the energy and water of a full load.

► Washing machines use huge amounts of energy, 90% of which is through heating water. By reducing the temperature from 40 to 30 degrees, energy consumption will be reduced by 40%.

► The hot water cylinder thermostat should be set at 60°C (140°F). Any higher is a waste of energy and could lead to scalding.

► Insulate the hot water cistern to avoid wasting energy to keep it hot. Fitting a jacket that is at least 75mm thick could save around £40 each year.

A full list of water saving tips is available online at:- ccwater.org.uk where you will also find a link to the Energy Saving Trust's brand new Energy-Water Calculator.

Send your Pumpkins to an Earthly Grave this Halloween!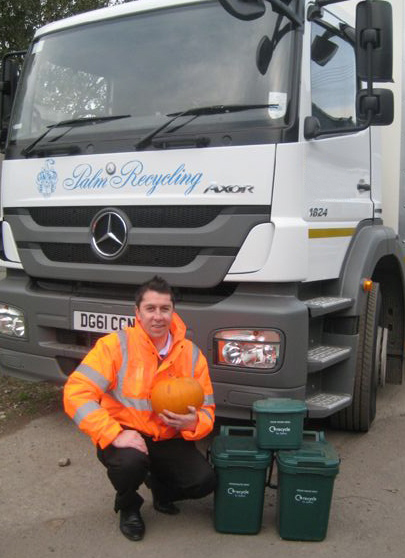 RESIDENTS in Sefton are being urged to "Recycle Your Pumpkins" this Halloween by including them in their kerbside food waste collections provided by North West-based Palm Recycling Ltd, which undertakes recycling on behalf of the Sefton Council.

With Halloween increasingly celebrated in the UK, and Pumpkin Lanterns an essential part of the fun, Palm Recycling is keen to promote Sefton's food waste collection service as a convenient and very environmentally friendly way of disposing of gruesome lanterns to give them an ecologically sound send off to the afterlife.

Residents, who have opted into the food waste collection scheme, need only remove candles and tea lights, along with any metal handles, and cut the pumpkin up to fit in their food waste caddy. Recently deceased pumpkins, together with any glass bottles, jars and paper waste from ghoulish gatherings and Halloween parties, can be disposed of safe in the knowledge that they will meet a less than grizzly end, but instead recycled into new and useful reincarnations.

Clare Bowdler, Recycling Services Officer, Sefton Council, said:- "Sefton residents were the first in Merseyside to be able to recycle their food waste and this weekly collection is the perfect service to recycle pumpkins after Halloween. It is amazing how much food we waste, but now we can divert what was once thought of as waste, away from landfill, where it can be recycled into something useful, which in this case is horticultural products."

Palm Recycling Scheme Supervisor for Sefton, Ruairi Holyoake, added:- "The weekly kerbside food waste collection scheme works in harmony with the collection of a wide range of materials for recycling, such as glass bottles and jars, paper, tins, cans and textiles. The food waste goes to a special processing plant in West Yorkshire where it is treated in an enclosed vessel and the end product is used for horticultural applications."

Residents who are not currently opted into the scheme can request a food waste bin for outside, an indoor kitchen-handy food caddy and an information pack, free of charge, by contacting Sefton Council on:- 0845 140 0845. Extra or replacement recycling bags and boxes can also be requested by calling this number.