Can you help piece together Georgia's final moments?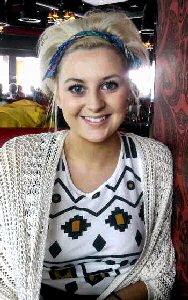 POLICE Detectives from British Transport Police are calling on members of the public to help piece together the final moments of the life of 16 year old Georgia Varley who was killed when she was struck by a train on the night of Saturday, 22 October 2011.

It is reported that Georgia, a student from Wallasey, was at James Street Station, Liverpool, on Saturday, at around 11.30pm, when she fell between a train and the platform and was killed as the train left the station.

The platform and the train were extremely busy and whilst BTP officers have spoken to many witnesses, there are still many who have yet to come forward.

Detective Chief Inspector Simon Taylor, leading the investigation for BTP, said:- "We are determined to work out exactly what happened to Georgia and I am calling on rail passengers in Liverpool to help with this. Did you see Georgia at the station or on the platform? Perhaps you were on the train and saw what happened? Whatever information you have, no matter how insignificant it may seem, it could prove valuable in helping us piece together Georgia's final few minutes. Georgia has left behind a distraught family and we want to be able to tell them exactly what happened and help them come to terms with the tragedy."

A Merseytravel spokesman said that:- "This is a tragic accident and we are shocked and very sad at the outcome. Our thoughts are with the young girls family and her friends. We will obviously co-operate fully with a police enquiry."

If you have any information about the incident please contact British Transport Police on:- 0800 40 50 40 or call Crimestoppers, anonymously, on:- 0800 555 111.
DTZ instructed to sell Everton Football Club Training Complex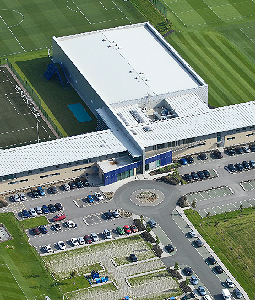 DTZ has been instructed to sell the Everton Football Club Training Complex, in Liverpool, on behalf of a private client of the firm. The Training Complex at Finch Farm was designed by specialist sports facilities architects AFL and was completed in 2007. The building provides 70,000 sq ft of high specification training facilities set in 55 acres, including a gymnasium, medical village, media centre, dining facilities, offices and education centre for the Everton Academy. The investment provides over 30 years' secure income with attractive 2.50% per annum fixed uplifts, compounded and payable 5 yearly. Offers are being sought in excess of £15,356,000 representing an attractive net initial yield of 7.75%. Strong interest is expected to be shown by a wide range of investors including UK funds, property companies and high net worth investors. Simon Lowe, Associate Director at DTZ in Manchester, commented:- "This is a very rare and exciting opportunity to make a long-term investment in a world class Premier League training complex; an alternative asset with sound underlying property fundamentals."
What do you are readers think about this? Email us now via:- news24@southportreporter.com with your views on this sale.

Energy bills saving of 16% offered to small businesses across the North West!
SMALL businesses across the North West are being offered the opportunity to slash 16% off their energy bills, with a new scheme launched by New Economy.

ecoSMARTER, is part of a national, government-backed initiative which is designed to help tackle soaring energy costs. It will provide small businesses with a free green makeover worth more than £1000, helping to cut bills and carbon emissions.

New Economy is leading on the £1 million project with partner support from local green business specialists and £500,000 of funding from the European Regional Development Fund (ERDF).

Businesses that sign-up to the scheme will have a free electricity monitor installed which lets them monitor energy consumption online. They will also receive environmental support from a sustainability expert to help reduce carbon emissions.

The specialist consultancy will provide a carbon footprint calculation for participating businesses and environmental training for staff, leading to a bespoke environmental policy, an action plan and a green marketing strategy.

The ecoSMARTER scheme was trialled earlier this year and the businesses which participated cut their energy bills by 16% following support from ecoSMARTER consultants.

On completion of the programme, businesses will also receive a Carbon Smart Certificate, a national certification that highlights their green success.

The certificate can be used by businesses in their marketing, and is recognised by central and local government as evidence of environmental achievement within businesses' procurement procedures.

Mike Emmerich, chief executive of New Economy, said:- "We're delighted to lead this project on behalf of the North West region. As we have seen in recent headlines, energy consumption is a huge cause for concern at the moment with rising costs affecting individuals and businesses alike. New Economy is committed to reducing costs and carbon emissions across the region. The ecoSMARTER scheme is a great way for small businesses to cut their excesses. However, it only has a limited number of places so I would encourage interested parties to get in touch as quickly as possible."

Sir Howard Bernstein, vice chair of the Northwest European Regional Development Fund Local Management Committee, said:- "By reducing energy usage and bills for small businesses this project can deliver key positive impacts on two fronts. Business support of this type will help to boost local economies while also protecting the environment."

Peter Davys, national councillor for the Federation of Small Business in the North West said:- "Massive energy price hikes are currently hitting small businesses at the worst possible time. ecoSMARTER will support hard-pressed businesses to cut costs from the bottom line and help them to become greener. The nationally recognised certificate also shows how businesses are successfully making the changes to become more sustainable. It will then help to boost their competitiveness and win all-important new business"

Small businesses based in the North West with ten employees or less are eligible to apply to the ecoSMARTER scheme.
The project is supported by the European Regional Development Fund (ERDF). To find out more, please contact Nick Uttley on the land line number:- 0161 237 4630 or send an email to:- ecosmarter@carbonsmart.co.uk.