Liverpool Fashion Week 2011 - Part 2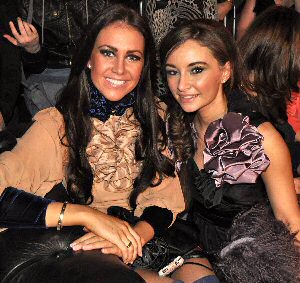 FIRST off, we have to say that we have taken so many photographs over this event, that we will have to run it over into yet another edition. The Liverpool Fashion Week 2011 took place over 18 October to 22 October 2011 and what we just said might give you a clue as to what we are going to say next... The event was a huge success! Despite the odd minor glitch along the way, the 5 nights of fashion shows were very well attended and appreciated. With 40 high profile clothing retailers taking part it was hard to see how they could all be fitted in to just 4 of Liverpool's trendiest venues. If that was not a problem in itself, how were they to cope with all that local and national press, and the many VIP guests too? But they did; and in amazing style! Also the organisers found a way to give room for many local acts, to enable them to show their talents off and to entertain guests on the catwalk during change overs. The first night was opened by Jennifer Metcalfe at the iconic, Beatles themed hotel, Hard Day's Night. After a fantastic run of adult ladies' outfits and a children's line, it was over the road for the Official Opening Night's After Party, at the exclusive celeb hang out, Kingdom Liverpool, hosted by Red Dwarf and Coronation Street star, Craig Charles! Then the following night it was off to Modo for Thursday's shows which were hosted at the Newz bar, by the renowned Alison Hammond. The event proved to be highly popular and space was a premium at this sensational night. Friday was back at Concert Square's Modo club for what many said was the best night of the lot, culminating with the Littlewoods catwalk show, opened by none other than Sarah Jane Dunn. She took to the catwalk and introduced the line, dressed in a very tasteful Littlewoods number! That catwalk show ended what was a sensational night of entertainment. If that was not sufficient fun for the many fashion fans, on Saturday it was over to Liverpool's Marriott Hotel for the closing night's catwalk shows, featuring the stunning 21 year old, from Maghull, Sarah Fairley, who is Miss Liverpool 2011. What a way to round off a successful and beautiful week-long event. Amanda Moss L.F.W. Director, said:- "Our aim is to open the fashion shows up from being restricted to the often very small, local charity shows, that take place outside locations in London, Paris, Milan and New York, and are out of reach for many. I want ours to be a middle ground that makes fashion shows accessible to every single one of us and I hope we are on the way to achieving that. This year we have been delighted to have worked with so many top names and also local designers. All our models have been fantastic and I would like to thank them all. So many people put in a lot of time to deliver this event. Many forget the massive work that takes place behind the catwalk, and I also thank all the team for their efforts throughout, who have worked out of site to get this event to work. I would also like to thank the staff at the venues, the celebrities, the many press who attended and of course, our sponsors. Without any of them the events would not have been as big a success as they have been." At Southport and Mersey Reporter we have to also point out that credit for this event should also go to Amanda for all her hard work as well. Well done and we look forward to what will be a very sensational year in 2012... To find out more about next year's event we recommended you keep your eyes on the events website. Also congratulations to all the models who took part; many of them are new to the catwalk, and supplied by Majestic Model Management. To see part one of our coverage please click on here now.
Who showed what on which night...

On the Opening Night hosted by Jennifer Metcalfe on 18 October at The Hard Day's Night Hotel were:-
| | |
| --- | --- |
| 1. Frockstar Designs | 5. Sve |
| 2. Blu Kangaroo | 6. Amber's Closet |
| 3. Pastiche | 7. Fashionpony.co.uk |
| 4. Gissings Boutique | 8. Paris G |
Aftershow Party:- Kingdom featured Craig Charles on the decks.

Modo on 19 October featured the following shows:-
| | |
| --- | --- |
| 1. Leigh Taylor Designs | 5. New Look |
| 2. Booty Junk by Liam Nelson | 6. Dorothy Perkins |
| 3. Purple Guru | 7. River Island |
| 4. Lipsy | 8. Miss Selfridge |
At the Newz Bar on 20 October hosted by Alison Hammond:-
| | |
| --- | --- |
| 1. Evans, featuring Alison Hammond | 5. Fabulous Boutique |
| 2. Tessuti | 6. Tessuti(D Squared. Stone Island) |
| 3. Karen Millen | 7. Butterfly |
| 4. Tessuti (Armani, D&G) | 8. Opulence Bridal |
Modo on 21 October, hosted by The Hollyoaks star, Sarah Jane Dunn where:-
| | |
| --- | --- |
| 1. Pacha | 5. USC |
| 2. Culture Corruption | 6. Next |
| 3. Wallis | 7. Matalan |
| 4. BHS | 8. Littlewoods |
22 October's closing night event at the Liverpool City Centre Marriott Hotel, featuring Miss Liverpool.
| | |
| --- | --- |
| 1. Caroline Oates | 5. Jodie Lee |
| 2. Boy Meets Girl | 6. Anya's Closet |
| 3. Classy Rags | 7. Marc Cain |
| 4. Muriel:Eric | 8. Liverpool Bridal Gallery featuring the stunning Matthew Williamson collection |
The after show party also featured Miss Liverpool on that night..

Photographs on this page & report are by Patrick Trollope.
.





PAGE 1 of 21
If you like the photos, please order them and do not copy them. Keep this site online.... Click on here to find out how you can get you copy of these photos.
All Models Take Note Of This!

IF you model, over 18 and want to get the heads up on a new service that is aimed at helping you develop your modelling career and to get work in, please email:- info@vamphire.com with your name, age and location. We will then add you to a priority list, so you get to know first when this service is going live and a bit more! So don't get left in the dark, no matter if you are professional or amateur, this service is designed with you in mind. We look forward to receiving your email!