Liverpool Cathedral to host finance debate
LIVERPOOL Cathedral is to host a free public debate about finance on October 27. Policy Provocations:- 'Can finance ever be fair and does it even matter?' will feature Frank Field MP, Labour MP for Birkenhead and Chair of the Independent Review on Poverty and Life Changes (published 2010) and Lord Whitty, outgoing Chair of Consumer Credit, who will talk about the state of financial exclusion today and why it matters.

Lord Whitty will ask how effective recent measures to fight financial exclusion have been for the individual and whether financial inclusion can help build a fairer society and stronger communities. Frank Field will discuss the impact of financial exclusion in Liverpool and the Merseyside area and will consider measures taken by organizations such as RBS and the Charity Bank to improve financial inclusion.

The event has been organized by the University of Liverpool and is free and open to all but booking is essential. Click on here or call:- 0151 794 2650. An informal reception will follow the event from 7.45pm.

John Flamson, Director of Partnerships and Innovation at the University, said:- "The new financial environment has profound implications for the way we live our lives and how our cities function. During this time of unprecedented change, we must challenge ourselves to ask the difficult questions and then deliver innovative solutions. Working with civic partners across Liverpool, this new series of events will bring city, UK and international figures together to focus on big policy issues. We want it to provide a space for people across the city to learn, engage in debate and think about how we can do things differently."
Queens Drive works near completion
WORK gets underway on Phase 4 of the £2.2 million Queens Drive improvement scheme on Sunday, 23 October 2011. The, which started in August, has involved carriageway resurfacing and the replacement of sections of street lighting between Townsend Avenue and Stuart Road (the boundary between Liverpool and Sefton).

The significant city council investment, which will bring essential improvements to one of the city's important strategic corridors - has been carried out in four phases, to minimise disruption as much as possible.

Phase 1 (Townsend Avenue to Utting Avenue) and Phase 2 (Utting Avenue to A580 Walton Hall Avenue) have now been completed, with Phase 3 (A580 Walton Hall Avenue to Rice Lane Flyover) due to be completed this weekend.

The project enters its final phase this Sunday (Rice Lane Flyover to Stuart Road). This phase of the work, which will be completed on 6 November, is likely to be the most disruptive, due to the large volume of traffic that uses this section of the road. Delays are expected at a key junction (Southport Road / Breeze Hill), within Sefton's boundary.

The city council has liaised with Sefton Council over the likely impact on their side of the boundary, and is working with them to ask motorists to consider using alternative routes, or to allow additional time for their journeys. A briefing has been provided for Sefton's contact centre, Sefton Plus, so information can be given to customers, and letters - providing a description of the works and key contacts – are being delivered to residents with Sefton's boundary.

Liverpool City Council's Cabinet Member for Regeneration and Transport, Councillor Malcolm Kennedy, said:- "We've worked really hard throughout this vital scheme to keep disruption to a minimum, and we've worked closely with local people, businesses and, of course, Sefton Council, to keep them up-to-date, at every step of the way. Queens Drive is one of the most important roads in the city, and a major route for business, so it's essential it is well maintained. I'm really pleased that the works have progressed so smoothly and that we are on target to complete the scheme on schedule. And with less than three weeks to go to, we are asking people to be patient with us for just a little while longer. Once this work is completed, it will bring huge benefits for motorists, residents and businesses – on both sides of the Liverpool/Sefton border - for years to come."

Information boards have been put in place, informing motorists about the final phase of the works, and variable message signs have been activated at key locations - both across the city and within the Sefton boundary (A565 Derby Road and Southport Road).

The city council will also be relocating its mobile variable message signs to key locations, to provide advance warning of the works and enable motorists to make informed choices about which route to take.

Traffic management measures have been in place throughout the duration of the works. Traffic is full contra-flow to allow work on each carriageway to completed, with the road reduced to a single lane in each direction. A dedicated traffic officer is on-site 24 hours a day to provide access to residential and business properties.

The city council has also been working closely with Liverpool and Everton Football Clubs to make sure the works cause the least possible disruption to travelling football fans. To support this, traffic management measures will be completely removed on 3 occasions during the final phase of works. Already one of the 3 has taken place for the Everton v Chelsea, but it will also be into force the following day:-

► Everton v Manchester United – 29 October 2011

► Liverpool v Swansea – 5 November 2011

Much of the traffic which uses this section of road is freight travelling to the Port of Liverpool and the wider docks area.
The City Council has liaised with the Freight Transport Association and Road Haulage Association to advise them of the works and request that they ask their members to seek an alternative route during the works. The contractor for the Queens Drive works is Tarmac, with Enterprise Liverpool managing the project.

MERSEYSIDE DANCE INITIATIVE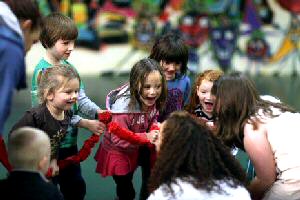 THE Liverpool based dance organisation Merseyside Dance Initiative has been tasked with raising £5000 in pledges before 31 October 2011, as part of the national Big Give Christmas Challenge.

The organisation's Dance and Health programme 'Move on Up' was selected for the scheme by Big Give bosses who were impressed with the organisation's outreach work, which also won them a MOBO in 2010. Through the Big Give Scheme, MDI will see the initial pledges effectively quadrupled over a series of fundraising challenges as long as they reach each target. However, this will only happen if the organisation reaches its £5k target this week.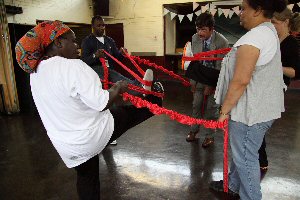 The Big Give provides an intelligent way for proactive philanthropists to support charities and projects of interest, and for charities to engage with donors new and old. The Big Give showcases the work of over 8,000 charities. It runs a wide variety of innovative programmes which help charities raise further income whilst enabling donors to increase the impact of their donations. The Big Give is free to all users thanks to the generous support of the Reed Foundation, the charitable arm of Reed Specialist Recruitment.

The first step of MDI's Challenge is to gather pledges from supporters including private donors and from large organisations. These pledges will then be combined with an equivalent level of funds from an external sponsor, which will be used to double online donations made by the public in the Big Give Christmas Challenge 2011 Week in December. Once the pledges have combined with the sponsor funds and this is matched with donations made online the initial pledge will be worth up to four times its original value.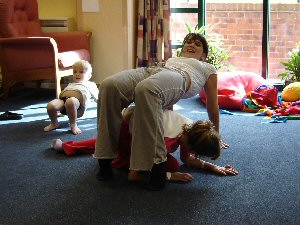 The money raised will fund MDI's dance and health activity across Merseyside in 2012. There is a growing body of evidence showing that taking part in dance activity can have a positive impact on people's physical and mental health and wellbeing and we believe that our project will reinforce this view and have a dramatic impact on those taking part. In 2010, MDI partnered Liverpool PCT and Liverpool City Council as Dance Ambassadors for Liverpool's Year of Health and Wellbeing and expanded out health focused work by delivering a range of projects working with all age groups - from around 18 months to 80 years +. The organisation has devised a programme of work aimed at benefiting a diverse range of individuals, groups and communities across the region. Partners and Groups include: Early Years Groups inc. Sure Starts; Alder Hey Hospital; Aintree Hospital; Granby Care Home; Hector Peterson Court; Adults and Children with disabilities; Adults with Dementia and Parkinson's; Refugees and Asylum Seekers.

In order to continue this great work into 2012 MDI is looking for pledges of money from businesses, trusts, foundations, dance lovers, individuals and philanthropists. Pledges are conditional and depend on MDI securing online donations a second challenge week to be held in December. Any donors will receive recognition both online and in print used to publicise the dance and heath projects. Donors will also be invited to MDI's health events and performances as a special VIP guest.

Rachel Rogers, Project Development Manager at MDI said;- "MDI's dance and health programme is so important for the organisation. For us, working with people from diverse communities who don't usually have access to this type of activity is vital, we're aiming to make a difference by working with individuals, groups and communities in places you might not expect to find dance. We know dance makes a difference, whether it's an adult who has dementia, a child with autism or a person recovering from an operation in a hospital bed, you only have to see the smiles on people's faces and feel the energy in the room to know that the work is of real value. The Big Give Christmas Challenge gives us a real opportunity to raise money to fund this work by increasing the value of pledges by up to four times as much! It would be fantastic to have the backing of local businesses and communities and for them to know that their pledges will, through our projects make a real difference to people in Merseyside in 2012"
To make a pledge you simply need to fill out a form by 31 October 2011 by clicking here.

In addition, MDI are happy to offer additional information about the project aims and beneficiaries in more detail so give them a call on:- 0151 708 8810 and ask for Rachel.