Apprentice hopefuls begin job quest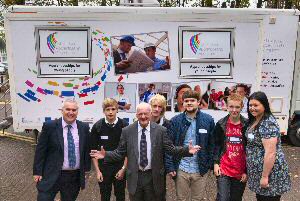 HUNDREDS of young people looking for apprenticeships have attended assessment events in the first stage of the recruitment process for the Merseyside Apprenticeship Programme.

Events took place in Knowsley, Sefton and Liverpool for 16 to 24 year olds who applied for one of the 100 apprenticeship positions being advertised across the local authorities as part of a European Social Fund financed initiative.

The candidates were put through numeracy and literacy tests before being briefed about the apprenticeship programme and what it will entail.

As part of the scheme, employers will be given financial support towards the cost of their apprentice and training, while apprentices will be given a two year paid placement and the opportunity to gain up to an NVQ Level 3 in a relevant subject as well as invaluable work experience. It is part of the Liverpool City Regionís drive to create more than 10,000 apprentices this year.

Cllr Ron Round, Leader of Knowsley Council and lead for Employment and Skills in the City Region Cabinet, said:- "Unsurprisingly there were a great number of applications for the apprenticeship positions being offered. 100 of the best candidates will be put on the road to a successful career by this programme, but importantly, none of the young people who have applied will be forgotten about even if they arenít one of the successful candidates. In Knowsley and across the City Region the local authorities are working with the business community to ensure that those young people who are willing and able to work are helped and supported, whether that be in helping them find work or accessing training. I was very excited to meet some of the latest applicants and find out about their hopes and aspirations for the future."

The types of apprenticeships on offer are across a wide range of sectors and include accountancy, joinery, ICT, engineering, photography and catering.

Cllr Nick Small, Cabinet Member for Employment and Skills at Liverpool Council, said:- "It is great to see the recruitment process for the Merseyside Apprentice Programme up and running. There are some really great apprenticeships on offer in some of the fastest growing sectors of the future, giving young people a valuable foot on the ladder of their chosen careers."

Cllr Ian Maher, Sefton Councilís Cabinet Member for Regeneration and Housing, said:- "The quality of applicants seems to be very high. I am sure that this programme will be a life changing experience for all the apprentices and I am sure the businesses involved will also find this a fabulous way to welcome young and enthusiastic young people to their workforce."

The next stage in the application process for the Merseyside Apprentice will see hopefuls making a Video CV and being quizzed by prospective employers. Successful apprentices will take up their new jobs in the New Year.
Miles Kane - Liverpool O2 Academy - Rescheduled
UNFORTUNATELY Miles Kane's show on Friday, 21 October 2011, at O2 Academy Liverpool has been postponed as essential maintenance work is being carried out to the roof over the main auditorium. A rescheduled date has been confirmed for Thursday, 1 December 2011. Original tickets will remain valid. Miles would like fans to know how disappointed he is that the show can't take place on Friday and is looking forward to the new rescheduled date. "It was going to be a special moment playing in Liverpool this Friday so I'm gutted that we've had to postpone the show. It's been a show I've been looking forward to playing all year, so I hope you can join me on 1 December. Can't wait to get home and see you all" said Miles Kane after the postponement.

Why authors donít need traditional publishers anymore
THE publishing scene has changed beyond all recognition in the last 10 years. At the beginning of the century, online book retailing represented only 5% of total book sales. Now that figure is closer to 30%. Bricks and mortar bookstores are struggling to stay in business, unable to come to terms with the threats posed on the one hand by online retailers and on the other by supermarkets. These new retail channels demand higher discounts, leading to a fragile book market and causing traditional publishers to de-risk their output, which means they are unable to invest in new talent.

At the same time, Amazon has recently revealed that for every 100 books sold on its site, it sells 115 Kindle ebooks. Kindle allows new authors to upload their books directly, thus offering mass international distribution. As literary agent Robert Gottlieb recently warned:- "Publishers are frightened to death of the eBook market, because they see the opportunity for authors that they did not have before."

With publishers reluctant to take risks on new authors and with these new channels now available to everyone, it begs the question: do authors still need traditional publishers?

Russell Grandinetti, vice president of Kindle Content, believes that the death of traditional publishing is a foregone conclusion, stating that:- "the only really necessary people in the publishing process now are the writer and reader."

Publishing a book, however, is rather more complex than just uploading a Word document to Kindle and hoping people will buy it. Whether it is e-publishing, print-on-demand or the more traditional printing and distribution model, many important processes are needed to turn a raw manuscript into something people are going to want to buy. It will need editing, designing and proofreading prior to launch. It will also need a sales and marketing campaign behind it to attract readers. Industry specific expertise is critical for all in the process.

With this in mind, Oxford-based independent publisher Infinite Ideas has recently launched a self publishing business, Infinite Authors. Authors can access a range of publishing services in order to self publish both printed and eBooks. By accessing the companyís publishing expertise authors can self publish books of bookshop quality from as little as £695. Infinite Authors offers direct access to the biggest bookselling platforms and is democratising the publishing process for authors around the world.

If an author self publishes, he can expect to make a profit of 30% of the cover price of his printed book and 70% of the retail price of eBook sales. By comparison most conventional publishing contracts give the author a royalty of 10% of net receipts. On a £10 paperback that can be as little as 35p a book. On an eBook the author may receive 25% of net receipts (although eBook royalties do vary greatly) which may generate £1 per sale. By self publishing, however, authors can put their books up on all eBook platforms including Amazon, Google, Kobo, Sony and Apple and have physical copies available through online retailers and wholesalers. So self-published authors now have direct access to quite literally millions of readers the world over.

Tim Moore, Marketing Director at Infinite Authors, explains:- "Mass consumer channels such as Kindle offer authors unprecedented direct access to their readership. Our sister company Infinite Ideas has had huge success in generating viral campaigns for key authors. Some of their titles have had in excess of 100,000 downloads. We know how to generate interest and we share this expertise with our self-published authors. For a very small investment authors can now publish their own books internationally in multiple formats. In traditional publishing two thirds of sales take place in the months before Christmas. For the eBook market, the busiest sales are from Christmas Day onwards because this is when people who have been given e-readers as presents begin to download books. This offers authors huge opportunities to sell substantial quantities of their books direct."

UK sales of digital book products grew by 20% last year, according to the Publishers Association. Yearly sales now stand at 180m, around 5% of total book sales. With the latest generation Kindle selling for a mere £89, the gap between the author and the reader will continue to decrease. Infinite Authors aims to bring authors and readers closer together by providing real publishing expertise to help authors bridge that gap.