Unison Chief Calls For Pensioner Manifesto
THE Unison General Secretary, Dave Prentis, speaking at the National Pensioners' Convention rally and lobby of Parliament on Wednesday, 26 October 2011 has called for a:- "pensioner manifesto based on rights, not means-tested benefits." He pledged the union's support for the fight for decent pensions for all to ensure dignity in retirement. He said:- "We stand against the ideology of this government that says that markets and big business know best. We stand against the ideology of government ministers who want to take away our pensions – the pensions our members worked for, the pensions they saved for every week of their working lives. Those pensions don't give them luxury, but some basic security in retirement, putting away a little each week for dignity, so they don't have to rely on benefits in old age. They are not gold-plated, but just enough to get by. Now told to work longer, pay more and get less. Our fight is for a decent state pension and decent pensions for all, wherever they work. Our fight is for a pensioner manifesto based on rights, not means tested benefits. Our fight is for the right to dignity and respect; a warm home; the right not to have to pay exorbitant food prices and energy bills; the right to a world-class NHS which you fought for and paid for with your taxes. Unison stands shoulder to shoulder with the National Pensioners' Convention to fight for rights in retirement."
Lord Mayor launches Poppy Appeal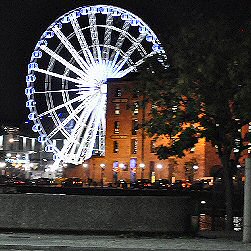 THE Royal British Legion's 2011 Poppy Appeal in Liverpool is about standing shoulder to shoulder with our brave Armed Forces to support the recovery of Service people injured in current conflicts. Under the strapline 'Shoulder to shoulder', the Liverpool Poppy Appeal will be launched by the Lord Mayor at the Liverpool Wheel on Friday, 28 October 2011.

Liverpool's Lord Mayor, Councillor Frank Prendergast said:- "It is important we never forget the sacrifices our armed forces have made, and continue to make. They are making a difference to the lives of people across the world, and their work is as important today as it always has been. Sadly, service personnel from our region are among those who have been killed or injured in action, and this has had a devastating impact on some families. I urge everyone to show their support for the work of the Royal British Legion by making a donation and wearing a Poppy with pride."

Christine Bradford from the Royal British Legion said this was set to be the biggest Poppy Appeal ever in Liverpool and Merseyside, nationwide the Legion is seeking to reach a record-breaking target of £40 million nationally in support of the Armed Forces family.

"We're urging everyone to throw their support behind the Poppy Appeal 2011, as money raised will go towards providing vital care for injured Service people. The Legion has committed £50million over ten years towards the The Royal British Legion Battle Back Centre and the operating costs of four Personnel Recovery Centres around the UK. The Battle Back Centre will be a centre of excellence for adaptive sports and adventurous training, which will help Service personnel recover after their injuries, by focusing on what they can do rather than cannot do. The Centres will help our injured Armed Forces build confidence, motivation and independence and then either return to duty, or reskill and make a successful transition to civilian life." said Christine.

Up to 800 injured personnel will be helped each year through the Battle Back Centre and Personnel Recovery Centres, which is the core part of the Legion's support to the Armed Forces family in 2011.

The soldiers, Private Julie Smith, educated at Maghull Secondary School, deployed to Afghanistan in February 2011 as a Driver with the Close Protection Team. She is currently undergoing training as a body guard.

WO2 Kevin Rogan educated at Henry Meols (Now Wallasey High School), deployed to Afghanistan in Sep 10 as Sergeant Major Mentoring the Afghan National Army. His son Ciaran was deployed to Afghanistan in September this year and is currently serving as a Driver.

They will receive the symbolic first Poppy on Merseyside which they will then send on to the other members of the Regiment who were deployed to Afghanistan last month.

Also riding pillion will be 2 1st year Civil Engineering students from JMU who are supporting the Poppy Appeal, Thomas Croft and Lucas Birkett. Thomas was born on the eleventh hour of the eleventh day of the eleventh month.

More than £1.4 million a week or over £200,000 a day is spent by the Legion on its work helping over 160,000 members of the Armed Forces Family, serving, ex-Service and their dependants.

Elliot Brown from Southport wins an Overall Achievement award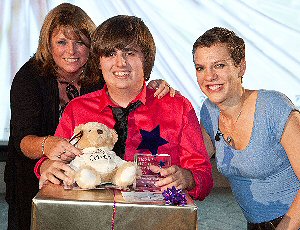 A teenager from Southport, Elliot Brown, has won an award for Overall Achievement at a prestigious awards ceremony held by national children's charity Cerebra.

Cerebra aims to improve the lives of children and young people with neurological conditions, through research and on-going support. Each year the charity holds a special awards ceremony to celebrate the amazing achievements of some of the children it helps, as well as the parents, carers, volunteers, brothers and sisters who help them overcome their obstacles. This year's event was held on 24 October 2011, at Tortworth Court Hotel in the Cotswolds and was hosted by well known comedian and actress Francesca Martinez.

Elliot is a very worthy winner of the Overall Achievement award. As a child, 16 year old Elliot was diagnosed with arrested hydrocephalus, severe dyspraxia, multi-sensory integration difficulties, low muscle tone and Asperger's Syndrome resulting in years of therapy and difficulties in school.

Despite his problems Elliot discovered a talent for drama and gained a GCSE equivalent at just 10 years old, winning festivals for pieces he composed himself and being awarded a bursary at Liverpool Drama Festival at the age of 11. With the help of a scribe Elliot gained two B's in mathematics, an A in R.E and a B in English language last year at GCSE level, as well as representing his high school at public speaking competitions.

Every Saturday he gives up his time to teach drama in the community to build confidence and self-esteem, and most recently has worked with his occupational therapist to help younger children with Autism develop social skills through drama.

Elliot was nominated for the award by his mum, who said:- "we wanted to let you know that your family and all who have struggled with you and supported you on your climb are immensely proud of you. You're not just an A student but an A* student."

Speaking after the awards ceremony, Francesca Martinez said:- "I'm delighted to have been asked to host this year's Cerebra Children's Awards and to have been part of this special day. The amazing achievements of these young people are incredibly inspiring and highlight the power of positive thinking, courage and determination."

This year's awards ceremony was extra special as Cerebra is celebrating its 10th birthday this year. Chris Jones, Chief Executive of Cerebra said:- "we've come a long way in ten years and these awards are a chance to celebrate and applaud the amazing achievements of these young people who are an inspiration to us all."

For further information on Cerebra please visit:- cerebra.org.uk or phone:- 01267 244200.
A Christmas Carol in Liverpool Cathedral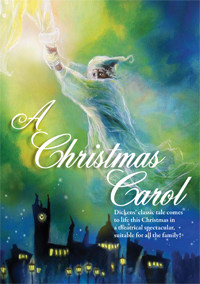 A Youth Worker from Ormskirk is helping to bring Dickens' Christmas classic to life at Liverpool Cathedral. Vikki Shacklady, who is based at Ormskirk Youth Hub, has enlisted the help of Saltmine Theatre Company to put on a production of Charles Dickens' A Christmas Carol on 23 November 2011, in the Well of the Cathedral, from 7.30pm. Vikki helped secure the venue, and has helped with casting and publicity for the family-friendly show, as well as ensuring it is accessible to any schools, youth and community groups that wish to attend. This includes on-going fundraising, helping to ensure that prices are kept as low as possible. The show will feature spectacular theatrical events as each of the three ghosts comes to visit Scrooge on Christmas Eve. The cast is made up of four skilled professional actors, who use clever innovations with props and a number of fast wardrobe changes to portray a vast array of characters. Vikki's interest in the Dickens story, and in using the Cathedral as a venue, comes from her own experience. Vikki said:- "The Cathedral has always been a very important building to me, and it has played a very significant part in my spiritual journey. Now that I am a Youth Worker, I wanted to help introduce the Cathedral to as many young people and families as possible. What better way than through a play that follows the spiritual journey of Scrooge from a man who doesn't care for the people around him, to one who gives thanks for everything he has and goes on to do good deeds." Saltmine Theatre Company was established in 1985 and believes in using the power of theatre to enhance lives. The company has been touring professionally in theatres, schools and churches across the UK since it was established in 1985. Tickets cost £8.00, £5.00 (Conc), £6.00 Group Tickets (10 or more in a single purchase). Tickets from:- cathedralshop.com or by calling:- 0151 702 7255. Car Parking is just:- £3.00 pay on entry.