Train named in memory of Councillor Jack Spriggs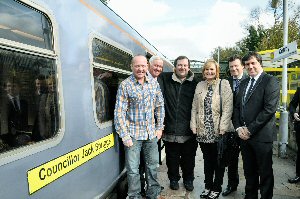 A Merseyrail train has been named in memory of one of Liverpoolís political legends of the 1970's. Councillor Jack Spriggs, a former Lord Mayor was Merseytravel Vice Chair from 2005 until his death in December 2009. In 1972 Jack Spriggs hit the national headlines when, as a shop steward, he led the famous Fisher Bendix workers sit-in which lasted 9 weeks and resulted in saving the plant from closure.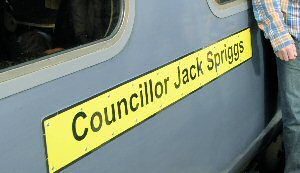 At the train naming ceremony Councillor Mark Dowd, Chair of Merseytravel said:- "It was my great privilege and pleasure to know Jack Spriggs for many years and I am honoured to name this train in his memory. He was a great character, a caring and compassionate man whose thoughts were always for others and it is fitting that he should be remembered." Jack Spriggs joined Merseytravel in 1992 and served as Chair of the Personnel Committee from 1993 to 2005. He served on many committees and was Chair of the Merseytravel Advisory Panel Liverpool Division.
Top Detective Appeals to People of Merseyside for Assistance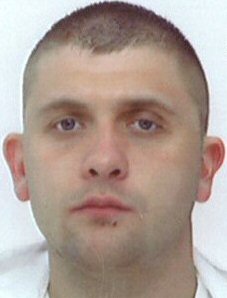 ONE of Cleveland Policeís top detectives has urged people across Merseyside to assist them in the search for missing Hartlepool man Scott Fletcher and says that even the smallest amount of information could help the enquiry. Scott was last seen on May 11th 2011 at around 8.20pm on the A181 at Wheatley Hill in Durham. He has connections to Merseyside, with family and friends living in the area and officers believe that it is possible he could have visited the area since his disappearance. Detective Chief Inspector Jon Green, who is leading the investigation on behalf of Cleveland Police, said that on some occasions people feel like they are bothering police by ringing in with information as they think it might not be of any use or they arenít sure of what they might have seen. However DCI Green said the key to unlocking many missing persons investigations can come from a snippet of information from the public. "I would urge residents to get in touch and let us decide if the information they have is beneficial to the enquiry. We want to be able to tell Scottís family that he is safe and well and as Christmas draws ever nearer, it is going to be a difficult time for them if Scottís whereabouts remain unclear. We have put a lot of resources into locating Scott and the case will remain open until we know that he is safe and well. I am concerned about the length of time he has been missing, but I want to reassure people that we are doing everything possible to find him. Someone, somewhere has information that can help us, whether they realise it or not, and I would urge them to come forward and help us to reunite Scott with his family." Anyone with any information is asked to call DCI Jon Green on:- 01642 302110 or Crimestoppers anonymously on:- 0800 555 111.

Night Collar Returns For A Limited Run This December!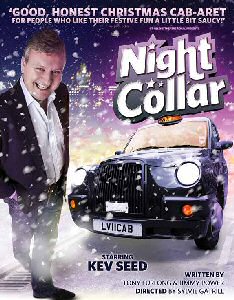 EX-CABBIES Tony Furlong and Jimmy Powerís Christmas cracker of a comedy Night Collar is to return to St Helens Theatre Royal for 4 performances only this festive season, from Monday, 5 December to Thursday, 8 December 2011.

If your idea of a Christmas show includes good shepherds, wise men and a virgin, then youíre going to be in for a bit of a disappointment. If, however, your festive season wouldnít be complete without nudity, drunkenness, Elvis and a lady of the night selling her wares Ė then Ladies and Gentlemen, welcome to Night Collar!

ĎTis the season of goodwill and thereís not a disagreement in sight. Yeah, right. Itís late, weíre in St Helens town centre on Christmas Eve and the taxi metre is ticking over on one of the busiest nights of the year for this cabbie, played by Kev Seed. Working the late shift, youíd expect to meet some unusual characters, but you ainít seen nothing yet!

The hilarious festive show, produced by Regal Entertainments Ltd is the perfect Christmas night out for friends, family and colleagues to start their festive season with a bang, though hopefully not in the taxi on the way over to the theatre.

Written by Tony Furlong and Jimmy Power and directed by Sylvie Gatrill this hysterical festive show stars Kev Seed (The Ciggie Run, Juice FM) alongside a stocking stuffed full of fabulous local talent including Daniel OíBrien (The Salon, Rita, Sue & Bob Too), Lynne Fitzgerald (The Salon, Liverbirds), Lenny Wood (The Sinking of The Laconia) and Jodie Nesbitt (The Ciggie Run). Címon itís lovely weather for a cab ride together with you!

Kev Seed said:- "I was thrilled to be asked to perform the role of the cabbie in Night Collar again. I love Tony Furlong and Jimmy Powerís writing, it still makes me laugh even after performing the show so many times. Iím also performing in Aladdin at St Helens Theatre Royal this December, so itís going to be interesting to be swapping between the cabbie and PC Noodle on the same day, hope I donít get mixed up and think that Iím still a Chinese Policeman when Iím supposed to be a cabbie in St Helens town centre!"

Producer and Theatre Royal General Manager Chantelle Nolan said:- "Here at St Helens Theatre Royal, weíre committed to bring fantastic pieces of theatre, whether that is new writing or old favourites to the local people. Iím delighted to be bringing this hilarious play back to the theatre this Christmas. Itís always so well received by audiences and we always get comments from customers telling us that itís one of the best nights out theyíve ever had. Iím particularly proud of this cast and know that both they and the audience are going to have a lot of fun!"

The performance runs from Monday, 5 December 2011 to Thursday, 8 December 2011, starting at 8.00pm. This performance is NOT for the easily offended... Tickets are:- £15 and £13 for concessions. Groups 10+ are given the "Buy 10 get 1 FREE" deal. You can book in person at the St Helens Theatre Royal Box Office on Corporation Street, St Helens. Alternatively, you can call the Box Office on:- 01744 756000 or click onto sthelenstheatreroyal.com, but booking fees may apply.