Youngsters 'Go-ON' and get involved!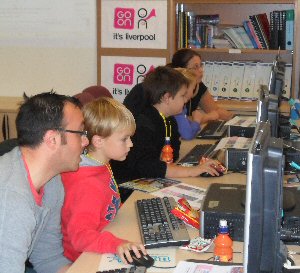 MERSEYTRAVEL'S, award winning learning initiative, Merseylearn, are supporting the national Go ON Give an Hour campaign, the biggest consumer-focused campaign to date devoted to inspiring, encouraging and supporting the UK to become a truly networked nation. On the 30 October 2011 the clocks went back and everyone in the UK had an extra hour... Go ON are asking the 30 million people who use the internet everyday to use this hour to transform someone's life by helping them get online. As part of the Go-On Liverpool campaign, Merseylearn held an event to show staff what 6 to 11 year olds can do safely online. 6 year old Niamh Hunter worked alongside 11 year old Edward Tripp and his 7 year old brother William, to display their skills, knowledge and confidence, showing the 'grownups' how to access educational games and websites used by most primary schools. Merseylearn staff and Union Learning Reps were on hand to provide information on basic computer courses through Go-On, low cost computer schemes and resources to support young children with Literacy and Numeracy. Niamh's dad, Union Learning Rep and Merseylearn ICT tutor, Norman Hunter said:- "I got the idea for the event when I was watching Niamh using a smart board at a parents evening, she is so confident and inquisitive and thinks nothing of accessing the Web for homework."

Neil Scales, Merseytravel Chief Executive added:- "It's great to see the youngsters getting involved, the confidence and digital skills shown by Edward, William and Niamh demonstrate that young people, particularly family members, can help older people get online."

All 3 children have signed up as Digital Champions, and pledged to give an hour as part of the Race Online 2012 campaign. Recent research from Race Online indicated that around 9 Million people in the UK have never used the Internet; many of these are older people. Young Digital Champion William summed up the day by saying "it was epic showing people all the cool stuff you can do online."
Go-ON Give an Hour runs from 22 October to 12 November 2011. To find out more and join the Liverpool digital champion network goto:- Facebook or go-on.co.uk/giveanhour.

1 in 5 in pension horror this Halloween
MORE than 1 in 5 people in the north west are under attack in the coalition's pension's horror, according to Unite, Britain's biggest union. Based on John Hutton's report into public sector pensions, 12 million people in the UK are either drawing their pension after working in public services, are actively paying into schemes at the moment; or have moved to the private or not-for profit sectors after previously contributing to a public sector pension. With a UK population of 62.3 million, according to the Office for National Statistics (ONS), it means 1 in 5 have a stake in public sector pensions. And in the north west this figure is even higher where 686,000 people are employed by the public sector making up 22% of the local workforce in the region.

Unite's assistant general secretary, Gail Cartmail said:- "This government is sucking the life out of public sector workers and the communities where they live. The coalition government is unleashing a horrific attack on millions of people in this country. 1 in 5 people in the UK have a stake in a public sector pension. Everyone will know someone who will suffer because of the government's plans, unless we stand up and defend public sector pensions. We are urging public sector workers to vote 'yes' for action for 30 November to defend their pension. We are doing our best to reach an agreement with the government but it is refusing to negotiate meaningfully on any reasonable compromises. Public sector workers' pay has been frozen, while the cost of living soars. They face widespread redundancies, cuts and closures, and now the government is coming for their pensions."

Unite began issuing ballot papers last Wednesday, 26 October 2011, to approximately 160,000 public sector workers in the biggest ever mobilisation of its members as it battles to defend public sector pensions. The ballot will close on Wednesday, 16 November 2011. A 'yes' vote will see Unite members take a day of industrial action on 30 November 2011, as part of the national day of action against pension cuts. The union is in dispute with government over its impositions which could see the majority of public sector workers having to pay 50% more into their pension schemes to earn a pension in the future which will be worth 50% less. The proposals will also force them to work for much longer in order to be able to afford to retire, as any retirement before their higher state pension ages will be heavily penalised. Most public sector pensions pay less than £ 5,600, with many Unite members getting far less than that after years of dedicated public service. Women working in the public sector will be worst hit by the government's plans because they make up the majority of the public sector workforce with many on low pay. Half of all women working in the public sector retire on a pension of less than £4,000 a year. Unite represents the broadest range of occupations within the public sector of any union in the UK and encompasses several professional bodies. Members can be found in the NHS, local government, Ministry of Defence (MoD), further education, government departments and also in not-for-profit organisations where many workers still belong to public sector pension schemes. But do our readers agree with the union or do you think they are going to far now? Let us know what you think by emailing our newsroom today via news24@southportreporter.com.