BUDDING CONSTRUCTION WORKERS BUILD FIRM FOUNDATIONS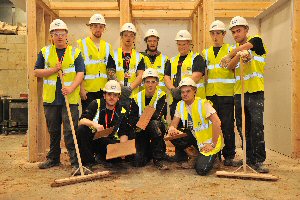 A group of young people from Merseyside is enjoying a golden opportunity to get a foot on the career ladder thanks to joint initiative between Balfour Beatty, The Prince's Trust and Liverpool Community College. The Prince's Trust 'Get into Construction' Programme, now in its second year with Balfour Beatty, recruits 16-25 year olds not in education, training or employment and gives them training and work experience to improve their chances of getting employment in the future. All seven of last year's recruits were offered full time work at the end of the programme. Nina Thornton, Project Skills Co-ordinator at Balfour Beatty, said:- "Most of the students on the programme have been presented with more obstacles than opportunities in their lives. But the fifteen who made it onto this year's programme all shared the same enthusiasm and determination to succeed. By learning basic construction skills such as bricklaying and plastering they gain the confidence to go on to seek work as an apprentice. The Get Into Construction Programme rewards hard work and commitment and can provide the first step on an exciting and rewarding career for life." The students are currently training at Liverpool Community College and will start work on Balfour Beatty construction sites very soon.
No holiday havens for wealthy tax cheats
IT has been announced by HM Revenue & Customs (HMRC) that:- "Wealthy tax cheats with overseas property are now being targeted by a new 200 strong team of investigators and specialists." The newly formed HMRC team has now started work, bringing together experts from across the department who will use new and innovative risk assessment techniques to identify areas where wealthy individuals are avoiding and evading taxes and duties. One of the first groups being targeted is wealthy individuals who own land and property abroad. Sophisticated data mining techniques have been applied to publicly available information to identify individuals who own property abroad. HMRC risk assessment tools are then being used to highlight those people who do not appear able legitimately to afford the property, as well as those who do not appear to be declaring the correct income and gains from the property. Other work currently planned involves commodity traders and people holding offshore accounts. Much of this work will be undertaken in co-ordination with other teams from across HMRC, including those who deal with corporate entities, residence and domicile issues, and trusts and estates. Further details will be announced in due course. Exchequer Secretary to the Treasury, David Gauke, said:- "The Government is committed to tackling tax evasion and avoidance across all areas of the economy. That is why we allocated HMRC £917m to reduce the tax gap over the next four years in the last Spending Review. This new team is part of that investment. With HMRC's increased capability and expertise, and its increasing success in tackling evasion both at home and offshore, the message is clear: there is no hiding place for tax cheats."

Barbara remembered with £1,000 for cancer unit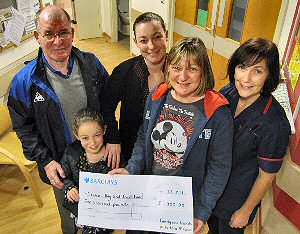 THE family of Barbara McKeown presented a cheque for £1,000 towards the refurbishment and extension of the Medical Day Unit at Southport and Formby District General Hospital. Mrs McKeown, 64, of Skelmersdale, was a regular patient at the unit until her death from bone marrow cancer. Her family, who received 175 sympathy cards from well-wishers, raised the money in lieu of flowers for her funeral. Her daughter, Janet, said:- "She always said it was a pleasure coming for treatment at Southport and she would be delighted to know so much money had been raised for a good cause."

Last month 2 charities; the Marina Dalglish Appeal and West Lancashire Community Hospice Association; have pledged £500,000 each towards the £1.3m refurbishment. Sister Julie Marshall, who has day-to-day responsibility for the medical day unit, said:- "This gift in Barbara's memory complements around £50,000 raised by the many fundraising events held by friends and families of patients, from legacies left by them and other donations given in their memory."

The refurbishment will see the unit significantly expanded to create a light, airy treatment space for patients, some of whom require up to eight hours of chemotherapy at a time. There will also be new consulting rooms and a more comfortable waiting area for patients. Work will start on the new centre in spring and is expected to be complete by Christmas.
Road repair disruption at Southport Hospital

A warning of delays has been issued to all visitors to Southport and Formby District General Hospital, after it was announced that resurfacing work is due to take place Wednesday, 9 November and be completed on Sunday, 13 November 2011. The work will be on the road at the hospital entrance and towards the Accident and Emergency Department. It will be closed in stages to allow the repairs, but vehicle access will be maintained to all parts of the hospital. Staff will be on hand to direct drivers during the work. Additional signage will also be provided. Facilities Manager Andrew Green said:- "We strongly apologise for any inconvenience the work may cause, but it is essential this stretch of road is repaired before the cold weather sets in again. Drivers should allow extra time when visiting us over this period and we strongly advise using public transport where possible."