Fracking tests show that they are 'likely cause' of tremors
ON 2 November 2011 a study was released to the public that said shale gas test drilling triggered earth tremors in Lancashire and Merseyside areas. On 27 May a tremor measuring a magnitude 1.4 was felt over parts of Southport, Formby, Hesketh Bank, Blackpool, Lytham St Annes and also Fulwood. That was the second in just a few weeks after the first tremor of magnitude 2.3 hit the Fylde and Southport coastline on 1 April 2011 . These tremors lead to Cuadrilla suspended its shale gas test drilling in June, over fears of links to the earthquakes and the study was started. Cuadrilla Resources believes there are huge reserves of natural gas in layers of shale under Lancashire and Merseyside's coastline, so many are hoping it will being jobs and money to the area, yet others are agenised the operation. Doug Parr, who is the Chief Scientist for the campaign group Greenpeace say that:- "Anyone who believes shale gas is the solution to our energy needs is being hopelessly naive. It is This report highlights that there are significant unknowns about the local and global impacts of fracking." Commenting on the findings was also Helen Rimmer, who is the North West Campaigner, Friends of the Earth. She said in a press statment that:- "This report shows fracking for shale gas caused earth tremors near Blackpool, experience in the US shows it could also cause serious local water and air pollution and risks wrecking the Lancashire countryside. We must end our addiction to fossil fuels and instead harness the vast renewable energy resources in Lancashire and across the country that will help tackle climate change and create thousands more jobs. An early seismic detection system won't be enough to make local people feel safe – there should be no more fracking in Lancashire until the health and environmental impacts are fully understood." Joining the call to stop the work was also a protest group calling themselves 'Frack Off', who illustrated their feelings on Wednesday, 2 November, by climbed a drilling rig at one of Cuadrilla's test drilling sites in Hesketh Bank, ahead of the report. The group are calling for an end to fracking and think that this report highlights their fears. In a statement to media a spokesman for Frack Off said is reported to have said that:- "This report, commissioned by the energy firm Cuadrilla, does not inspire confidence at all. The company should have done their research before drilling ever began." At the same time a statement on Preese Hall website said:- "Cuadrilla understands that there are 5 protestors on site, 4 of whom are attached to the machinery. The Police are present on site and we are working with them to bring the protest to a peaceful end. Our priority is the safety of both the protestors and our own staff on site. Throughout our time working at the Banks site, and the others in Lancashire, we have been very open, inviting local people, stakeholders and the media around the site. Over 50 local people and their elected representatives have been shown round the Banks site and we would have been delighted to show these protestors around rather than they need to carry out this potentially dangerous occupation of the drilling rig. 1." Later on in the day, Lancashire Police stated that the protest had come to an end at about 4pm. The told reporters that:- "3 people were arrested on suspicion of aggravated trespass. 3 others were reported for summons, on the same allegation." Also in response to the findings Cuadrilla, has said it hopes to continue the controversial extraction, which pumps water and chemicals underground at high pressure to shatter rock formations and release gas. Energy company Cuadrilla's tests show there could be 5.6tn cubic metres of gas in shale under the coastline. If correct it could be the largest gas field ever discovered in Britain. If extraction can be done safely and quantities are correct, it could see a massive boom time for Blackpool and Southport, on both the Lancashire and Merseyside coastlines. This boom could see, if what some reports suggest around 5,600 jobs being created! Cuadrilla now says that:- "We unequivocally accept and agree with the findings of the independent report. We are pleased that there is no threat to people or property in the local area from our operations. It was due to unusual combination of geology at the well site and unlikely to occur again. We have ready to put in place the early detection system that has been proposed in the report so that we can provide additional confidence and security to the local community. We are working with the local and national authorities to implement the report's recommendations, so that we can resume our operations." The Department of Energy and Climate Change (DECC) said:- "The implications of this report will be reviewed very carefully by ourselves, in consultation with the British Geological Survey, independent experts, and the other key regulators, HSE and the Environment Agency, before any decision on the resumption of these hydraulic fracture operations is made."
Do you think the gas extraction method is to risky? Do you think that the delays being experianced by this problem are risking future jobs in the area? Do you feel that this industry is safe or not safe after hearing the report and what by that Cuadrilla have said? Please do email us and let us know what you think about this issue!
Related link:- cuadrillaresources.com.

Peerless proclaimed champion at North's top beer challenge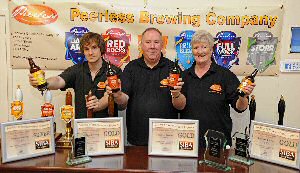 A Birkenhead brewery has triumphed at the North's leading beer contest, scooping four top accolades for its newly launched bottled range at the SIBA (Society of Independent Brewers) Great Northern Beer Festival in Manchester, marking what is a very happy 2nd birthday for Peerless Brewing Company Ltd. The local company's core portfolio also include Skyline (3.8%abv), Red Rocks (5%abv), Triple Blond (4.1%abv) , Paxton's Peculiar (4.1%abv) and strong ruby ale Full Whack (6%abv), which won a silver award at the SIBA North 2010 contest.

Peerless Brewing Company is based on Pool Street, Birkenhead, where it made the fledgling brew Jinja Ninja (4%abv ) was first voted gold in its class of speciality bottled ales before being hailed as Champion Bottled Beer of the North. The beer is brewed with root ginger, chillies and lemons and described as:- "delicious golden ginger beer with a fiery finish." It will now be judged at the SIBA National Competition in 2012.

Earlier, in the golden ales category, Hilbre Gold (4.5%abv) took first place while sister brew Viking Gold (4.5%abv) won silver.

SIBA represents more than 500 UK craft brewers while the north is the society's largest region. The competition attracted more than 300 entries across cask beer and bottled categories.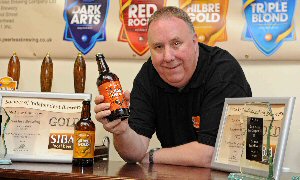 Celebrating the victory and a birthday; with colleagues at the brewery, head brewer and managing director Steve Briscoe said:- "It was amazing. At the presentation I lost track of what we were winning. The win comes just in time to celebrate our second birthday – and we will certainly be doing that in style this year. The North region is the largest of the SIBA regions and we take great pride in this win for three beers in our recently launched bottled range. Now we go onto the national stage in the final next spring. Jinja Ninja is a fun beer we rolled out first as cask ale only this year and has proved an excellent addition to our range."

The awards round-off an excellent 2nd year of trading for Peerless. With a 40% boost in brewing capacity earlier this year, sales have risen by some 30% in recent months as the brewery wins new business, despite the harsh economic climate.
Liverpool poet to address city leaders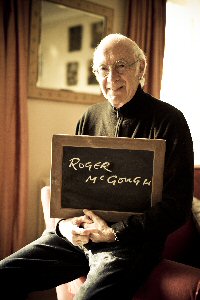 ROGER McGough has been announced as the guest speaker at the Liverpool Society of Chartered Accountants annual dinner at St George's Hall, on Friday, 25 November 2011. He will join key members of the city's business community for what has been billed as "An evening of fine dining." Described as the 'trickster you can trust', Roger McGough is one of Britain's best-loved poets receiving an OBE in 1997 and a CBE in 2004 for services to poetry. He has also been honoured with the Freedom of the City of Liverpool, an accolade that the Liverpool Society of Chartered Accountants is set to receive in 2012. Martyn Best, President of the Liverpool Society of Chartered Accountants, said:- "I met Roger in Shanghai last year at Expo 2010, and was enthralled by his contribution to the Liverpool day and sheer love of Liverpool. I am delighted that he accepted my invitation to be our guest speaker at this year's Annual Dinner, and I have no doubt that he will add wit, wisdom and humour to our event at such a stunning venue. We're nearly sold out, but have a few tables remaining, and I hope to welcome both Roger, and many of our local friends to what I'm sure will be a very enjoyable evening; with still a few surprises to come." The Liverpool Society of Chartered Accountants annual dinner has been sponsored by Hill Dickinson and Santander with support from Document Direct and David Hall. For further information and details of cost and on how to book please contact Clare Johnson, Events Co-ordinator on:- 01925 594 286.