JOIN SANTA DASH AND HELP SAVE LIVES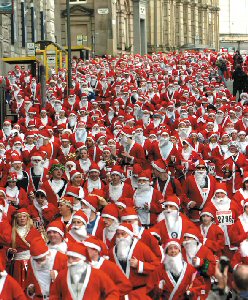 THIS year's Liverpool Santa Dash 5k run is only a few weeks away now and participants are being encouraged to sign up to take part and support a leading charity.

On Sunday, 4 December 2011, in Liverpool City Centre, thousands of people will be taking part in the annual race all dressed in bright red Santa suits while raising money for good causes.

The Muscular Dystrophy Campaign, the leading UK charity helping people with muscle wasting conditions, is appealing to Merseyside residents to take part in the run to raise money for people with devastating muscle-wasting diseases. Participants are asked to try to raise at least £100 in sponsorship and all those who register will receive a full sponsorship pack as well as their free Santa suit. In addition, whoever raises the most sponsorship for the charity from the run will receive a Christmas hamper, courtesy of the Park Foods Group.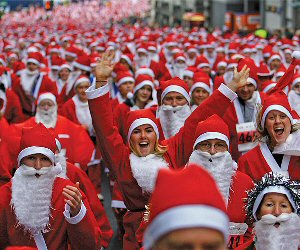 Charles Horton, Volunteer Fundraising Manager for the Muscular Dystrophy Campaign said:- "I hope the people of Merseyside take part in the Santa Dash this December and help us continue our work funding pioneering research to find a cure for muscle disease. The run promises to be a great event with everyone in the festive spirit and it should be a real sight as thousands of Santa's go jogging through the streets of Liverpool!"

For further details and an entry pack by emailing them or call Charles Horton on:- 01244 536551.

Dif you know?

Approximately 8,000 children and adults in the North West are directly affected by muscle disease, a condition which causes muscles to progressively waste and weaken. Muscle disease can cause disability and an early death.
The Muscular Dystrophy Campaign is the leading UK charity focusing on muscle-wasting disease. It has pioneered the search for treatments and cures for more than 50 years, and is dedicated to improving the lives of all children and adults affected by muscle disease.

We fund world-class research to find effective treatments and cures; provide practical information, advice and emotional support for individuals, their families and carers; campaign to raise awareness and bring about change; award grants towards the cost of specialist equipment; and provide specialist education and development for health professionals.

PRIMARY SCHOOLS IN MERSEYSIDE URGED TO JOIN COMMUNICATION TRIATHLON
PRIMARY schools throughout Merseyside are being invited to join the dozens in the region already signed up for the UK's first national Communication Triathlon for schools. The project, launched in April this year by Openreach, BT's local network business, and language and communication experts at children's charity I CAN, is a series of free fun events intended to boost speaking and listening skills. More than 500 schools across the UK, including more than 50 in the North West, have already registered to take part, and more are wanted. The programme encourages children to take part in three London 2012 Games-themed speaking and listening activities around Thinking, Talking and Teamwork. It is split across 4 to 7 and 7 to 11 year olds. Activities can be undertaken by a class, a year group or a whole school over the course of a week or even a day. It is part of Get Set, the official London 2012 education programme.
Mike Blackburn, BT's North West regional director, said:- "Thinking, Talking and Teamwork are essential skills for children and young people, and the Communication Triathlon goes to the heart of what we believe is important. Openreach's engineers are already hard at work building the next generation of super-fast fibre networks which will enable children to use communication skills, via computers, mobile devices and over the phone, to make a success of their lives, but a solid foundation is crucial. We already have more than 50 schools in the region signed up to the programme but it would be fantastic to see even more schools come on board and benefit from the activities and learning available."

The programme incorporates a wide range of inspiring curriculum-linked communication activities that support children's school work, such as Sports Bingo, Secret Striker, Memory Relay and even a Listening Assault Course. Designed by a team of communication and education experts, including speech and language therapists and teachers, they help children become good communicators. The youngsters are awarded a certificate and even participate in a closing ceremony to celebrate achievement and recognize hard work. Virginia Beardshaw, chief executive of I CAN, said:- "Upwards of 50 per cent of children, in some parts of the country, are arriving at primary school without the speech and language skills they need to learn, achieve and make friends. The Communication Triathlon is a fantastic way to get children practicing their communication skills in a fun and exciting way so they do not get left behind."

Liz Johnson, 100m Breaststroke gold medal winner at the 2008 Paralympic Games, who helped to launch the Communication Triathlon, said:- "Having competed in various countries and had the opportunity to meet a range of people, I know how important these communication skills are; both in education and in everyday life. The Communications Triathlon enables children to learn in a fun environment and I'm sure it will be of great benefit to those participating for years to come."
To get your Communication Triathlon pack go to:- communicationtriathlon.org.uk.
The Year Of Making Love!
FEVER Media are looking for people from Merseyside to be involved in a new BBC 3 show... The group are asking interested parties "Are you looking for Mr Right, but always end up with Mr Wrong? Has your search for Miss Perfect hit a dead end?" The program makers told us that:- "The Year Of Making Love, is a hugely ambitious nationwide study into the laws of attraction and compatibility. We have brought together the UK's leading scientists and relationship experts to develop brand new technologies that when used should create the 'Perfect Pairing'. In a spectacular, televised dating event, which will take place in early 2012, 1000 singletons looking for love will meet the partner whom our dating experts think is just right for them." If you think this is a good idea and want to apply do so now as you might be in with a chance of meeting that someone special... Email them or phone them on:- 0161 713 3667. You can follow this program on Twitter via:- Twitter as well as joining them on Facebook.