Ultimate Sports Nutrition backs Super League team the Vikings...
AHEAD of the 2012 Super League season the Vikings have been working hard to secure the best partners from a number of different industries. The latest of these partners to be unveiled is Ultimate Sports Nutrition who will be working closely with the club's Strength and Conditioning coach Clive Brewer to ensure the Vikings players reach the ultimate in fitness levels and at the same time enjoy the benefits of a healthy lifestyle. Further to this, the USN logo will appear on the new 2012 home and away shirts and pitch side advertising boards at the Stobart Stadium Halton. USN is an innovative international brand that has expanded internationally through new product development and marketing campaigns, priding itself on providing a range of great tasting high performance products at an affordable price. USN's involvement in professional sport ranges across multi sport disciplines and their products help power some of the elite Rugby players from both codes across the world. Having joined forces with the Vikings, Karl Bickley Events Manager & Athlete Liaison for USN (UK) Ltd said:- "USN is proud to become the official Nutrition partner for Widnes Vikings on their return to Super League. We will be working closely with the coaching staff to help maximize the team's performance in training and on the pitch and implementing our range of products into the player's daily performance plans. We were very impressed with the developments at the Vikings over the close season and look forward to a successful partnership in 2012 and beyond. Super League has a massive following and it is great to be associated with the Widnes name and all involved in its quest to return to the pinnacle of Rugby League in the UK." Vikings' Chief Executive Julie Gaskell is also delighted to have secured the services of yet another high profile sponsor at the club:- "We are pleased that USN decided to partner up with us this season, they already have a high profile in Rugby Union and were looking to get involved in Rugby League. Already the relationship is building with our performance team and we are getting some great feedback on the quality of their products from our players. I am confident that this partnership will grow and that we both continue to benefit."
Poppy Appeal Unit Helps Raise Over £28,000
THE Grange and Pyramids Shopping Centre, Birkenhead helped The Royal British Legion to raise £28,500 during the Poppy Appeal thanks to a dedicate Unit at the Shopping Centre.

The Mayor of Wirral, Councillor Moira McLaughlin, officially opened the Unit on Saturday morning, which was located within the centre for the duration of the appeal. The impressive total banked so far is £28,500, but is expected to rise following the weekends activities.

The Mayor said:- "I am extremely pleased that The Grange and Pyramids were able to work with The Royal British Legion to organise the unit so quickly. The Royal British Legion celebrates its 90th year this year and it is fantastic to see the fundraising going so well."

The Mayor was joined by Lance Corporal Alan Redford MC and Rh Frank Field MP of Birkenhead, to mark the opening of the Poppy Appeal Unit.

Derek Millar Commercial Director of the Grange and Pyramids Shopping Centre:- "The Royal British Legion work extremely hard to support thousands of serving and ex-service men and women, we were honoured to be able to provide a free home for the Poppy Appeal Unit. Hopefully the base provided the charity with even more exposure and helped raise additional money for their work."
SECURITY TIPS ON THE RUN UP TO CHRISTMAS
THIS is the time of year when life becomes even more hectic than usual the nearer we get to Christmas. There are so many calls on our time, that we may become lax with our security. Sefton Home Watch has given these handy reminders, to hopefully, keep ourselves and our property safe this festive season...

SECURITY FOR YOUR CAR:-

► Ensure all doors and windows are closed and the car locked before it is left unattended.

► Stop and put all items out of sight before you arrive at your destination. Sat Navs, sunglasses, lap tops, mobile phones even plastic bags can be a reason for your car to be targeted if left on display.

► Be aware of people around you when you return with your shopping, if you are going to put the parcels or bags in the car and leave the vehicle unattended, while you continue shopping or for any other reason.

SHOPS, SUPERMARKETS AND RESTAURANTS

► Always be aware of keeping your wallets, purses and handbags safe.

► Gentlemen it is a good idea to keep wallets in pockets inside jackets, not in trouser pockets.

► Ladies for a small cost you can buy purse bells from your local Home Watch to attach to your purse. The bells will warn you if anyone tries to take the purse out of your bag.

► Keep your handbag with you at all times. Avoid putting it in your supermarket trolley, or putting it on the floor if you are trying on clothes or enjoying a meal in a restaurant.

► Only take out the credit card you need leave the rest at home.

► Where there are large crowds there could be pickpockets. Try to avoid having all your money in one place on your person or in your wallet or handbag.

► Put house and car keys in a safe pocket not in your handbag. If your handbag is stolen your house and car are at risk of being targeted.

Help support puppies in training like Freddie by collecting your stamps for Canine Partners.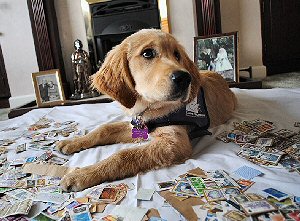 WITH recycling being an important subject these days Canine Partners is launching their official Canine Partners Stamp Appeal across the country. The Charity is working with a stamp dealer who operates with various charities to turn your stamps into much-needed funds.

With Christmas approaching, it is the perfect time for individuals, businesses and schoolchildren to start collecting stamps so that Canine Partners can turn them into funds to help train more canine partners for people with disabilities. So remember to keep all the stamps from the Christmas cards you receive! Just £5000 raised will cover the cost of a puppy's first year of training.

All kinds of stamps are welcome, on or off paper. You need to leave no more than a 5mm single thickness border around them, and the perforations should not be damaged. Any commemorative or special stamps should be sent, or handed over, separately.

Collected stamps can be dropped off at one of the Charity's 12 puppy satellite centres, including their training centre in Heyshott, near Midhurst in West Sussex.
The satellites are situated in:-
West Scotland
East Scotland
Hull; Staffordshire
Bedford
Gloucestershire
Somerset
Essex
West Sussex
East Sussex
Hampshire
Isle of Wight.

Alternatively you can send the stamps direct to the address below, and the money raised will go straight into the Canine Partners account:-
Canine Partners Stamp Appeal
PO Box 638
Fareham
Hampshire
PO14 9JJ
UK
NB:- Please ensure the correct postage is paid when you send them. For further information please visit:- caninepartners.org.
Over 1,000 people signed up to Digital Champions
MORE than 1,000 people have already signed up to a major campaign to get more residents online in Liverpool. Go On it's Liverpool, which is backed by Liverpool City Council, Liverpool Vision, Unionlearn (the TUC scheme which encourages members to improve their skills), Race Online and UK Online; has been launched because an estimated 100,000 people in the city have never used the internet... The aim is to recruit a total of 5,000 Digital Champions who will give up there time to get an extra 25,000 people in the city online by March 2012. The landmark 1,000 comes as the government's internet tsar Martha Lane Fox visits the city on Wednesday, 16 November to mark International Women's Enterprise Day.
The founder of lastminute.com; who leads the national Race Online campaign to encourage people to use the world wide web, is in Liverpool to highlight the role digital can play in building women's economic opportunities and skills.
Councillor Nick Small, cabinet member for employment, enterprise and skills, said:- "It is fantastic news that so many people have already signed up to become Digital Champions and help others to get online. Being computer and internet literate gives people a huge advantage when competing for jobs and is vitally important. Using the web is crucial to so many things in modern life and is only going to become more important in the future. It's great that Martha Lane Fox is visiting the city to see our progress, and also inspire the next generation of women entrepreneurs on International Women's Enterprise Day."

During her day in Liverpool, Martha Lane Fox will:-

► Meet city leaders to discuss how Liverpool can make the most of the opportunities provided by the Go On it's Liverpool campaign

► Visit WICED; the Women's International Centre for Economic Development on St James Street in L1 – to meet local female entrepreneurs and discuss how the internet can be used as a tool for enterprise. The event will include a contribution from Michelle Helsby, MD of Evolve Productions, who set up her own business and has volunteered as a digital champion

► Meet women at Blackburne House who are being supported to get online for the first time as well as people who completed IT courses last year and are now volunteering digital champions.

► Launch a 'community reporter' programme at Toxteth TV which aims to give local people a voice.

► Visit Granby and Toxteth Development Trust to talk to local people about how using the centre for IT training has improved their lives, and meet Liverpool's Super Digital Champion Tara Jussa who is working with community groups to make the project a success.

For more information about Go On it's Liverpool, and to sign up as a digital champion, visit:- go-on.co.uk.

For a full list of events as part of the campaign visit:- raceonline2012.org/liverpool. You can also find the campaign on Facebook by searching for Go On It's Liverpool.