CALLING ALL ARTISTS TO GET BUS-Y!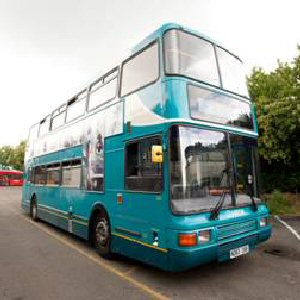 ARRIVA North West is appealing to the people of Liverpool to let their imagination run wild and redesign a bus from top to bottom. Budding designers and art buffs are being invited to think of a bus as a blank canvas, and consider how it can be transformed into a work of art. The winning design will then be brought to life on a real Arriva bus. Debra Heaton, marketing manager for Arriva North West said:- "We want people from Liverpool to come up with some really creative ideas for our Art Bus. The design could reflect your local area, or be completely abstract – it's entirely up to you! This exciting project provides a unique opportunity for someone to showcase their talent to potentially thousands of people. We're really looking forward to seeing what designs people come up with." Once the paint has dried and the gadgets have been fitted, the new-look vehicle will embark on a national tour, promoting the bus as a greener and cost effective alternative to the car. For more information about the Arriva Art Bus and details about how to submit your design, please visit:- arrivabus.co.uk/artbus/. Also please visit Arriva North West's website for more information about and the service it provides.
Christmas Carols on the Festive Ferry
THE Mersey Ferries will play host to the Merseyside Police Band on Tuesday, 22 November 2011 when they will be performing Christmas Carols and a medley of Beatles songs. They will be raising funds for 'Clatterbridge your cancer centre', Merseytravel's charity of the year for 2011. The band will entertain passengers on two River Explorer cruises departing Liverpool at 1pm and 2pm, Seacombe at 1.10pm and 2.10pm and Woodside at 1.20pm and 2.20pm. They will play some of our favourite Christmas Carols, including 'O Come All Ye Faithful' and 'Ding Dong Merrily On High' to get passengers in the festive mood, and some popular classics that we all know and love. Merseytravel's charity of the year for 2011. 'Clatterbridge your cancer centre' is the only charity that raises funds to directly benefit the patients of Clatterbridge Centre for Oncology. The musical cruises will be departing from Liverpool Cruise Liner Terminal with no additional charges, although normal River Explorer prices apply. For more information on Merseytravel's Charitable Causes Policy go to this website.

Bullying rife in schools with 1 in 4 kids saying they've been bullied
1 in 4 children have been verbally bullied in the past year, according to figures released by the Anti-Bullying Alliance, part of leading children's charity the National Children's Bureau.

The research has been released to mark the start of the Anti-Bullying Week campaign which began Monday, 14 November 2011. This year, Anti-Bullying Week highlights the worrying trend of verbal bullying and the casual use of derogatory language; a widespread phenomenon not just amongst school children, but in society as a whole.

The results show that 26% of 11 to 16 year olds have directly experienced verbal bullying, with the vast majority (79%) happening at school. Almost 40% of respondents also reported being bullied online or my mobile phone.

81% of secondary school pupils think verbal bullying is a problem in their school and 66% say they have witnessed some form of verbal bullying in the past year. 14% of 11 to 6 year olds have considered missing school for fear of being verbally bullied.

The results also show that 54% of respondents would turn to a teacher for help and advice, highlighting the important role of teachers and schools in tackling bullying behavior.

Ross Hendry, Chair of the National Children's Bureau's Anti-Bullying Alliance, said:- "These figures highlight how much of a problem verbal bullying is. Sometimes there is a tendency to see verbal bullying as being less serious than physical bullying. But the emotional and psychological impact can be just as damaging and may affect young people's self-esteem and confidence to the point where they don't want to go to school. The figures also show that most verbal bullying takes place in schools. It's imperative that the school community; teachers, carers, parents, and pupils work together to build and maintain an ethos of respectful behavior so that children and young people are kept safe from all forms of bullying. Casual name calling and the use derogatory language; so common in our schools and in society more generally; can lead to verbal bullying being seen as acceptable."

The Anti Bullying Alliance brings together over 130 organisations who are committed to tackling bullying. This year's Anti-Bullying Week theme is:- 'Stop and think: words can hurt' and the Anti-Bullying Alliance is calling on everybody to challenge casual name calling and the use of derogatory words.