Local Talent One Step Away From The O2!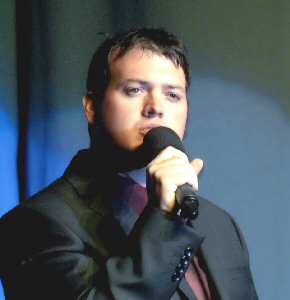 KARL Palmer from Southport wowed the crowd and judging panel at the Open Mic UK Regional Showcase, and he is now one step away from performing at The O2 in London!

Thousands of acts entered Open Mic UK 2011 and the best unsigned singers from across the country were chosen to perform at the live Regional Final shows. Karl Palmer performed in front of a live audience and professional judging panel on 6th November at the Liner Hotel in Liverpool. He's now set to perform at the Area Final for the chance to progress to the National Grand Final at The O2 in London as part of Live Fest, London's biggest indoor festival on 21 January 2012.
Those who made it through the audition stage took part in a live Regional head-to-head battle alongside the best talent in their area. Acts performed in front of hundreds of audience members and industry judges for the chance to grab a breakthrough recording contract.

A spokesperson for Open Mic UK commented:- "We are searching for an act that not only has the live ability to impress an audience, industry judges and A&R associates, but an act that has the potential to become a professional recording artist. Acts that have made it are just one step away from performing at the best live music venue in the country!"
The competition is divided into age categories; 16 and Under, 17-22 and 23 and Over; all types of singers, vocal performers, groups and acoustic singer/songwriters are invited to enter Open Mic UK.

Previous winner Birdy still at only 15 years of age has recently been a favourite on Radio 1 after signing with Warner Music with two hits singles already to date including her version of the Bon Iver classic 'Skinny Love.' Last year's under 18's winner, Hatty Keane, has also had huge success after being signed to BGM Music. Since then Hatty has performed live sets alongside Tinchy Stryder, Zane Lowe, Tempa T and Roll Deep and is currently working on new material. Hatty's latest video Best Kept Secret has received over 200,000 views on YouTube already.

There's over £50,000 in prizes up for grabs this year and the overall winner will be offered a recording contract, with up to £30,000 investment! They'll also have the opportunity to tour across the UK.

There are plenty of development opportunities available to acts taking part courtesy of ICMP, who will be offering songwriting courses and master classes throughout the competition. The latter stages of the competition will also provide acts with the opportunity to impress many guests from record labels, agencies and the entertainment industry. For more information go online.
Maintenance shuts museums for 5 days next week
BOTH the Merseyside Maritime Museum and the International Slavery Museum (in the same building) are closed to the public from Monday, 21 November 2011 to Friday, 25 November 2011 inclusive. This is to enable essential maintenance work to be carried out and the museums will reopen at 1000 hours on Saturday, 26 November 2011. Rachel Mulhearn, director of Merseyside Maritime Museum, says:- "We are sorry for any inconvenience this brief closure will cause. It is very important we carry out the work to improve the environment for our visitors." The nearby Museum of Liverpool and Piermaster's House remain open between 1000 and 17:00 hrs every day during this period. All the other National Museums Liverpool venues are open as usual; the Walker Art Gallery, World Museum, Lady Lever Art Gallery and Sudley House.

Full casting is announced for Matthew Bourne's Nutcracker!
THE full casting is announced for Matthew Bourne's NUTCRACKER!, which visits at the Liverpool Empire from 24 January to 28 January 2012. This is the third visit in as many years for Bourne's company New Adventures, who brought Swan Lake and Cinderella to Liverpool in 2010 and 2011 respectively, both receiving great acclaim from critics and audiences alike.

Returning to New Adventures in the role of 'CLARA' is HANNAH VASSALLO, who has recently completed two years in the West End production of Dirty Dancing playing the leading role of 'Baby'. 'NUTCRACKER!' will be played by CHRIS TRENFIELD ('The Swan' in Swan Lake), ADAM MASKELL ('The Angel' in Cinderella) and EDWIN RAY ('The Pilot' in Cinderella). 'SUGAR' will be performed by ASHLEY SHAW, SOPHIA HURDLEY and CHLOE WILKINSON (all from the recent hit production of Cinderella) whilst her brother, 'FRITZ' will be played by New Adventures favourite DOMINIC NORTH (a record-breaking 7 different productions with New Adventures since his debut in 2004) and DANIEL COLLINS (Cinderella).

'DR DROSS' will be played by NEIL WESTMORELAND, recently seen as 'The Pilot' in Cinderella and DANIEL WRIGHT (Cinderella, The Car Man). His Wife, 'MRS DROSS' and Matron to the Orphans will be played by MADELAINE BRENNAN ('The Girlfriend' in Swan Lake 3D, 'Stepmother' in Cinderella) and DAISY MAY KEMP (Swan Lake) along with the original 1992 'Clara', ETTA MURFITT, returning to help celebrate the production's 20th Anniversary.

Returning to New Adventures for Matthew Bourne's NUTCRACKER! are PHIL JACK GARDNER, TOM JACKSON GREAVES, CARRIE JOHNSON, NICOLE KABERA, MARI KAMATA, DENA LAGUE, KATY LOWENHOFF, KATE LYONS, JAMIE MCDONALD, LUKE MURPHY, GAVIN PERSAND, ALISTAIR POSTLETHWAITE and DANNY REUBENS. Making their debuts with New Adventures are MERRY HOLDEN, KATRINA LYNDON, LEON MORAN and LIAM MOWER, who was London's first 'Billy Elliot' and the youngest person ever to win an Olivier Award.

Matthew Bourne said:- "To help celebrate this evergreen production's 20th Birthday, I have decided to cast the show with the next generation of New Adventures dancers, mostly making their debuts in these roles. With popular productions such as Nutcracker! now returning to New Adventures' repertoire on a regular basis, it seems only right to develop and nurture the incredible young talent that we have in the company by giving them bigger opportunities and challenges. I am, though, delighted to say that the cast includes our original Clara from 1992, Etta Murfitt, who along with several other New Adventures veterans, will guide and inspire the younger cast members. With the addition of several new dates, added recently, I am thrilled to announce our biggest ever UK tour. Nutcracker! will be seen at a record-breaking 21 major venues, throughout the UK, made all the more remarkable, by the fact that this 'seasonal' favourite will still be entertaining audiences in mid-May"

Matthew Bourne's NUTCRACKER! follows last year's hugely successful production of Cinderella, which after an 8 week, sold out run at Sadler's Wells and a recent international tour has now played over 200 performances and been seen by over 240,000 people.

This delicious theatrical feast has family-sized helpings of Matthew Bourne's trademark wit, pathos and magical fantasy. NUTCRACKER! follows Clara's bittersweet journey from a hilariously bleak Christmas Eve at Dr. Dross' Orphanage, through a shimmering, ice-skating winter wonderland to the scrumptious candy kingdom of Sweetieland.

Tchaikovsky's glorious score and Anthony Ward's delicious sets and costumes combine with sizzling choreography to create a fresh and charmingly irreverent interpretation of the traditional favourite. Directed and choreographed by Matthew Bourne, it is co-devised by Martin Duncan, with lighting design by Howard Harrison and sound design by Paul Groothuis.

Matthew Bourne is widely hailed as the UK's most popular and successful Choreographer/Director. He is the creator of the world's longest running ballet production, a five-time Olivier Award winner, and the only British director to have won the Tony Award for both Best Choreographer and Best Director of a Musical. For more information visit:- new-adventures.net/nutcracker.

Performance Details:-

Matthew Bourne's Nutcracker!
Liverpool Empire Theatre
24 January to 28 January 2012
7.30pm Tue to Sat, Wed & Sat matinees at 2.30pm
Tickets £12 to £42